Festival welcomes Train, Better Than Ezra
|
February 28, 2023 1:00 AM
SANDPOINT — Train is coming to town.
The multi-Grammy Award-winning band will be bringing their alternative rock sound to the Festival stage on Saturday, July 29. Accompanying the Bay Area band at the Sandpoint concert is Better Than Ezra.
The Festival at Sandpoint concert was announced Sunday as part of a series of new concert dates this summer by Train. News of the concerts comes off the heels of Train's seventh sold-out Sail Across the Sun cruise, Festival officials said.
Festival at Sandpoint officials said the concert promises to bring music fans an epic night of music filled with the band's most iconic hits spanning nearly three decades.
Train released its critically acclaimed 11th studio album, AM Gold, in May 2022, and this past weekend marked the 25th anniversary of the band's self-titled debut album. Originally released Feb. 24, 1998, Train featured the band's debut single, "Meet Virginia," which gave them their first unlikely radio hit and first Top 20 song on the Billboard Hot 100 chart.
Since its formation in 1994, Train has had 14 songs on Billboard's Hot 100, 12 albums on the Billboard 200 albums chart, and has sold more than 10 million albums and 30 million tracks worldwide. The band's global hit "Hey, Soul Sister" continues to reach new milestones — it was the top-selling smash and most downloaded single of 2010, achieved RIAA Diamond status in 2021 and is now 11 times platinum, and in 2022 surpassed one billion streams on Spotify. The band is comprised of frontman Pat Monahan (lead vocals), Hector Maldonado (bass, vocals), Jerry Becker (keyboards, vocals), Taylor Locke (guitar, vocals), Matt Musty (drums), Sakai Smith (backup vocals), and Nikita Houston (backup vocals).
What could make the concert even better? Add Better Than Ezra to the lineup, Festival officials said.
Just ask anyone who caught a house party gig after the band formed in 1988 at Louisiana State University, or heard "Good" on the radio once it hit No. 1 in 1995. Or those who discovered BTE following Taylor Swift's famous cover of "Breathless" in 2010, or saw them headlining sheds in 2018.
That introduction to the New Orleans quartet founded by Kevin Griffin [lead vocals, guitar, piano] and Tom Drummond [bass, backing vocals] resulted in legions of new fans as hummable melodies, unshakable guitar riffs, and confessional lyrics quietly cemented the group as an enduring force in rock music.
The group has been named one of the top "100 Greatest Alternative Artists of All Time" by Billboard, Better Than Ezra has yielded definitive fan-favorite anthems such as "Desperately Wanting," King Of New Orleans," and "Closer."
Train with Better Than Ezra, underwritten by Idaho Forest Group on Saturday, July 29, is a standard show, meaning the area in front of the stage is standing-room only.
The Festival at Sandpoint's 40th annual 2023 Summer Concert Series will take place July 27 through Aug. 6 at War Memorial Field, an intimate venue on the shores of Lake Pend Oreille.
The general admission tickets are $74.95 (before taxes and fees). The gate opens at 6 p.m. and the music begins at 7:30 p.m.
For information and tickets, go online to festivalatsandpoint.com or email info@festivalatsandpoint.com.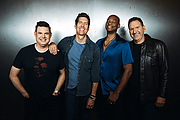 Recent Headlines
---