Ready, set … jump into 2023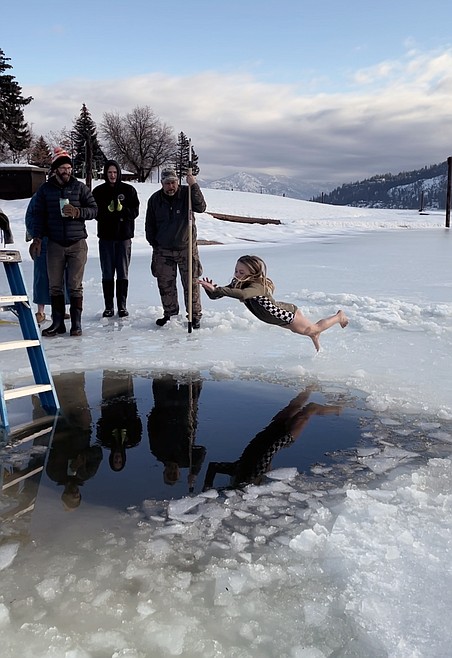 Tekla Lien does a bellyflop as she takes part in the annual Polar Bear Plunge on New Year's Day.
(Photo courtesy DAVE LIEN)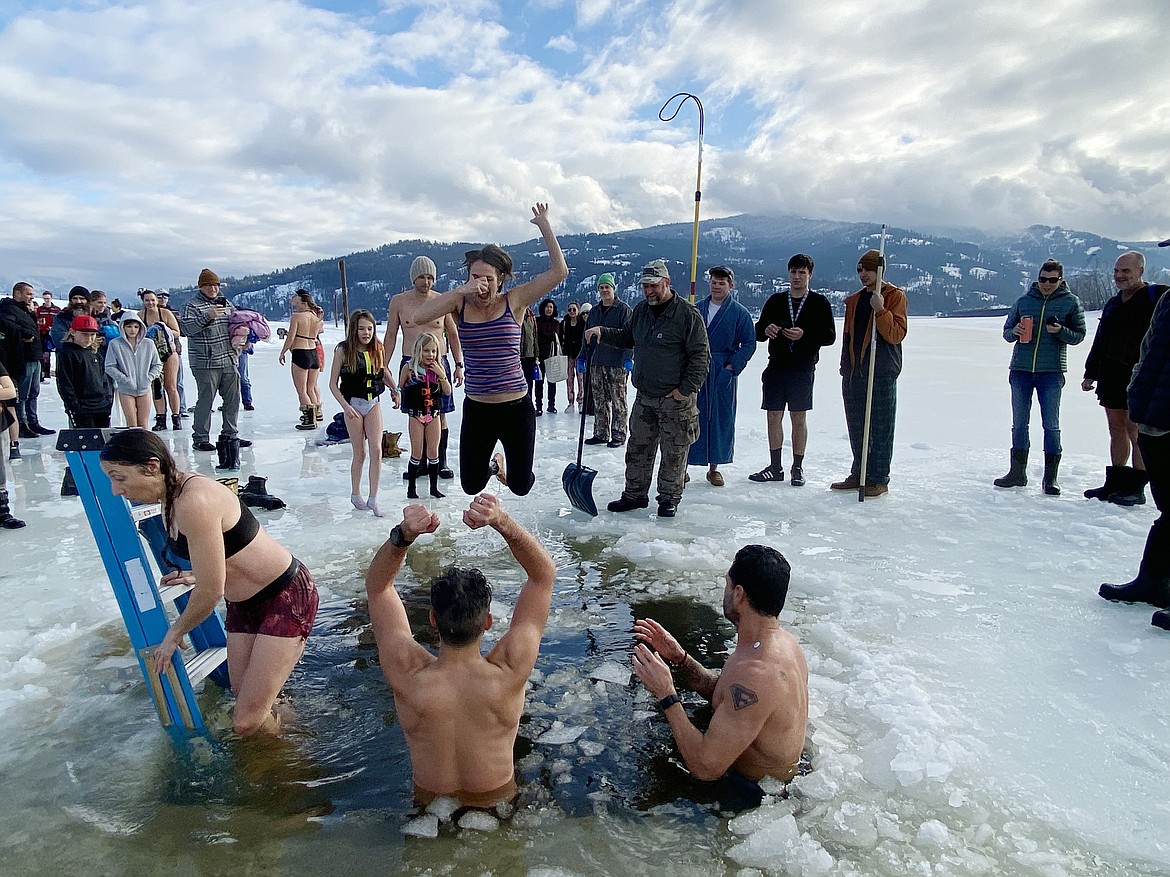 A Polar Bear Plunge participant jumps into Lake Pend Oreille as friends cheer her on during the annual event on Sunday.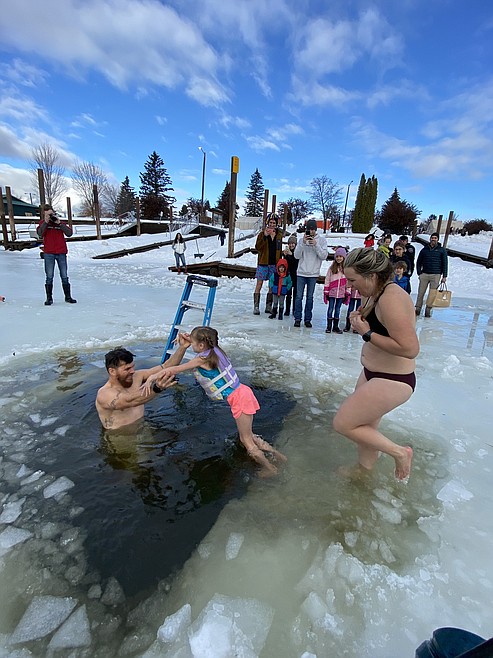 A family takes part in the annual Polar Bear Plunge on Sunday. The event is a collaboration by Boy Scout Troop 111 and the city of Sandpoint.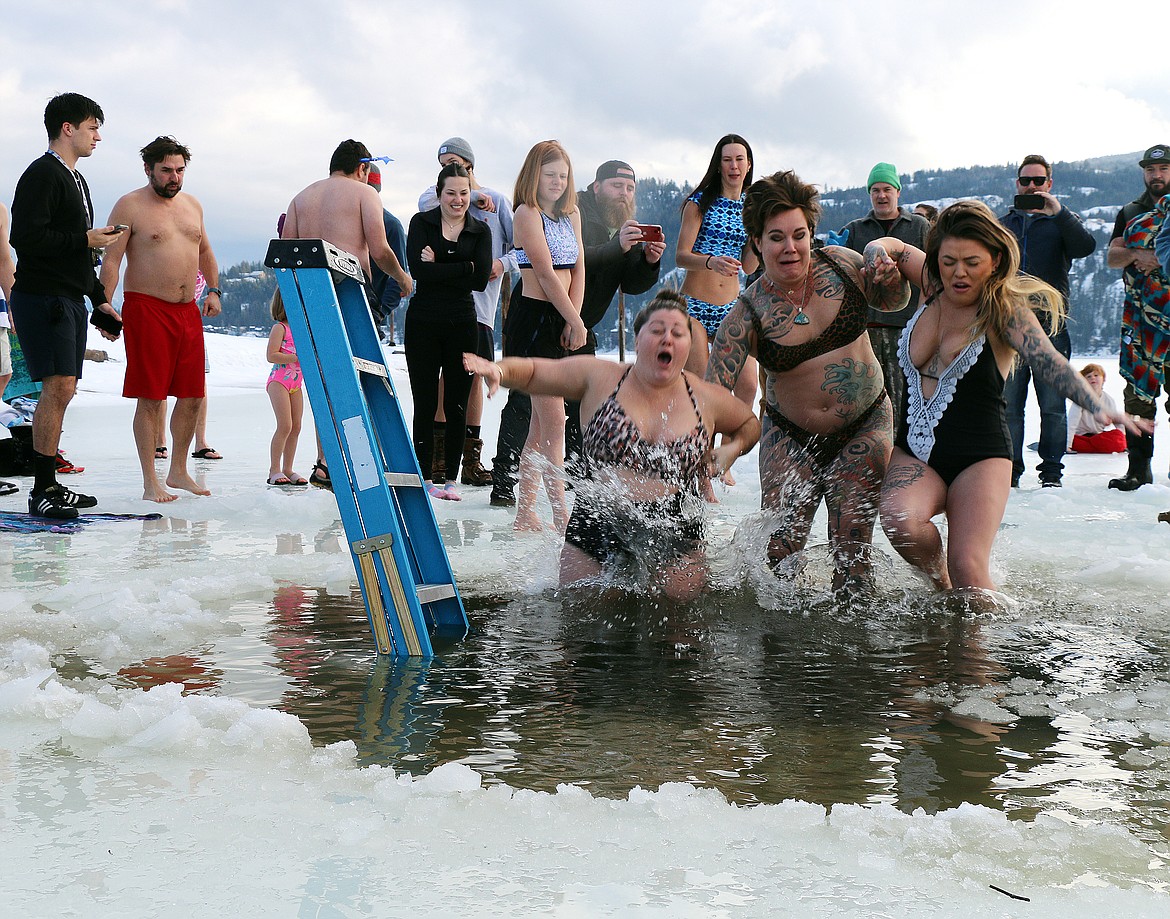 A trio grimaces as they react to the cold water of Lake Pend Oreille during Sunday's Polar Bear Plunge.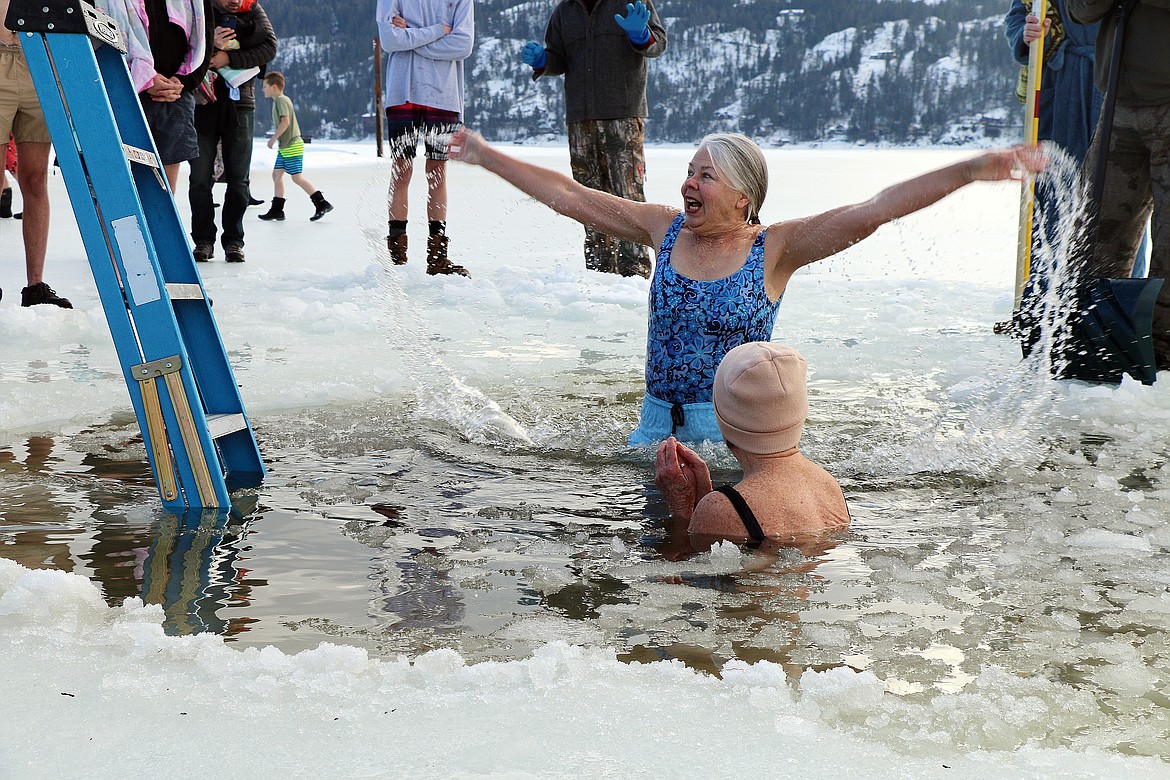 A pair of Polar Bear Plunge participants have fun in the water after taking part in the New Year's Day tradition.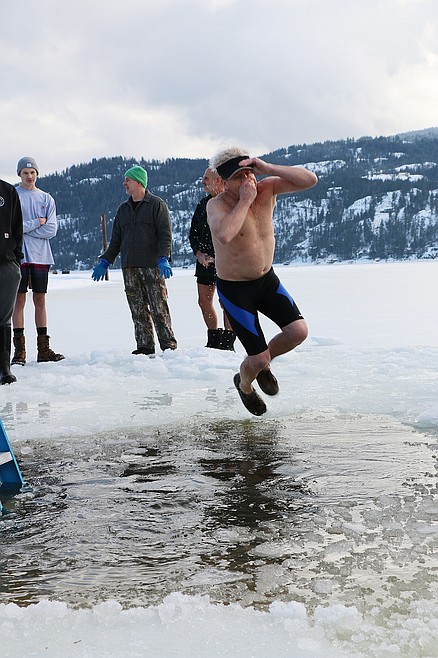 Don Helander plugs his nose as he takes part in the 2023 Polar Bear Plunge on Sunday.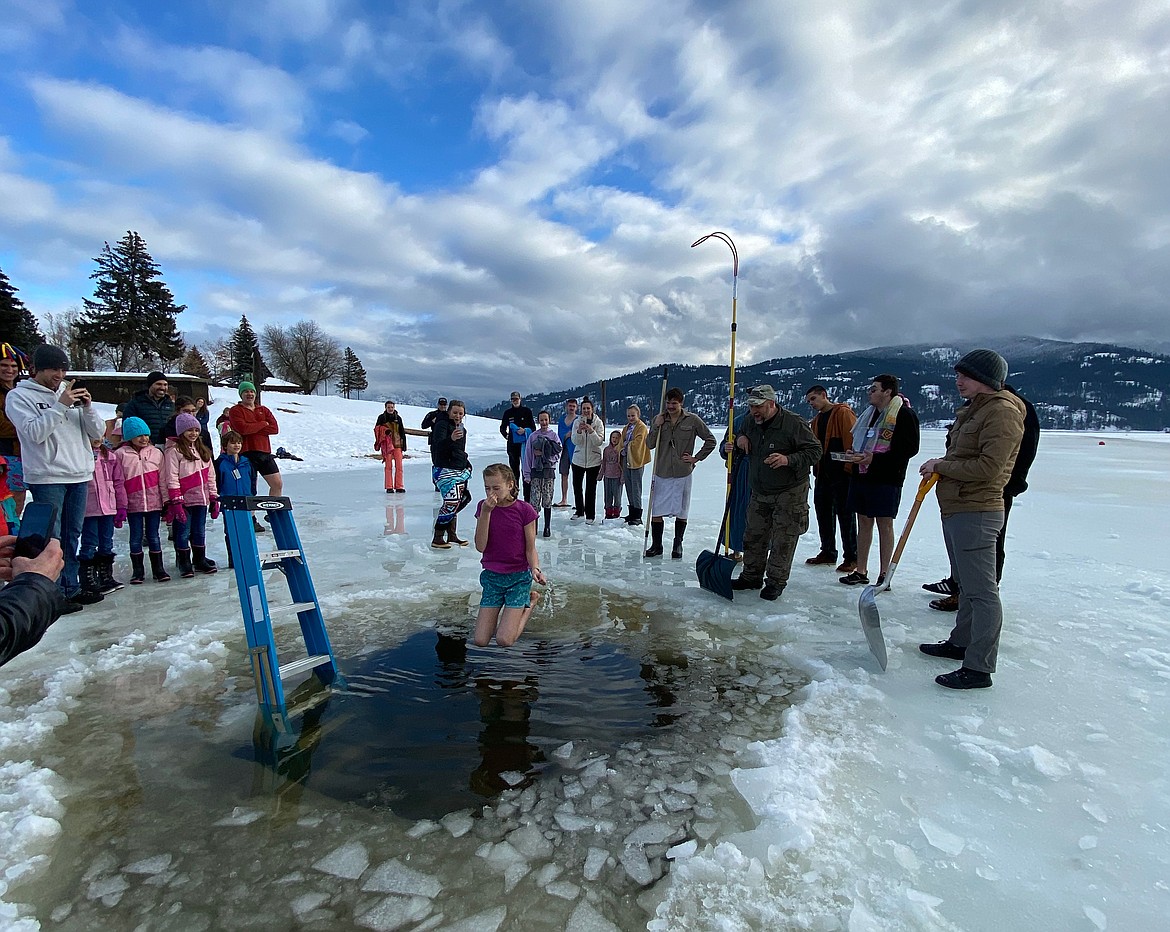 A young Polar Bear Plunge participant plugs her nose and she jumps into Lake Pend Oreille on New Year's Day to kick off 2023 on Sunday.
Previous
Next
by
CAROLINE LOBSINGER
Staff Writer
|
January 3, 2023 1:00 AM
SANDPOINT — The Polar Bear Plunge has always seemed like something fun.
But Tekla Lien had never gotten the chance before. This year, she said, was different.
She managed to secure the approval of her parents and made it to City Beach and a frozen Lake Pend Oreille.
As she approached a hole cut in the ice near the park's boat launch area, Lien took a moment and then made her plunge.
"All my other friends did it, and everybody was watching, so it seems kinda fun," Lien said.
While she slipped a bit on entry, Lien said jumping into the lake's freezing water was what she'd hoped.
"It was scary, and it also kind of hurt, but it was worth it," she added.
The Bonner County youngster was just one of the roughly 180 residents of all ages who took Boy Scout Troop 111 up on its invitation to come jump in the lake to kick off the new year.
Like Lien, Paxton Kee was among those who took part in the Polar Bear Plunge for the first time. And, like his friend, he plans to do it again.
"I've always wanted to do it," he said. "I've just been too scared most years, and this year I finally did it because a lot of my friends were going."
Kee joked that jumping into the lake was "cold, very cold," and a little bit "traumatizing," before quickly adding that he highly recommended everyone give it a try.
"It felt actually really nice," he said. "I thought it was just going to be painful."
People even turned out before the 11 a.m. start, with the troop kicking off the plunge earlier to accommodate them, Troop 111 scoutmaster Phil Voelz said.
"People just kept coming and coming and coming," Voelz said. "We're all pretty shocked. I was like, 'Holy cow, that's a lot of people.' "
In addition to those jumping, Voelz estimated that three times that number turned out to watch the fun and cheer on those jumping into the lake.
It was also pretty cool to see a number of young girls and women take part in the event, Voelz said.
"This has been going on all day long, all these little girls," Voelz said before pausing to watch as another youngster reached down to pull off her boots and then leap into the hole carved into the ice. "There's been a couple of little boys who were like, 'We don't want to,' and these girls are just jumping in. It's awesome."
The best way to do the plunge is just to jump in, said one scout before quickly heading to a warming tent to defrost.
"You just can't think about it," he said. "Just get in [and] get out. The more you think about it, the more you psych yourself out. You just get in, and then it's fine."
While different from the former scouts and friends who have taken part in the Polar Bear Plunge, Voelz said he's excited to see the event becoming as much of a community tradition as a troop tradition.
"It's been cool watching that because that's totally different than what we've seen before," he added. "We're seeing lots of families, lots of little kids. [In the past], we've seen, you know, goofy guys like us around, you know?"
He's also excited to see the collaboration with the city growing, which in turn, is helping the event grow and become better. He praised city officials for making the permit process a smooth one and for going out of their way to leave the power out so the troop could connect the heaters to its warming tents.
"It's just been nice," he added. "Everybody's been stepping up."
Initial ice conditions were a little concerning due to recent rains and warmer temperatures. However, after carefully checking the ice, Voelz said the scouts found a thick, stable layer. With all scouts trained in rescue procedures and first aid, Voelz said the troop kept a close eye on those jumping — and those watching.
While he wasn't able to take part this year, Voelz said it was great to see a number of current and former scouts return for the plunge. Among the 16 or so troop members who took part were several serving in the Navy and another serving in the Coast Guard. Among the scouts who have done the jump every year are Jeremiah Voelz, Phil Voelz, Mathew Deacon and Carl Brenner.
Voelz said his favorite jumps are ones that his son, who is serving in the Navy in Norfolk, Va., has been able to come home and join the fun.
"I love it when he's able to come home for Christmas or New Year's and getting to hang out with him," Voelz said.
Next year, Voelz said he'd like to see other Boy Scouts and Girl Scouts take part in the Polar Bear Plunge, once again throwing out a challenge to those troops.
"I want to see them come down and match our numbers," he added. "Come down and join the fun."
Recent Headlines
---