Deervember leads to many doe-nations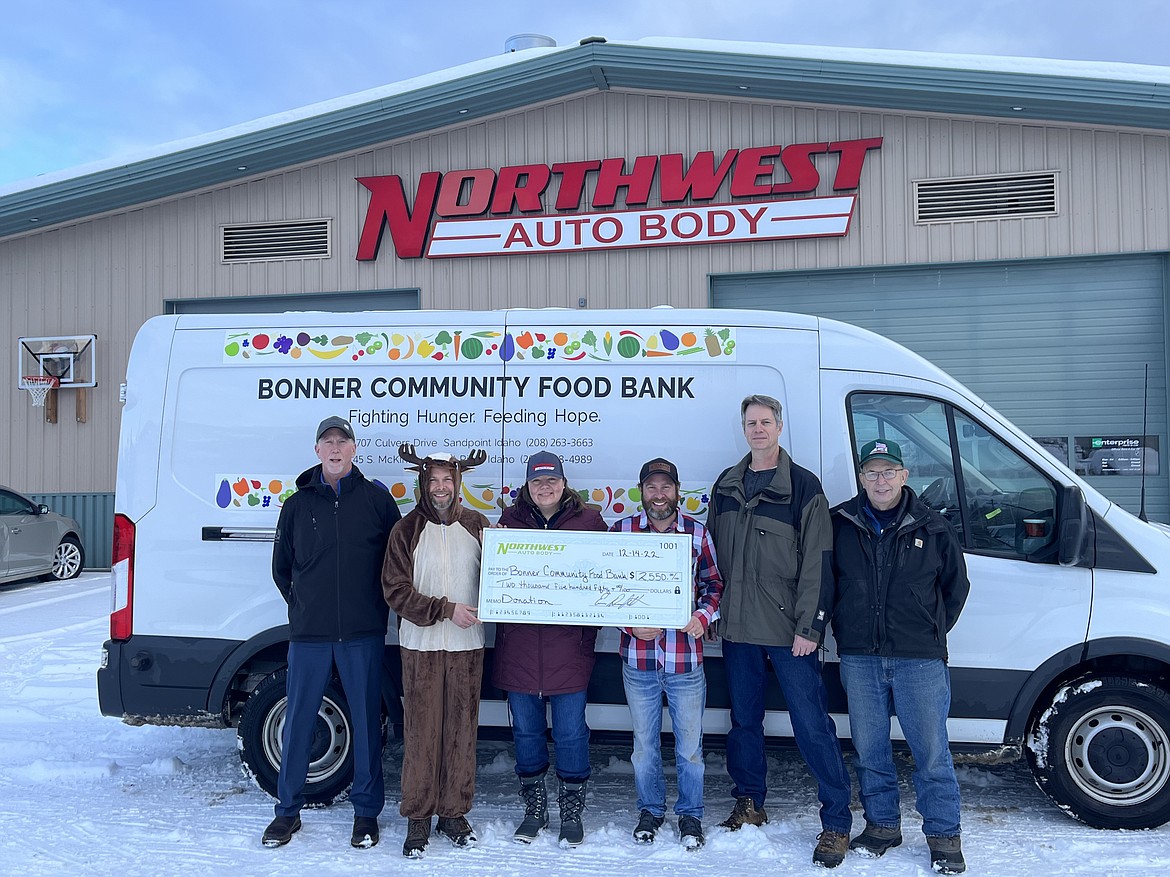 Representatives from Northwest Autobody and Washington Trust recently presented a check - and one buck - to the Bonner County Food Bank for $2,550 as a result of donation at the completion of Deervember. From left, Washington Trust's Eric Paull, deer Eric Donenfeld, Debbie Love, Cory Donenfeld, Food Bank volunteers David Webster and Dean Miller make the donation.
(Photo courtesy DAVID KEYES)
by
DAVID KEYES Contributing Writer
|
January 13, 2023 1:00 AM
It is not your imagination — there are more deer-versus-vehicle accidents around here in November than in any other month. It is also true that demand at the Bonner Community Food Bank spikes during that same time.
So how do those two facts merge and more importantly, how did the owners and employees at Northwest Autobody and a friend at Washington Trust make the most of what could be a bad situation?
Enter Deervember or Doevember or Novemdeer. Nobody really knows what to call this month of giving but everyone involved with it is deerleerious with its success. Since 2016, Northwest Autobody has donated nearly $17,000 to the Bonner Community Food Bank during the eleventh month and this year's check was the largest yet.
$2,550 bucks.
For each animal strike repaired at either the Sandpoint or Ponderay NWAB shops, the company donates $50 to the local Food Bank. For the past few years, Washington Trust has matched NWAB's doenation and that has made a huge difference for many citizens in need.
"This annual drive couldn't come at a better time," said BCFB director Debbie Love. "We have never seen so many people in need."
The Food Bank had 33,000 visits in 2022, easily topping the 24,000 from the year before and breaking all records. Compounding the rise in use, one of the major donors to the Food Bank ceased delivering food.
Second Harvest, a Spokane-based food distribution organization for non-profit organizations, had to stop all food deliveries outside of Spokane County in December because of the increased demand there. The spike in inflation also increased the price of food the Food Bank purchases.
"Cash donations like we received from NWAB and Washington Trust go a long way because of our buying power and relationships with local grocery stores," Love said. "Of course, we welcome all donations whether they are in the form of food or cash. Hey, we also need volunteers!"
Approximately 30 new families a month show up at the Food Bank and the numbers aren't slowing, said Love, who has led the Food Bank for seven years.
"November is by far the busiest month for insurance agencies and body shops," said NWAB co-owner, Cory Donenfeld. "It is so gratifying knowing we are helping people in need."
Eric Donenfeld even donned a deer outfit and dashed into a Chamber of Commerce meeting to raise awareness while an employee wore the outfit for a series of photos on the firm's popular Facebook page.
"It is all about raising awareness, helping our community and having a little fun," said Eric Donenfeld, NWAB co-owner.
Love is a huge fan of the local body shops and is often seen wearing the firm's baseball cap and even showed up for the annual check presentation photo with it on. The deer - aka Eric - also appeared.
The community continues to come to the aid of the Food Bank and businesses like NWAB, and Washington Trust make a huge impact, she said. She also cited organizations such as Rotary for stepping up.
"This community never ceases to amaze me or rise to the challenge," Love said.
Recent Headlines
---