Kinderhaven Foundation helps BHT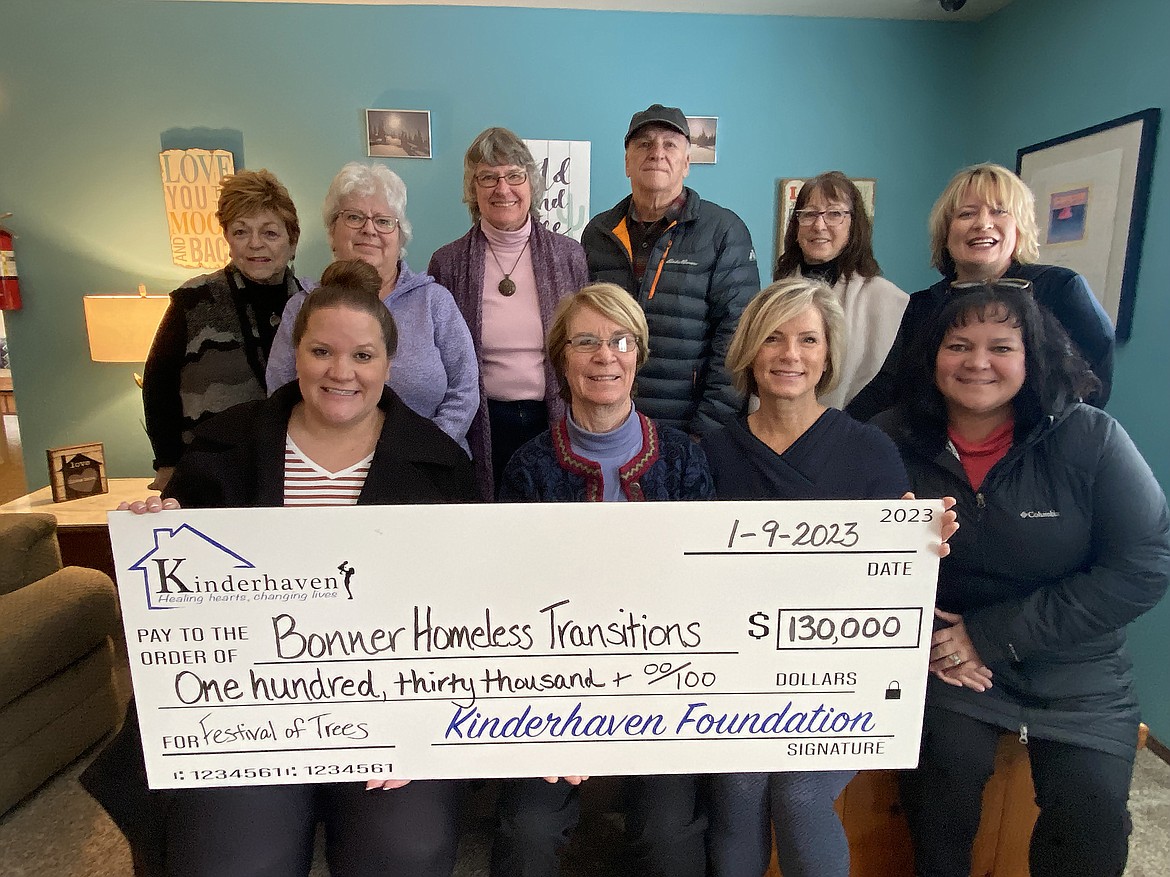 Kinderhaven Foundation recently donated $130,000 from part of the proceeds from Festival of Trees to Bonner County Homeless Transitions. This will pay the annual expenses on "Bluehaven North" (Kinderhaven's old location they have moved into) as their new women and children's emergency shelter. Pictured are representatives from both BCHT and Kinderhaven Foundation. In the front row, from left, are Betsy Dalessio, Mary Jo Ambrosiani, Kathy Chambers, and Jacinda Bokowy. In the back row, from left, are Janet Pultorak, Laurie Lambert, Ann Gehring, Dave Deeds, Mary Jo Knutson, and Jennifer Plummer.
(Courtesy photo)
SANDPOINT — Bonner Homeless Transitions' expenses for the next year are covered — thanks to a donation by the Kinderhaven Foundation.
The foundation, which was formed when the former youth group home was forced to shut down due to a change in federal regulations, donated $130,000 raised during its annual Festival of Trees to the organization.
The donation will pay the annual expenses on "Bluehaven North" — Kinderhaven's old location which BCHT is using as its new women and children's emergency shelter.
The foundation was created in the wake of the Family First Prevention Services Act, which placed the focus on keeping children with their families. Due to the legislation and the resultant stringent rules for fostering, Kinderhaven was forced to close after 25 years of helping thousands of youth experiencing crisis.
Instead of shuttering completely, Kinderhaven transformed from a group home to a foundation dedicated to the same message — supporting children in crisis in Boundary and Bonner counties. The aim is to help the children thrive by providing the resources that they need for emotional, physical, and mental health.
While many of the Kinderhaven Foundations initiatives are in the planning stages, the collaboration with Bonner Homeless Transitions is already bearing fruit, Kinderhaven officials said recently.
"Once again, the Kinderhaven home will be filled with the sounds of children as we have leased the building to BHT to bring life to our community's first women and children's crisis shelter. This will make a powerful impact on women with children fleeing situations such as violent homes or extreme poverty," Kinderhaven board president Kathy Chambers said previously.
Recognizing that crisis can take many forms, Kinderhaven officials said the new foundation is exploring all options on how it can help the community's youth, whether it is through housing efforts like the donation to BHT or teaming up with the Bonner Community Food Bank by donating more than 1,000 pounds of meat and pantry goods.
The bottom line, Chambers said previously, is that the foundation will look closely at where those dollars will best help the community.
Information: kinderhavensandpoint.com
Recent Headlines
---