Bulldogs beat Moscow, first time since 2016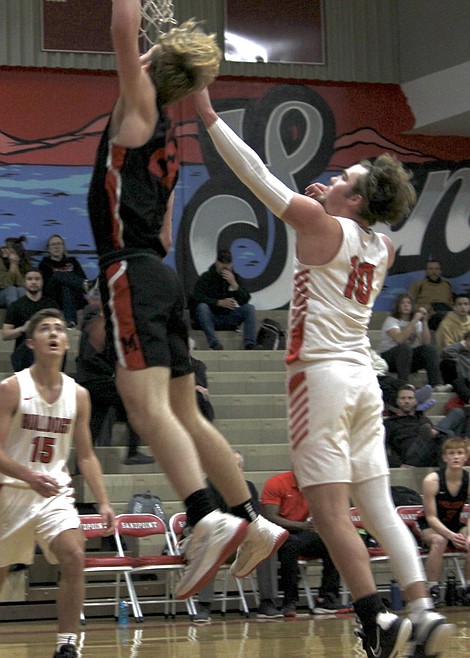 Arie VanDenBerg goes up for a rebound against Moscow during Tuesday night's game. The Bulldogs won 58-52.
(Photo courtesy SAMMY BERRYMAN)
by
SAMMY BERRYMAN
Sports Reporter
|
January 18, 2023 1:00 AM
Tuesday night's game against Moscow came to a nail-biter ending — and the Bulldogs claimed a win over the Bears, 58-52. Parker Childs had a huge three-point, and-one play to shift the momentum for Sandpoint in the fourth quarter, which led to a victory.
"Parker and Arie did a real nice job of making shots when we needed them," head coach Brian Childs said.
An evenly matched game from the beginning, the Bulldogs kept the score close in the first quarter. Dylan Rehder led Moscow with eight points and Arie VanDenBerg led the Bulldogs with six points in the first.
The Bears were up 17-13 heading into the second quarter.
The trend continued with both Inland Empire League teams scoring just nine points from multiple shooters.
"That's kind of been our M.O.," Childs said. "The second quarter we've struggled a little bit for whatever reason. But we were thrilled to be down just four points at halftime."
Ian Hillman took a nasty fall with less than a minute to go and had to be helped off the court.
Moscow held their lead 26-22 into halftime.
The third quarter can be summed up into four three-pointers from Evan Dickinson, Childs, and VanDenBerg for the Bulldogs and quick ball movement from the Bears. Sandpoint tried to hang in the game but Moscow ran away with a 20-point quarter to the Bulldogs' 12.
"The wheels came off and you just never know what direction things are going to go," Childs said. "We were at a crossroads where we could make a run and get back in it or they could've blown us out by 25."
Sandpoint trailed 46-34 heading into the final quarter.
The crowd was on the edge of their seats with every shot the Bulldogs made. Moscow missed a couple of key shots, Childs made a four-point play, and Sandpoint's momentum grew.
With 5:00 to go, VanDenBerg tied the game up with a three-pointer for the Bulldogs. Moscow hit back with a basket and-one but Randy Lane evened out the score again with a three-pointer.
"Randy's had some injury struggles but he persevered, he came out tonight and we probably wouldn't have won this game without his 10 points tonight," Childs said.
The Bulldogs led by four with 3:00 to go. An extended clock malfunction left concern about who would deal with the extra rest better, Sandpoint or Moscow.
Sandpoint prevailed and beat the Bears for the first time since 2016.
The next game for the Bulldogs is the infamous Battle for the Paddle on Friday at home.
Sandpoint 13 9 12 24 — 58
Moscow 17 9 20 6 — 52
SANDPOINT — Pettit 0, Lee 6, Frank 0, VanDenBerg 19, Dickinson 3, Childs 20, Lane 10, Jones 0.
MOSCOW — Wilson 7, Reed 0, Cummings 4, Rehder 15, Abendroth 4, Williams 0, C. Skinner 7, Z. Skinner 8, Hillman 7.
Recent Headlines
---