Sagle parents keeping an eye out for safety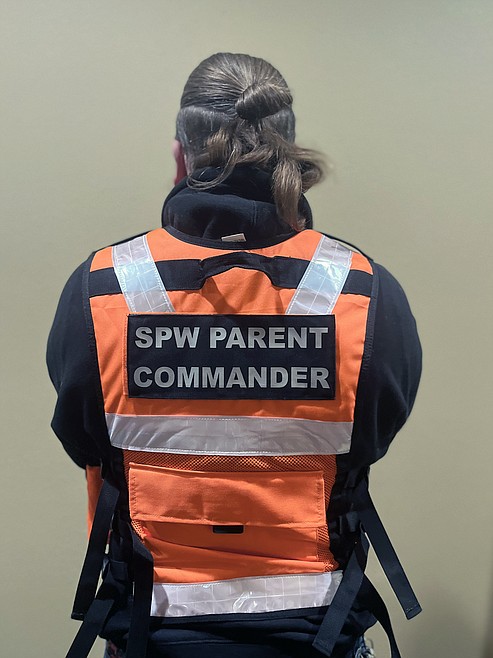 A parent shows Lake Pend Oreille School Board members at last week's board meeting what the vests worn by Parent Watch volunteers look like.
(Photo courtesy KRISTIN HAWKINS)
|
January 18, 2023 1:00 AM
SANDPOINT – Student safety continues to take precedence in Lake Pend Oreille School District, with a Parent Watch program presenting to the district board at the annual meeting last week.
Over the past year, the district has created several new initiatives regarding student safety including the district Safety Task Force, which has been the driving force behind updating safety technology in schools. Another of the initiatives is the Sagle Parent Watch Program.
Established as a pilot program this school year, the board received an update on the program from members Tara Laub and Kyle Baker.
The security and safety of the community's youth are always a concern for parents and school officials alike. However, recent events have prompted a move by LPOSD officials to be proactive while listening to the concerns of parents. In the presentation, Laub explained what those conversations have looked like and what has come of them.
"I'd spoken to you guys after the Uvalde shooting about district safety and security. After that, I was approached by Dr. Meyers to be on the district Security Task Force team which I willingly said yes, yes, and yes." Laub said.
Shortly joining the task force, Laub told the board she remembered past experiences serving on a similar team which called on parents to get involved.
"While I was on those teams, there was a lot of talk about a watchdog dad's program. It's used nationally, and a lot of school districts have it. I brought the idea to Mrs.[Christine] Davis [Sagle Elementary principal] and Dr.[Becky] Meyer. They thought that it sounded like a great program to bring on board," Laub said.
From there, Laub said parent input was sought out and many district moms stepped forward wanting to be a part of the watch team.
"So that's where parent watch was born and be able to encompass moms, dads, and grandparents," Laub said.
So far, Sagle Elementary has many benefits from the program, among them, having extra sets of eyes and hands, Davis said.
"Our volunteers arrive right at 7:20 a.m. with our staff members, and we kind of divide and conquer with parent arrival and then buses. So just having them there to kind of greet and, you know, maybe see if there are any hazardous conditions, they can help us, you know, get the ice cleared already in the morning, I'm gonna say North Idaho, we that's pretty much every day around here lately," Davis said.
In addition, Davis said the watch program helps students needing assistance with snow gear by providing more adults for the students to look to. Davis told the board that program volunteers even help during the school day during lunchtime and recess.
"So they are willing to just kind of be out there monitoring but also checking for hazardous conditions. The playground is very heavy with beautiful trees. But we oftentimes have limbs that are down. And so it's been great having them there just to kind of radio in," Davis said.
In regards to security, Davis said the volunteers also monitor the building throughout the day, ensuring doors are locked and that those on campus have proper identification.
Looking to the future, Davis showed the board a vest that would make program volunteers more identifiable while being very versatile to the wearer. That could include, she said, something that has various pockets to hold such things as wireless radio, and will also be customizable to display school logos and colors. Laub also said the team is currently "re-working" the volunteer schedule to best fill the time of the volunteers.
Another aspect of the program that may be changing is how volunteers sign up for the program. Currently, Davis said perspective volunteers call the office and speak to administrative staff. The perspectives are then put through the same screening process that is used for school volunteers. However, Davis said she doesn't see this remaining efficient.
"It's working, but we anticipate this program is really going to take off a little bit more. And so finding an efficient system may be done electronically like a signup genius is our next step," Davis said.
Recent Headlines
---