SHS gets into the spirit for Battle for the Paddle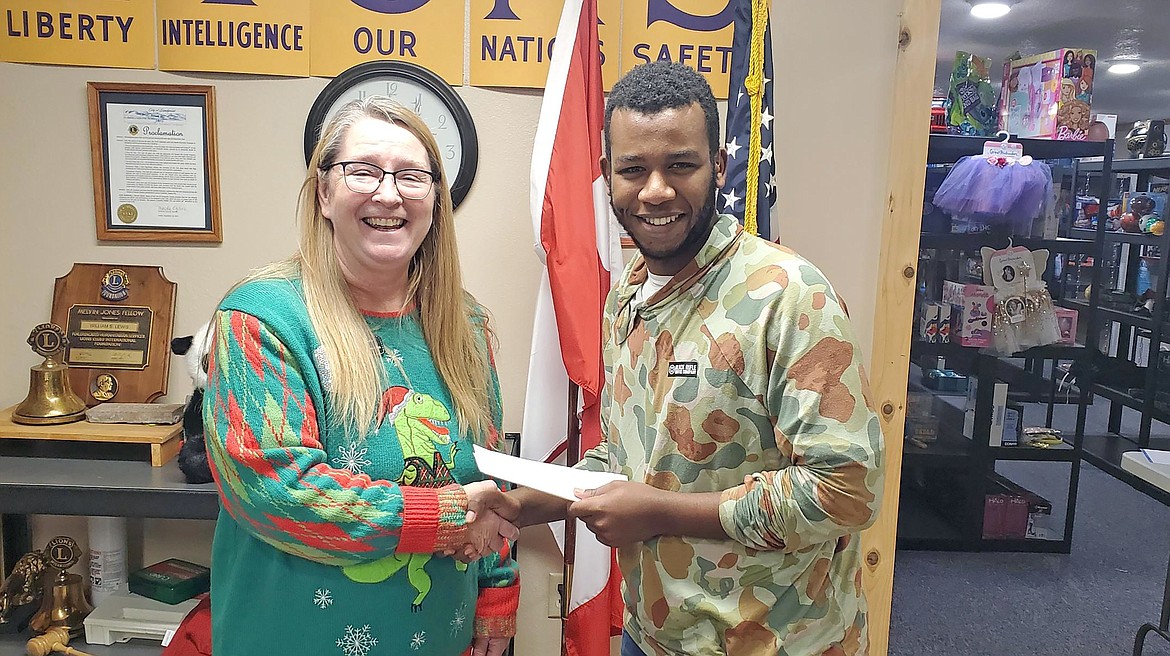 Sandpoint High School student body president Alex Manning, right, presents Lions Club president Janice Rader with the school's donation for Toys for Tots. The amount will be unveiled at Friday's Battle for the Paddle.
(Courtesy photo)
by
SAMMY BERRYMAN
Sports Reporter
|
January 20, 2023 1:00 AM
Sandpoint High School is hosting the Lakeland Hawks today, Jan. 20, for the much-anticipated Battle for the Paddle. 
The event, which has been held since 2017, begins with the girls basketball game at 4 p.m. At 6 p.m. the Bulldogs wrestling team takes to the mat followed by the boys basketball game at 8 p.m.
"It's a great environment and a tremendous experience for all the teams to participate in," head girls basketball coach Will Love said. 
Other Battle of the Paddle events include a cheerleading performance, paddle babble, artwork display, decibel reading contest, a row race, dance team performance, a car raffle, lip sync battle, the presentation of fundraising checks, and the ultimate presentation of the Paddle to the overall winner.
"This is for school spirit and to get kids in the game, but it's also a fundraiser between the schools," Sandpoint High School Athletic Director Kris Knowles said. "We're helping people which sends the kids a great message and we get to show them that they get to be a part of something bigger than themselves."
Before Battle for the Paddle was an event, Sandpoint had a similar spirit game against Bonners Ferry called "Moose Madness" and Lakeland had a spirit game against Post Falls called the "Prairie Pig."
Kris Knowles and Lakeland Athletic Director Trent Derrick came together with the idea that playing each other made much more sense due to their school rivalry.
Since its beginning in 2017, Sandpoint has only won the overall competition once.
Last year, the girls basketball team lost their game 40-34 at Lakeland.
"Current history says the home team usually holds the advantage on the girls' side," Love said. 
Another special aspect of this showcase of sport and spirit is the inclusion of wrestling.
"I am thankful that the administration has decided to have our sport featured in such a fun and exciting event," head wrestling coach Doug Fry said. "Having wrestling AND basketball AND a spirit competition is something that is very unique."
Knowles agreed.  
"The thing that's really cool about this is that, unlike every other school, we include wrestling," Knowles said.
With the home-court advantage, will this be the year Sandpoint wins?
"SHS has been working hard in all areas to bring the paddle back this year," Sandpoint High School Principle Jacki Crossingham said.
If interested in attending Friday afternoons games and festivities, no tickets will be sold at the door so you must purchase them beforehand. To do so you can call SHS at 208-263-3034.
When purchasing a ticket for $10 you will also receive a T-shirt. For an additional $5 you'll receive a swag bag with a pom, flower lei, and sunglasses.
Doors open at 3:30 p.m. with separate entry lines for Sandpoint and Lakeland spectators. No backpacks, water bottles, or reentry so plan accordingly, and don't forget your earplugs!
For those who can't make the game but want to tune in, local broadcaster Bob Witte will be broadcasting both the girls and boys basketball games on KSPT 97.1 FM and online at northidahoradio.com.
Recent Headlines
---