Edwin Vernon Leniger, 89
|
January 22, 2023 1:00 AM
Edwin Vernon Leniger passed away early morning on Jan. 12, 2023, at the family residence in Beavercreek, Ore., surrounded by loved ones.
He is survived by his wife of 69 years, Margaret Leniger; daughter Vanessa Boeckman (Loren Boeckman) of Newberg, Ore.; son, Edwin Leniger Jr. (Joy Leniger) of Beavercreek, Ore.; and daughter, Joyce Hurlbutt (Jeff Hurlbutt) of Albany, Ore.; and his younger brother, Floyd James Leniger of Portland, Ore. Ed was blessed with seven grandchildren and five great-grandchildren.
Ed was born April 1, 1933, in Dodge City, Kan., during the Dust Bowl to Elijah and Treasure Leniger. The family settled in Sandpoint, Idaho, in 1942 where he met his wife, Margaret. During high school, Ed was active in football and, in 1952, the Sandpoint Bulldogs became the state champions with him as the quarterback.
Ed joined the Navy after graduation and served four years during the Korean War on the USS Kearsarge. Once Margaret graduated from high school, they were married in San Francisco in 1954.
After being honorably discharged from the military they settled in Los Angeles where he attended Northrop Grumman College of Engineering. Ed and his family moved to Portland in 1960, and there he took a position as a switchman for the Southern Pacific Railroad, from which he retired after 30-plus years.
Ed and Margaret bought a small family farm in Beavercreek, Ore., in 1967 where they still reside. Ed was active in the local community; he was instrumental in creating and building the Beavercreek baseball diamond and the creation of the Beavercreek Little League team. He was active in 4-H, the Milwaukie Elks and enjoyed playing golf, woodworking, leatherwork, raising cattle and working on the farm.
A funeral service will be held at Hillside Chapel with a reception to follow on Jan. 27, 2023, at 1:30 p.m. The graveside service will be on Jan. 30, 2023, at Willamette National Cemetery at 1:45 p.m.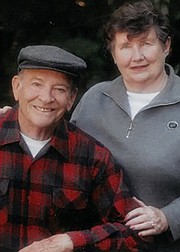 Recent Headlines
---