Students protest testimony ban; legislator modifies rule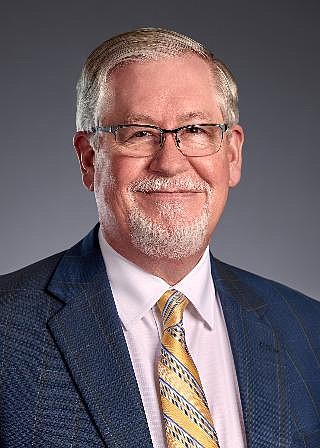 Rep. Bruce Skaug, R-Nampa (Courtesy of the Idaho Legislature)
With about 30 young people in the audience looking on, House Judiciary, Rules and Administration Committee Chairman Bruce Skaug announced Friday he is modifying his ban on accepting testimony from people under 18.
Skaug said he will now allow young people to testify in the committee if they have parental permission or are accompanied by a parent or guardian.
Earlier this month, Skaug made a rule that he would not accept testimony from anyone under 18 unless they were invited. The committee's agendas then prominently featured a note saying "YOU MUST BE AT LEAST 18 YEARS OLD TO TESTIFY." Skaug was the first committee chairperson to announce a ban on testimony from people under 18. On Tuesday, House Local Government Committee Chair Barbara Ehardt, R-Idaho Falls, announced that she would also prohibit testimony from people under 18 unless they had her permission in advance or were invited by a legislator serving on the committee. Ehardt did not address her committee rules during Friday's committee hearing with Skaug.
Skaug said Friday he is modifying that rule after fielding numerous calls and emails from people concerned about banning testimony of young people under 18. Now, the rule is that people under 18 can testify if they are accompanied by a parent or guardian or have a parent or guardian fill out a specific permission form that Skaug distributed to committee members Friday.
Skaug read his new rule for public testimony at the beginning of Friday's meeting.
"It is the goal of the committee to maintain decorum and receive testimony from all interested persons in public hearings," Skaug said. "However, in the interest of time management, this committee may give preference to citizens of Idaho over noncitizens in the order of testimony. The committee will not restrict testimony for children; however, adults may be given preference in order of testimony. Children under the age of 18 years must have a parent or legal guardian present to testify, or, in the alternative, must provide a permission slip from a parent or legal guardian on the form to be provided."
Idaho students respond to committee testimony change
About 30 students from local high schools attend the afternoon committee meeting at the Idaho State Capitol. Many of the students were involved with the nonpartisan group Babe Vote, which encourages young people to register to vote. Some of the students carried homemade signs that read "Let us speak."
Mae Roos, a 17-year-old student at Borah High School, told the Idaho Capital Sun she attended Friday's committee meeting because it is essential for legislators to consider youth voices in their policy decisions.
"It's just such a critical avenue to have our voices represented in government, especially a government that is passing legislation that critically affects our daily lives and our rights," Roos said. "Specifically the Idaho Legislature this year is increasing their attacks against the LGBT community, especially LGBT youth. Since that would directly impact my life, and lives of my friends and our happiness and well being, I think it is really critical that I be able to speak on something that directly impacts me. Our rights are on the line, and we should be able to speak up on that."
Lillie Young, a Borah High School senior, told the Sun she has attended legislative meetings previously for school projects. She said she specifically attended Friday's meeting to voice her disappointment in Skaug's decision to ban testimony from people under 18. She said she is extremely grateful Skaug modified his original ban, but said she still has concerns about young people and students being able to testify. Young believes the parental permission forms still represent a barrier to being able to participate in state government.
"I am a little bit concerned about people who have parents who aren't going to be very understanding, especially in the realm of legislation that relates largely to a younger generation," Young said. "For example, members of the LGBT community oftentimes have parents who are not supportive of them as individuals."
"I believe they are the people we should be hearing from first; we shouldn't be giving adults preference in situations like that," Young added.
It wasn't just young people who spoke out against Skaug's rules.
Meridian Mayor Robert Simison and all six members of the Meridian City Council signed a Jan. 20 letter to Skaug encouraging him to listen to the voice of the youth, the Idaho Press reported.
Before he announced his decision to modify his rule on youth testimony, Skaug said he was surprised by the news coverage of his decision.
"There is a war in Ukraine," Skaug said during the opening minutes of the House Judiciary, Rules and Administration Committee meeting. "There is food inflation causing financial pain to just about everyone. China is saber-rattling with Taiwan. We have our Army National Guard; some of our people serving in Syria are in harm's way. But the biggest news in the newspaper lately has been this committee, on one of our rules, on front page news and that kind of surprised me. I've had a lot of calls. At first they were, a lot of them, vile, profane, insulting, but that's tapered off to where they are more respectful, and those are the ones I listen to."
---
This story was originally published Jan. 27, 2023 by the Idaho Capital Sun.
Recent Headlines
---