Pair sentenced to jail in dog abandonment case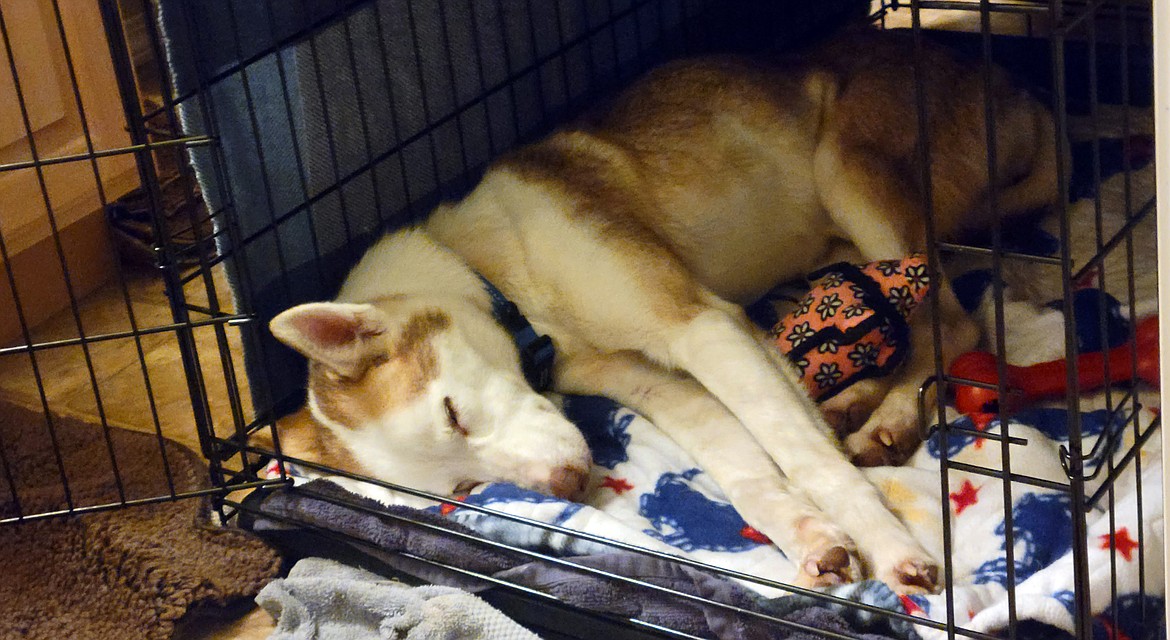 Sugar, one of the dogs abandoned by Jacob M. McCowan, 45, and Jessica L. Smurthwaite, 31, is pictured resting after being adopted by Heather Toliver. The medical team from Better Together Animal Alliance believes she was a week to days away from dying based on her condition when she arrived at the facility in mid to late January.
(Photo courtesy HEATHER TOLIVER)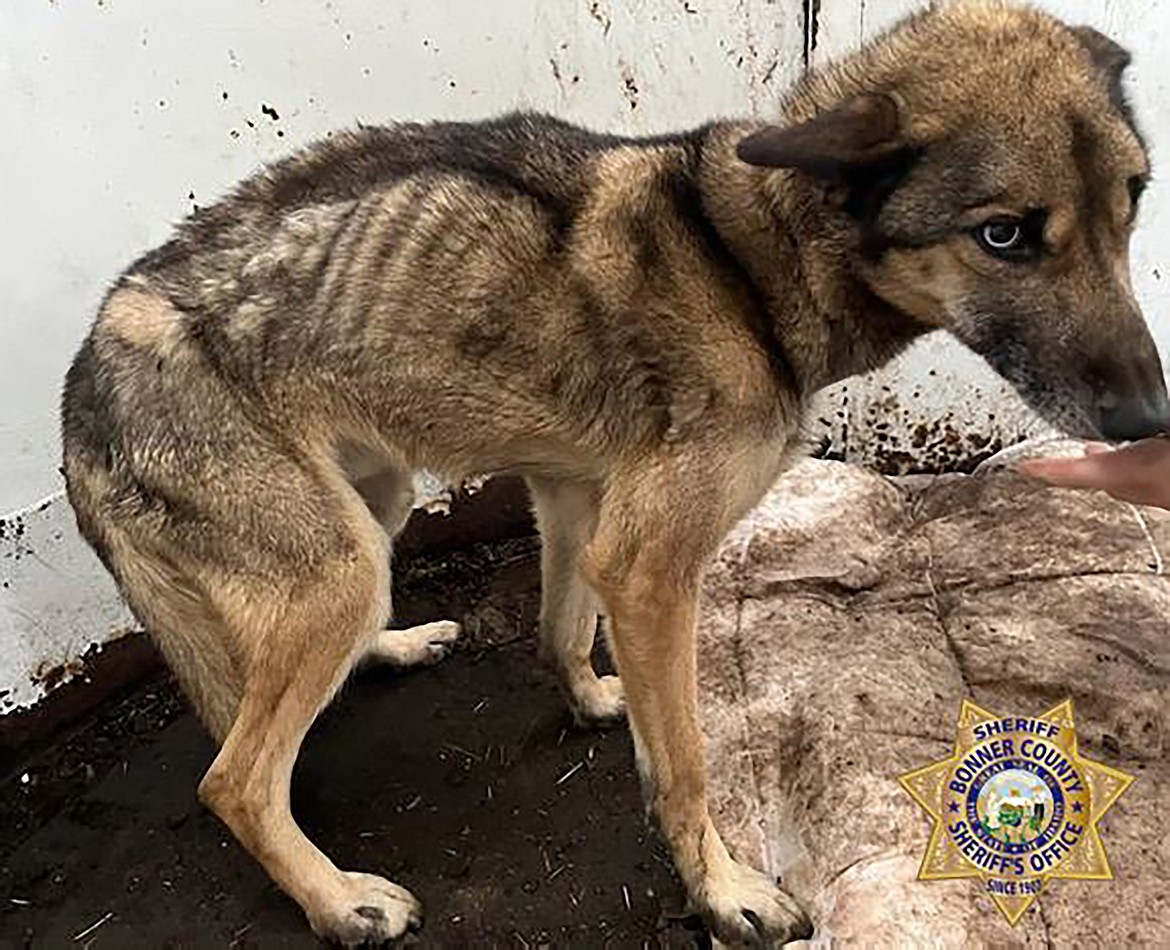 The condition of the Husky-type dogs found abandoned in the south and western part of Bonner is documented in this photo shared by the Bonner County Sheriff's Office.
Previous
Next
by
CAROLINE LOBSINGER
Staff Writer
|
July 1, 2023 1:00 AM
SANDPOINT — A couple charged in the abandonment of 31 husky-type dogs will serve time in jail after being sentenced Friday in Bonner County Magistrate Court.
Jacob M. McCowan, 45, and Jessica L. Smurthwaite, 31, were charged in late January with abandoning 31 dogs in southwestern Bonner County, parts of Kootenai County and in Pend Oreille County, Wash. Plea agreements were later reached with both in the case, dropping the number of charges against McCowan to 10 and the number of charges against Smurthwaite to two since the extent of her involvement could not be determined.
Friday, Magistrate Judge Tera Harden sentenced both to jail, saying the case warranted such an action.
"This is not a case that happened because somebody lost their job," Harden said. "This is a case where 31 dogs were used to earn an income and when they weren't earning an income, they were no longer cared for."
McCowan was sentenced to 750 days — just over two years — in jail with up to 180 days per count possible — just under five years — if he fails to stay out of trouble. He was also sentenced to six years of supervised probation, a $5,000 fine and barred from owning any animal or being in one's presence while on probation.
In McCowan's case, the state had asked the court to impose 500 days of jail time — 50 days per dog, the amount of time between when McCowan said he lost his job and when he said he had no other choice but to abandon them. Deputy prosecuting attorney Daniel L. Rodriguez also sought a $5,000 fine, restitution, and five years of supervised probation. Defense attorney Peter E. Cook sought probation and restitution.
A plea deal reached in Smurthwaite's case called for 15 days on the sheriff's labor program, two years of probation and 100 hours of community service.
However, Harden said she would not be following the agreement, saying Smurthwaite's actions warranted a stricter sentence. She noted the woman didn't tip off authorities to the animals being dropped off so they could be rescued.
"Instead they were left out in the freezing cold in despicable condition," Harden said. "I will note that her involvement was less than Mr. McCowan's but she still stood by and did nothing."
She sentenced her to 25 days in jail for each of the two counts, for 50 days total, three years of supervised probation, barred her from owning or being in the presence of any animal during that time. She also faces the potential for up to 180 days per count if she fails to stay out of trouble.
Noting that a range of help was available for both the family and the dogs, McCowan did not reach out. Rodriguez said McCowan used the dogs both as sled dogs and as a breeding operation. Once the dogs stopped making him money, things went sideways and he stopped caring for the animals.
"He said that none of his actions were done with any degree of malice or a cavalier attitude," Rodriquez said. "You're releasing emaciated dogs in the middle of January, in sub-freezing temperatures. … He didn't leave them where people could try and grab them quickly, he left them out in the middle of nowhere where they were most likely to die."
McCowan's attorney, Peter E. Cook, said the man's actions stemmed from abject poverty prompted by the loss of his job, forcing him to live in a tent in the middle of winter. He was barely able to care for his wife and stepson, much less the dogs he was raising.
"It was a desperate situation and he made a poor choice," Cook said.
He now has a good job, was living in an area near his wife's family and the conditions that precipitated the abandonment were unlikely to ever happen again.
McCowan told the court he was sorry for what he'd done, saying it "tore him apart every day" thinking about it. He only abandoned the dogs in an attempt to save his family from starving to death themselves.
Smurthwaite also apologized for her actions, saying she felt great remorse and loved animals.
"I deeply regret what has happened and am truly sorry," she said.
Mandy Evans, executive director of Better Together Animal Alliance, said the group was notified in January of husky-type dogs running loose, some of which were beginning to make their way to the facility. It was in conversations with the Bonner County Sheriff's Office, that they realized the size and scope of what they were facing.
"It became very clear that this was a case of abandonment," Evans testified.
BTAA ended up helping over 16 of the dogs at its facility with the remainder of the dogs helped in other animal rescue shelters or by community members who fostered the dogs.
The dogs were evaluated by BTAA's in-house veterinary staff, which determined the dogs faced significant medical issues.
"As we learned more, it became clear that the dogs were abandoned intentionally and would require extensive medical care," Evans testified.
The dogs showed a range of health and behavioral issues, including chronic gastrointestinal issues due to parasitic infestation and bacterial infection. All were malnourished, underweight and under-socialized to the point of being considered feral, Evans said.
Some of the dogs required advanced treatment for life-threatening conditions, including a dog pregnant with non-viable puppies, another with a uterine infection, and another with advanced glaucoma where one of the eyes had ulcerated due to the pressure and the other eye was about to rupture.
"In my nearly 13-year tenure as BTAA's executive director, I have never experienced a case of this magnitude and impact," she said.
BTAA serves more than 8,000 animals each year, 6,000 of which are helped through its community-based programs. Those programs are free and delivered to rural and remote areas throughout Bonner, Boundary and Kootenai counties.
If either defendant had called BTAA, or any animal shelter in the region, Evans said they would have been helped without question or judgment. They could have received dog food, veterinary care and other services. They would have worked with the couple to care for the dogs and developed a plan to surrender them to BTAA's care.
The BTAA executive director said she checked the facility's helpline and found no record that either had called.
"If the defendants had contacted us while the dogs were in their custody, we could have helped," she said. "It's what we do, assist people to ensure our community pets are healthy. They did not reach out for help, instead, they absconded their responsibility onto our caring community. The dogs who survived this avoidable trauma survived because the community responded."
Heather Toliver, one of several dozen people who spent countless hours searching for the dogs, working to get them to safety, said she was just an average citizen but after learning of what had happened, she felt compelled to help.
"We all banded together, started working together to be effective for days, to go out there and try," said Toliver, who later adopted at least one of the dogs.
They formed a Facebook group, searching areas around where the dogs had been reported abandoned, tracking sightings, spending hours in the colds, walking and hiking, as they searched for the dogs.
Some dogs were found deceased and others were so scared and so feral, they were hard to catch.
She described caring for one of the dogs, later adopting her, and noted the process has been long and is still ongoing. The dog, Sugar, faced significant medical issues and remains skittish and is afraid of men. They have spent hours in emergency rooms and physical therapy working to bring her to health.
Asked what she wanted, Toliver said it was simple.
"Justice," she said, "for the dogs. They don't deserve this life."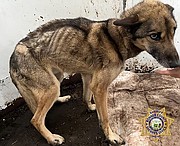 Recent Headlines
---