Effort launched to fight social media ban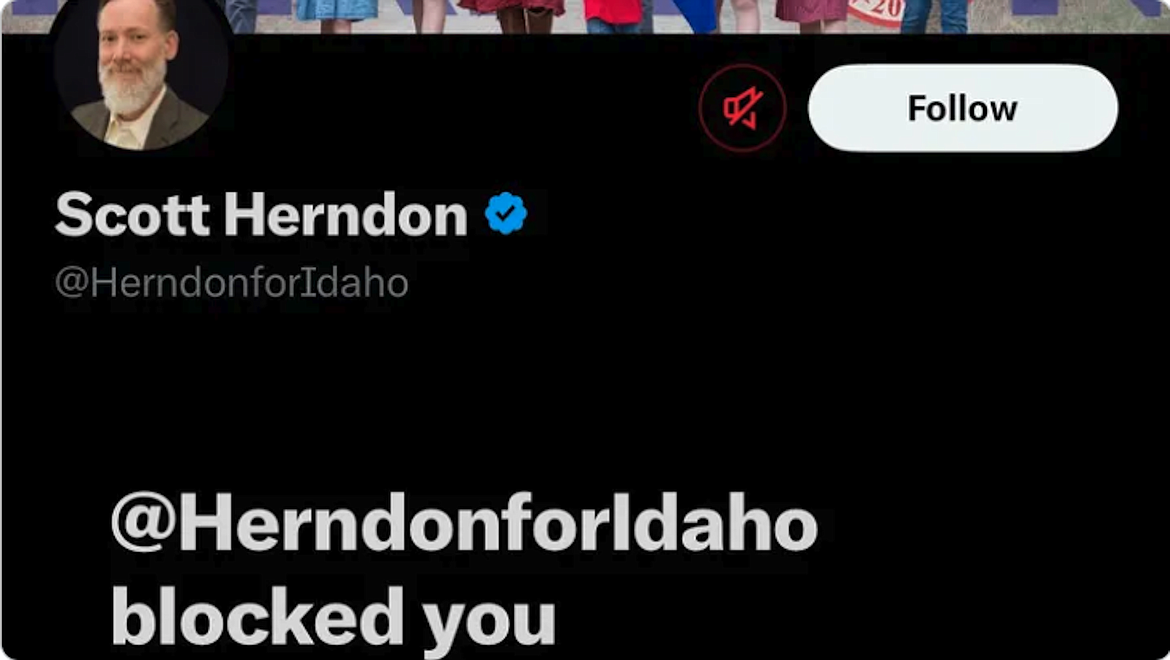 A screenshot of a GoFundMe campaign that has been launched to cover an upcoming legal challenge by those being blocked on social media accounts by District 1 Sen. Scott Herndon.
by
CAROLINE LOBSINGER
Staff Writer
|
July 6, 2023 1:00 AM
SANDPOINT — A GoFundMe campaign has been launched to cover a likely legal challenge by those being blocked on social media accounts by District 1 Sen. Scott Herndon.
The challenge is expected to be filed in late August, said Alicia Abbott, one of those who were blocked by Herndon.
The campaign, which was launched June 21, would create a litigation fund to cover the challenge to their First Amendment rights, organizer Alicia Abbott said.
"There are likely dozens of us at this point, and it is time to do something about it," she said.
The campaign, "Help Idahoans Blocked by Senator Scott Herndon," seeks to raise $10,000 to fight the bans.
Abbott said the move seems to be part of a trend among some legislators to block any comments or questions with which they disagree. That includes, she said, asking their stance on extreme groups or views, which appears to be what triggered her ban by Herndon.
She had criticized the state senator for his stance on various issues and his affiliation with far-right groups and individuals, including Dave Reilly, who many believe runs the anonymous Idaho Tribune propaganda website.
"What's really funny, I've been going back and forth with Scott Herndon on social media for over a decade and I've said a lot worse things in that time," she said.
However, Herndon contends that his social media accounts are connected to his campaign and are not official sites. As a result, he said he can block those he feels violate his social media policy. Most of the bans, a majority of which are on Twitter, are due to profanity, name-calling, or "label lynching, with terms like Nazi or fascist" among the most frequent, Herndon said.
"I welcome opposing view points on my pages as long as people conduct themselves civilly by abiding by the linked policy," he told the Daily Bee.
The policy notes the pages are for Herndon to communicate with District 1 residents regarding legation and policies. Any comments that aren't related to that communication or contain "fighting words," graphic or gratuitous violence, vulgar language or profanity are subject to being removed. Also prohibited are comments determined to "threaten, intimidate, harass, or defame any person or organization."
In a mid-June email, Abbott told Herndon that the ban violated her free speech rights and called on him to unban her immediately.
"You and your office have embraced social media as a crucial means of communicating and interacting with your constituents and the public," she wrote. "As your constituent, I was once able to use your social media platform to have my views heard directly by you and your staff ... That was until I was blocked from your official Twitter account."
Others who were barred from the social media accounts said Herndon claimed he blocked them over a lack of civility. However, they contend that is an excuse to bar anyone who pushes back on his views or his narrative.
"He claims that he is against echo chambers, but is very liberal with the block button when it comes to people disagreeing with his posts," said one.
Abbot said the bans are prohibited by both the Idaho and U.S. constitutions. She also noted that recent court decisions ruled that public officials' social media accounts are public forums and subject to the First Amendment. In Knight v. Trump, a federal circuit court ruled that former President Donald J. Trump's Twitter page was a public forum and ruled he had violated the amendment when he blocked people.
"You, like the former President, are the public official, who has created the public forum and blocked me from it, thus violating the Idaho and United States constitutions," she wrote. "You may not do this. You may not prevent me from engaging in the comment threads on your public social media page."
Recent Headlines
---