Lifeguards unlikely at City Beach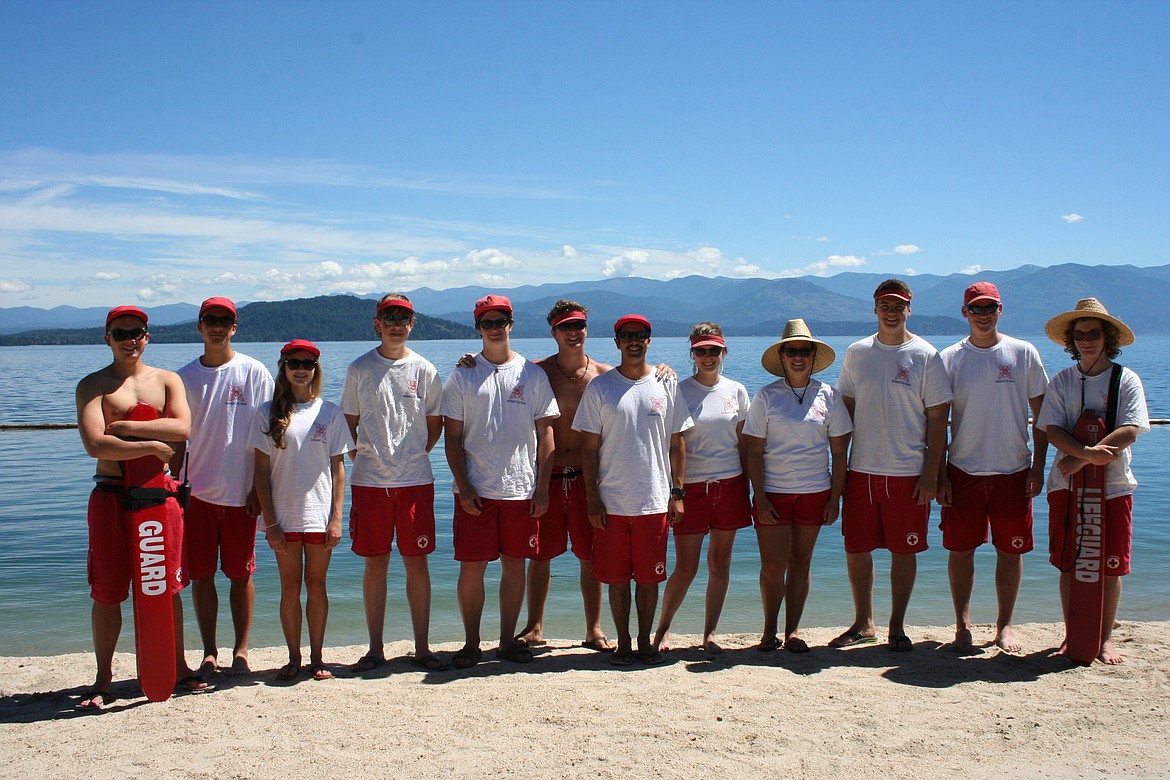 The Sandpoint City Beach lifeguard corps from 2014 pose for a group photo.
(Courtesy photo)
by
CAROLINE LOBSINGER
Staff Writer
|
July 6, 2023 1:00 AM
SANDPOINT — There will likely be no lifeguards on duty at City Beach this summer.
With only five applicants, Sandpoint City Administrator Jennifer Stapleton told the council Wednesday that the city does not have staffing to operate its lifeguard program.
"The city has not canceled the program as was suggested a few years ago, Stapleton told the Daily Bee. "We are experiencing the same employee shortage most of the employers in our area are facing. Recruitment of lifeguards has been a challenge across the country, and we've seen reduced pool hours in our community and regionally as a result of a shortage of lifeguards."
Stapleton told the council that city staff have had extensive and ongoing conversations about possible options, from just staffing one lifeguard stand to limiting the number of days that lifeguards are on duty.
The positions, which will remain posted, have been shared in the media and on social media. In addition, local swim teams, the YMCA, and others have been approached for assistance.
"But at the end of the day, staffing challenges have just been such a challenge," Stapleton said.
A minimum number of lifeguards is needed to appropriately staff the beach, but between the limited applications and the minimum requirements to adequately cover the beach, Stapleton said the city has not been able to get to those staffing levels.
The city significantly raised pay for the positions several years ago, which essentially doubled the cost of the lifeguard program. The salaries are benchmarked to be competitive, and the city pays above average for the positions due to the lake being open water.
At this point, Stapleton said there won't be lifeguards at the beach, but that could change if there is enough interest.
"Typically, it has been youth we have employed in the past, but we encourage others who have experience, time, and/or the basic skills with a willingness to learn," she said. "We provide the training, and this is an important program for our community."
Council members and city residents alike expressed concern, asking if the city could increase pay, incentivize recruitment, or partner with other groups to somehow reach the numbers needed.
They called on the city to look at the issue during budgeting next year to see if there is a way to make pay more competitive.
"A lot of these decisions by kids are really made on the margin, you know, 'Where can I make 50 cents more an hour,'" Councilman Jason Welker said. "So if we're talking about adding a couple thousand dollars to the lifeguard budget to keep it staffed with four or five lifeguards, it seems [worth it] when it comes down to saving a life."
Partnering with civic groups and youth groups such as the Boy Scouts or Girl Scouts also might be an option, council members said. But they noted, like Stapleton, that it was hard to determine what the hangup was, whether it was recruitment efforts, money, or something else.
Noting it was not the first time the council had discussed the issue, Councilman Andy Groat said he agreed with the rest of the board that the issue was critically important.
"That's a legacy watermark, to have lifeguards at our City Beach," he said.
Noting that retirees were working long hours to keep the indoor pool at the YMCA open, Councilman Justin Dick said it was hard to know what was causing the staffing shortfall in the city's lifeguard program.
"We need our community; we need our community and get our children involved with working again," Dick said. "We have lots of people on the sidelines right now that need to be in the workforce. We can use them desperately right now. The lessons that they learned from working down on that beach and interacting with those people are absolutely worth gold. So please, our outreach tonight is to all of you out there as well, too. Bring us your children; bring us those people that you know."
Groat added to Dick's plea.
"It's a great job," he said. "It is hard. It's not just getting a suntan. It's a hard job that requires much discipline and much responsibility — all characteristics that I want from a 14- to 18-year-old. And so I echo Justin: Parents, if you've got them, send them because we need them."
While he works as an EMT, Chip Albright said he was there as a parent to express his concern after hearing the beach might not be staffed this summer due to the lifeguard shortage.
He recalled an incident with his son and noted how quickly someone could run into trouble. The lifeguards play a critical role, constantly watching the water, trained to spot — and respond — to signs of a swimmer in trouble.
"A kid goes down; guess what? Lifeguard's there," Albright said. "That's what they do. It's important. And I don't know any other way how to put it besides that. A life is at stake and they're gonna save a life."
Recent Headlines
---