Seeking 'purple gold?' Try these tips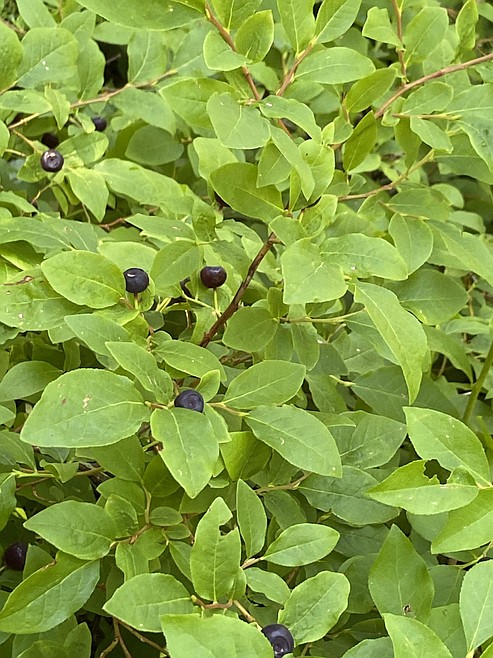 Huckleberries range from dark blue to deep purple in color.
Photo by CAROLINE LOBSINGER
by
LAUREN REICHENBACH
Staff Writer
|
July 7, 2023 1:00 AM
Huckleberries have hit the Idaho Panhandle early this year, which hopefully means there will be more to pick all summer long.
Designated Idaho's official state fruit in 2000, huckleberries thrive the best in the Rocky Mountain region, but Idaho and Washington also see large berry populations in the summer. While these tasty nature snacks pop up every summer, it can be easy to confuse the berries and even the plant as a whole with other species of fauna that may be poisonous if consumed.
Priest Lake State Park manager Lonnie Johnson, who is considered by his coworkers a resident huckleberry expert, shared some tips on how to best identify huckleberries.
"Care should be taken on knowing what the berry looks like and precautions for wildlife," Johnson said.
According to Johnson, huckleberries grow on shrubs that can range in height from six inches to five feet. Their leaves have serrated edges, are oval in shape and alternate on the plant's stem.
"The berries are deep blue to dark purple," Johnson said. "The berries are small, rarely growing over ½ inch in diameter."
Huckleberries do best in climates ranging from 2,000-11,000 feet in elevation, which is why they pop up so abundantly in the Idaho Panhandle, which sits at roughly 2,100-7,600 feet. The berries enjoy the heat, Johnson said, and are usually found from late July to mid-October. However, they came early this year, with people harvesting buckets of them by the middle of June.
While there are at least 12 different species of huckleberries that can be found in the Pacific Northwest, Johnson said the mountain huckleberry – also called the black huckleberry — is the type that is most commonly found throughout Idaho.
Humans aren't the only ones who thoroughly enjoy huckleberries, either.
"Deer, elk, black and grizzly bear and other small mammals, as well as several species of resident and migratory birds, rely on the foliage and fruit of big huckleberry and the other plants that grow along with it," Johnson said.
Because these berries attract so much wildlife, Johnson said it is a great idea to always let someone know where you're going and when you plan to be back. In addition, try to bring a friend as big groups are more deterring to larger animals. A whistle is also an important piece of equipment to have in case of an emergency, he said.
"Wear a belt so you can loop it through the handle of your container to take advantage of both hands to pick," Johnson advised. "An ice cream bucket with the wire handle works good, or you can cut the top part out of a plastic milk container and your belt can go through its handle."
Berry rakes are not illegal but they are highly discouraged by the Forest Service. Rakes can damage the huckleberry plant and it also pulls all the berries off the plant — even the unripe ones. This can be detrimental to bears who rely heavily on late bloomers as a food source before hibernation.
Additionally, commercial gathering is banned in all Idaho Panhandle National Forests. Picking any amount of huckleberries with the intent to sell them is considered commercial gathering. It is also illegal to intentionally damage or pick huckleberry bushes, so be mindful of where you step as you pick.
Area residents may not share their huckleberry-picking-spot knowledge with just anyone, but there certainly are enough berries in the panhandle that one doesn't have to travel too far into the woods to find plenty of what many call "purple gold."
Recent Headlines
---