West Bonner OKs audit, settlement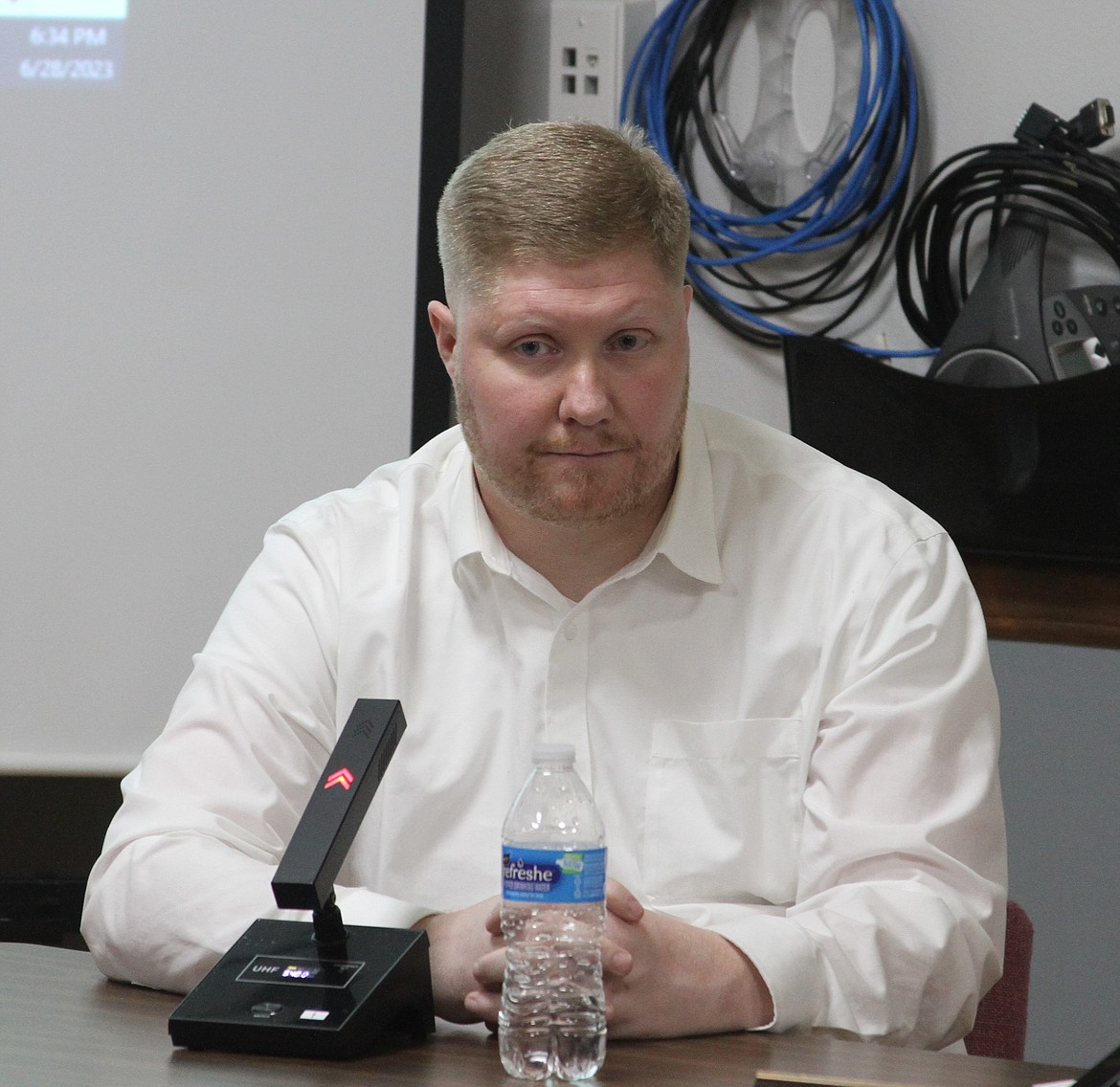 by
DARREN SVAN / Idaho Education News
|
July 7, 2023 1:00 AM
Seated at folding tables in the Priest River Lamanna High School cafeteria, West Bonner trustees dodged accusations of lying and corruption as they methodically worked through Wednesday's agenda items.
Trustees approved a proposed forensic audit, tabled a motion to accept a temporary budget, and approved a settlement with former superintendent Jacquelin Branum, a move that was a do-over from a previous meeting amid accusations of violating Idaho's open meeting law. 
Loud applause resounded throughout the cafeteria as patrons and community members lodged complaints and criticisms for the planned audit and the perceived political agenda of some trustees.
During the comment period, board chairman Keith Rutledge requested the removal of one man who pointedly accused the board of lying and manipulation. The officer directed him to leave the room, which he did without a physical confrontation.
"Officer, please remove him," Rutledge said.
Two other women were asked to leave the room for their loud, distracting comments. The second woman took a parting shot at the board, screaming "liar" as she exited.
Candace Turner told the board the recall election is not about the audit. "It's about the disrespect that you have shown this community."
West Bonner patrons are calling for their school board chair and vice chair, Rutledge and Susan Brown, to step down. 
Enough signatures were collected to launch recall elections against both trustees. If they choose not to step down by Friday, the trustees will face a recall election on Aug. 29. 
"This is our home, these are our people, please resign," Turner said.
The forensic audit
Trustees said yes to superintendent Branden Durst's proposal for a forensic audit but rejected his recommendation to hire temporary staff to assist with completing the audit. The additional staff would organize documents and serve as a point of contact, a move Durst believes would ultimately save the district money.
Trustee Margaret Hall said, "I am not against the audit. I am deeply offended by the letter to the editor by Keith (in the Spokesman Review). Do not make allegations against me when they are not true."
There is speculation that some trustees are trying to slow down the audit until after the recall election.
Hall suggested a multi-phase audit, starting with preliminary spending of no more than $5,000. She wants to review each phase and only continue spending money when something is discovered and needs additional investigation.
Trustee Carlyn Barton said, "The recall has nothing to do with the audit. You are not doing your job — that's why the recall is being done. You called us out in public and there's no need to do this." 
She estimated the cost of an audit of between $30,000 – $50,000, an amount she opposed. She did support a less expensive, phased audit. Both Hall and Barton opposed hiring additional staff to support the firm conducting the work.
The motion for Durst to begin designing and budgeting for the audit carried unanimously.
The temporary budget
"We have to have something," Durst told his board.
"What I'm recommending that we do — I have all the expectations that will be back here in two or three weeks for revising this budget with the final budget — is get something done so it's on the record so that we can start paying our bills and make sure that we have the ability to start hiring staff," he said.
Durst suggested a base budget similar to the one used in the previous year but not the budget recently published for the public to review.
"Our business manager did check with the Department of Education and they confirmed that there's no legal implication for us or you approving a budget that's materially different than the one that was posted in the newspaper," Durst explained.
"A lot doesn't make sense — the spreadsheets don't make sense. When your fiduciary responsibility is that all money is spent appropriately for education items, but you don't have all that information in front of you, it's really difficult," said trustee Brown.
Hall opposed using a budget that the public has not seen. "They saw the other one. This was not posted like it should have been. The one that was posted is the one that needs to be done. Not having people seeing this is not appropriate."
Durst said, "I appreciate that point," adding that he was concerned that their contingency fund could become depleted without a temporary budget in place.
"The budget has to be available to the public before we vote on it," Hall said.
Trustees chose to table their budget discussion and come back to negotiate another time. They mentioned meeting again on Thursday or Friday to continue talks.
"Let's get this hammered out with the negotiations committee," Hall said.
Open meeting violation
Trustees took up the accusation of an open meeting law violation. "I realize there is some question if this was an open meeting violation or not, but it was a messy motion that was made. We didn't include the number because we didn't have it handy," Hall said. 
Hall made a motion that passed unanimously: If the actions of trustees inadvertently violated open meeting law by not disclosing the amount of settlement between the district and former employee, the board self-recognizes such a violation and accepts the violation be declared null and void.
Idaho Education News filed a formal complaint with the Bonner County Prosecutor Louis E. Marshall asking the office to consider if trustees violated Idaho's open meeting law when they voted to "accept the amount" of a final settlement with former superintendent Jacquelin Branun. The "amount" was not made public during an opening meeting following an executive session. Idaho code says "no executive session may be held for the purpose of taking any final action or making any final decision."
Following the motion to self-cure or re-do the action, trustees approved a final settlement amount to Branum in the amount $8,871.06, which covers the remainder of her contract, according to trustees.
Recent Headlines
---