Crews battle Bee Top Fire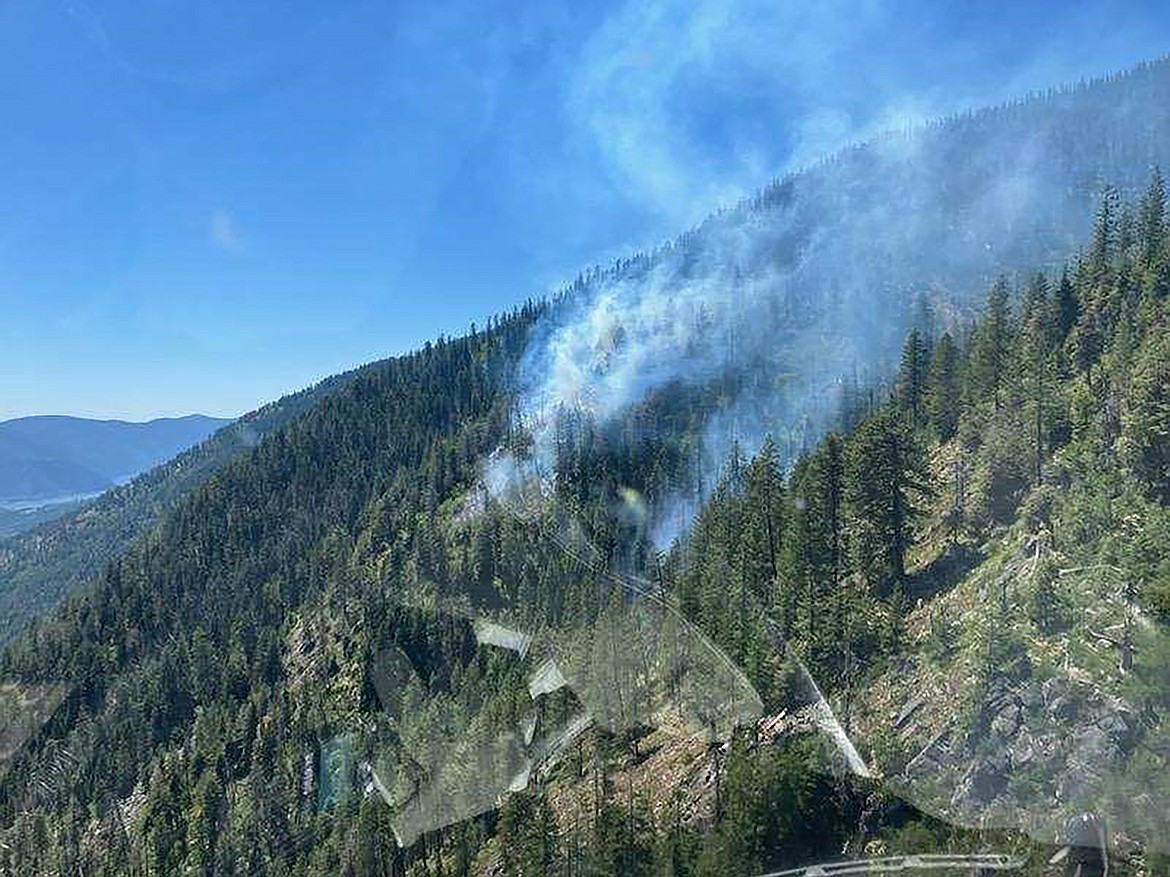 The Bee Top Fire, located 5 miles up Lightning Creek Road, has burned 33 acres and is listed at 0% contained. A total of 107 fire personnel are assigned to the fire.
(Photo courtesy USDA FOREST SERVICE)
by
CAROLINE LOBSINGER
Staff Writer
|
July 8, 2023 1:00 AM
CLARK FORK — The Bee Top Fire, located in the Lightning Creek drainage, inched higher Friday, Idaho Panhandle National Forests officials said.
In addition, an initial attack engine crew was on hand and responded to a new fire start that occurred to the north of the fire, officials said in a Friday update.
"This fire was later found to be an abandoned campfire, which was successfully extinguished," IPNF officials wrote in a press release.
The fire is located 5 miles up Lightning Creek Road on Bee Top Mountain and has burned 33 acres and is listed at 0% contained. A total of 107 fire personnel are assigned to the fire, with the Klamath Interagency Hotshot Crew joining the effort Thursday. There are now four hotshot crews assigned to the wildfire, IPNF officials said.
Due to the terrain, firefighter safety is a primary concern, resulting in crews scouting and constructing indirect fireline along Lightning Creek, officials said.
Friday, one hotshot crew remained in the drainage bottom along Lightning Creek, continuing to construct an indirect fireline to the northeast. Two crews were transported to the mid-slope helicopter landing zone to work on the southwest ridge indirect fireline, with one crew working their way up from the landing zone and one working down toward the containment line being constructed from the valley floor.
The helicopter crews continued to drop water on the fire in an attempt to slow its progress. In addition, the crews will begin transporting crews to higher areas on the mountain.
"With steep and rugged terrain restricting quick access to many areas around the fire, a third helicopter will be available primarily for medical extractions from tight locations should the need arise," officials said.
Two water scooper planes are also being utilized over the fire area. The aircraft should help slow the fire's progression, giving crews additional time to build an indirect fire line to protect the community from unchecked fire spread.
Consalus Fire
Reported on June 30, the Consalus Fire on the Priest Lake Ranger District has burned an estimated 140 acres. There are 91 personnel assigned to the lightning-caused fire, which was reported on June 30.
Located in Pend Oreille County, Wash., the fire is about 10 miles west of Coolin. It is burning in heavy dead and down timber. The fire is 0% contained
A 10-person district team, three 20-person crews, a Type 1 helicopter, a dozer, and an excavator are engaged in direct suppression efforts, according to IPNF data.
Road and trail closures
• Bee Top Fire — None
• Consalus Fire — None
Information: inciweb.nwcg.gov
Recent Headlines
---