Rutledge, Brown to fight recall
by
CAROLINE LOBSINGER
Staff Writer
|
July 8, 2023 1:00 AM
PRIEST RIVER — Two West Bonner County School District board trustees have opted to fight a recall campaign launched against them last month.
Board chairman Keith Rutledge and board vice chair Susan Brown both indicated they would not be stepping down, Bonner County Clerk Michael Rosedale said.
Neither Rutledge or Brown responded to emails seeking comment on the recall or their decision.
Rosedale advised in late June that the recall drive, launched by parents and community members critical of the pair, saying they have not been open, fair, or honest with residents. They accused them of having a hidden agenda and not respecting the rights of their constituents.
"(They have) shown that (they do) not have the first and greatest concerns for the educational welfare of West Bonner County School District students attending public schools," said the petition.
Rutledge and Brown have failed to fulfill their oaths to strive to improve education and the schools in the rural school district, the petitioners contend.
The petition also cites both Rutledge and Brown as failing to recognize that a majority vote is needed to make a decision with the outcome supported by all members. The board chair needs to be actively involved in policy changes, which should only be held after publicly held board meetings.
The petition against Rutledge garnered 337 valid signatures. The minimum needed to prompt the recall process was 243 signatures. In the drive to recall Brown, a total of 243 signatures were gathered. The minimum number needed to prompt the recall process was 177.
Registered letters were sent to Rutledge and Brown in late June. Rosedale said the pair let him know via email this week they would not step down.
The pair had five days from receipt of the letters, which were sent June 30, to either voluntarily resign or do nothing, which would set the stage for a recall election Aug. 29.
In Brown's zone, Zone 2, there are two precincts impacted: Oldtown with 930 registered voters and West Priest River with 552 voters that fall within the school district trustee zone.
In Rutledge's zone, Zone 4, there are four precincts impacted: East Priest River with 1,072 voters, West Priest River with 154 voters, Edgemere with 183 voters and Laclede with 508 voters.
Rosedale said roughly 27% of the registered voters in Brown's zone and 30% in Rutledge's zone voted in the last school board election.
Only the residents in Brown's school district Zone 2 and Rutledge's Zone 4 will be eligible to vote in the election.
Similar to other elections, the polls will be open from 8 a.m. to 8 p.m. with voting in the same polling locations. Voters will be able to vote early at the clerk's office, by absentee as well as in person on Election Day.
If a resident wishes to register, they have until Aug. 4 to preregister, or they can register at the polls on Election Day with the appropriate identification.
Residents wishing to register at the polls must present a valid driver's license or official identification card, passport, military ID card, concealed carry permits and tribal ID cards. Student ID cards will no longer be accepted.
Early voting will start Aug. 14 and end Aug. 25. Absentee ballots must be requested no later than Aug. 18, and received by 8 p.m. on Election Day. Rosedale recommended that voters who wish to vote absentee should get them as soon as they are available and not wait until the last minute to mail them in.
Information or questions: Bonner County Clerk's Office, 208-255-3631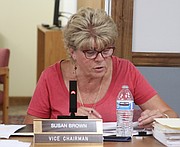 Recent Headlines
---