Wampus Park annual disc golf and golf tournaments come down to final shot
CLARK FORK — In both tournaments of Wampus Park's annual disc golf and golf tournament , it came down to the final shot. Over 30 athletes took part in the event, held Saturday.
Lewis Speelmon took home first place on the men's side with a score of 33 in the nine-hole golf tournament on Saturday morning. Tessa Vogel was victorious after defeating Mandi Anderson in a one-hole shootout on the women's side; she finished with a score of 44. A total of 16 athletes competed in the golf tournament.
At the conclusion of the golf tournament, the disc golf tournament began on Saturday afternoon with 15 athletes participating in the event. After 18 holes, Christian Cook came out on top on the men's side narrowly defeating previous tournament champion Karl Klenhauf in a one-hole shootout. Cook shot a score of 52. On the women's side, Jen Kleinkauf took first place with a score of 77.
This year's tourney was dedicated to Kenny and Moreen Leen. Both Kenny and Moreen passed away last year and were long-time supporters of the event. Clark Fork High School athletic director KC MacDonald thanked the Speelmon family, CFHS staff, and all of the participants. All of the money raised will be used to improve and maintain the Wampus Park courses.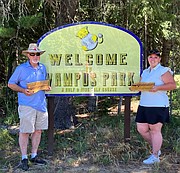 Recent Headlines
---