Annual event explores 'State of the Scotchmans'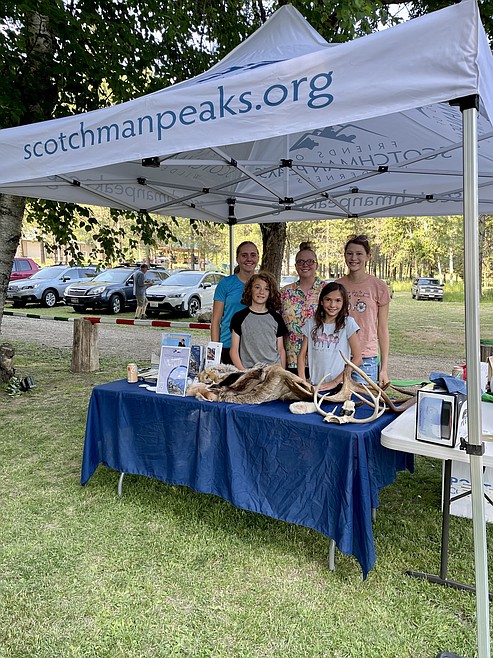 Members of the FSPW man a booth during the State of the Scotchman's event.
Courtesy photo
by
LAUREN REICHENBACH
Staff Writer
|
July 13, 2023 1:00 AM
Roughly 70 people from North Idaho, Washington and Montana ventured to the historic Blue C Ranch in Heron, Mont., for Friends of the Scotchman Peaks Wilderness' annual 2023 State of the Scotchmans event July 8.
"Since 2005, we have been bringing together folks from northwestern Montana and northern Idaho to save the wild Scotchmans," FSPW executive director Phil Hough said. "In February, we passed 11,000 supporters and are still growing."
Roughly five years ago, the proposed wilderness proved controversial after Bonner County commissioners put the item on the ballot as an advisory measure and it did not pass.
Hough spoke about the organization's programs and volunteer efforts, as well as its collaborative work with the Panhandle Forest Collaborative and the Kootenai Forest Stakeholders Coalition.
"We have 17 days of trail projects planned for this summer and our trial ambassadors are on track to meet and talk to over 1,000 hikers," Hough said.
Caleb Matthew, district recreation manager for the Cabinet Ranger District, talked about the Star Peak Lookout renovation project. The lookout — located outside Heron, Mont. — is about to undergo a total restoration. All the materials are being brought in by helicopter or in a horse packing team. Recently, all the lookout's windows were packed out and flown to be restored offsite and replaced next season. Plywood will serve as a placeholder for the windows in the meantime.
FSPW board chair Mark Cochran spoke about the organization's endowment funds in both Montana and Idaho and about the lasting impact those will have on the work that the crew does for future generations. An endowment fund is an investment portfolio with the initial capital deriving from donations.
"Even after we designate the Scotchmans as wilderness, we will continue to restore the land and build community around a love for our wild backyard," he said. "The endowment fund is like a permanent ripple and I'm proud to be the first contributor to our Idaho fund."
Interested parties can make donations to the FSPW through both the Idaho Community Fund and the Montana Community Foundation.
Toward the end of the night, Celeste Boatwright was awarded the "Old Goat Award" in special recognition of her volunteer efforts with FSPW; she has volunteered for almost all of Scotchman Peaks's programs from advocacy to building trails to teaching youth about mammals since 2011. She was also the newsletter editor at one time.
There was also a brief presentation about bear safety in the wilderness.
Recent Headlines
---