Crews continue to fight area fires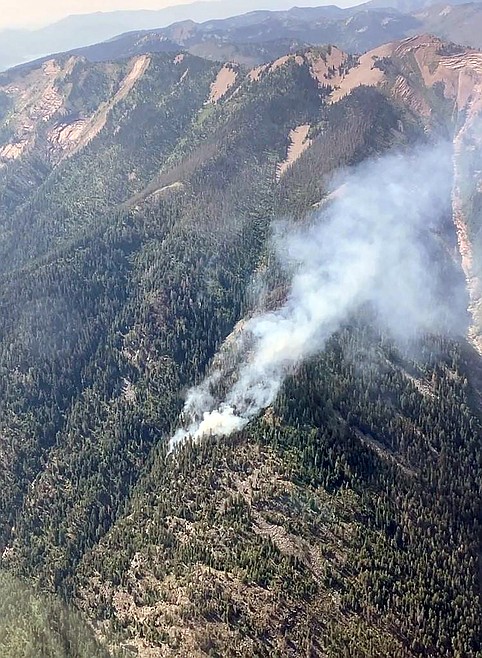 The Bee Top Fire, located 5 miles up Lightning Creek Road, has burned roughly 40 acres.
(Photo courtesy USDA FOREST SERVICE)
by
CAROLINE LOBSINGER
Staff Writer
|
July 13, 2023 1:00 AM
SANDPOINT — Bit by bit, fire crews fighting a pair of local fires are gaining ground over the wildfires.
Bee Top Fire
To date, crews have built 5.88 miles of handline around the Bee Top Fire, located 5 miles up Lightning Creek Road near Clark Fork.
Reported July 1, the lightning-sparked fire has burned 40 acres and is listed at 16% contained. A total of 151 fire personnel are assigned to the fire as are two engines, three helicopters, and four hand crews. The fire is being managed by Northern Rockies Team 9 led by Shane Martin.
Moisture from the recent storm knocked the fire down, giving crews greater access to its perimeter, Kory Johnson, the fire's public information officer, said in a press release.
Crews began directly attacking the fire with the Klamath Interagency Hotshot Crew finding areas to build direct wirelines on the southwestern flank. The Plumas IHC engaged the fire near the mid-slope firefighter camp from the west. Other crews are building handling on the southern flank, laying hose, and working on a containment line along Lightning Creek.
Crews are expected to continue direct engagement where possible as well as prepare a helicopter landing zone and lay hose along a contingency fireline in the event it is needed.
"Direct attack on extremely steep and rugged slopes makes firefighting difficult and dangerous," Johnson said. "Crews are taking measures to mitigate hazards and operate safely."
Additional helicopter landing zones and sawline have been constructed to allow for quick medical extractions if needed.
Helicopters will continue to provide bucket drops to keep fireline in check and allow crews greater access to the fire perimeter. Helicopters will also support crew operations out of the mid-ridge spike camp, slinging in food and equipment.
Consalus Fire
Hand crews are directly engaging the Consalus Fire on the fire's northern and northeastern perimeters, working to secure the fire's edge, IPNF officials said.
Heavy equipment crews are working toward the north along the east side and are now looking to build the more efficient line possible to the south toward Consalus Creek.
On the north indirect line, crews are testing sprinkler systems and sawyers are adding saw lines and addressing hazard trees weakened by the storm.
Reported June 30, the Consalus Fire has burned 248 acres and is now 10% contained. A total of 186 fire personnel are assigned to the fire, located 10 miles west of Coolin in Pend Oreille County, Wash. There are two engines, six-plus hand crews, faller, water tender and ambulance crews assigned to the fire as well as an assortment of heavy equipment.
Fire managers also are assessing where to build a fireline on the fire's southern side as well as opportunities to fight the fire directly, IPNF officials said.
Road and trail closures
• Bee Top Fire — There are no closures listed.
• Consalus Fire — There are no closures listed. However, the public is asked to avoid FSR 1094 and FSR 659 in their entirety; FSR 1108 (from the junction with FSR 333 to the junction with FSR 659), and FSR 312 (from the junction with FSR 333), and FSR 333 (from Highway 57 to the junction with FSR 1108).
Information: inciweb.nwcg.gov
Recent Headlines
---