Sandpoint Pride readies for third celebration
by
CAROLINE LOBSINGER
Staff Writer
|
July 13, 2023 1:00 AM
SANDPOINT — Every body deserves respect, love, and joy.
That is the whole premise of the theme of the third Sandpoint Pride, "Liberation for Every Body," event chair Andrea Marcoccio said.
"This year's theme is liberation for every body, not everybody, every body," Marcoccio said. "And that idea is that bodily autonomy and people choosing the rights for their own bodies is a basic human right."
And with more than 1,200 people showing up at Sandpoint Pride's first two years, the event has become a staple of the community.
The concept of bodily autonomy and managing yourself is an extension of the Idaho mindset of individuality and the right to decide things on your own, Marcoccio said.
"That Idaho mindset is that there's freedom for every body to make their own choices and that pertains to how you live your life," she added. "Sandpoint Pride is pretty excited to talk more about that and and have a conversation and the dialogue about that."
Now in its third year, Marcoccio said the event serves not only to affirm the equality and dignity of the LGBTQI2S community but to acknowledge and appreciate their contributions to society. Sandpoint Pride also aims to inspire engagement with and support for the ongoing movement to secure the rights, freedom, and safety of queer and trans individuals, she said.
"I think the most basic thing we can do is recognize, acknowledge and honor the contributions of the LGBTQI2S community and and do that with joy and celebration but also recognize that we live in unprecedentedly challenging times and that people are facing difficult decisions every day about safety," Marcoccio said.
Sandpoint Pride offers a safe place to gather, learn, and have fun.
"We believe that safety in our community comes when people come together and that goes for Pride and any other situation," she said.
Marcoccio invited those who might question the event or the need for Sandpoint Pride to research the event, reach out for a conversation, and go online to the group's website, sandpointpride.com.
"I think for us, it's about kind of just affirming the rights and dignity of all of our neighbors no matter how they identify," she said. "And really to just use the Sandpoint mentality to welcome people."
More than 50 volunteers are helping orchestrate the event, there are more than 30 vendors — up from 19 in 2022 — as well as a number of artists and peacekeepers involved in putting on Sandpoint Pride.
"We have a lot of people who want to help put it on, to help make it magnificent and to help make it be joyful and safe," she added.
Marcoccio said the community has embraced the event, with the event growing to more than 1,200 people showing in each of Sandpoint Pride's first two years.
"Well, I think in small towns, when people care about something, it's really a positive experience to pull together," she said. "And so what we're seeing is organic, a cultural identification with this event. And I think that's important for young people in Sandpoint to hear, for families choosing to move here. Yeah, we have a Sandpoint Pride, it's a massive event … it's going to be a ton of fun and I hope people show up with good hearts and have a great time."
Friday's events run from 5 to 10 p.m., kicking off with the Pro Voice Project and featuring a talk by TikTok influencer Lindsay, who uses the handle @socialistlyawkward. The talk by the political activist and NICU nurse will begin at 6 p.m.
The goal of the collaboration is to "uplift the concept of bodily autonomy and the importance of care for every body," Marcoccio said.
A special live musical performance will be held at 7 p.m, followed by a silent disco dance party at 8:30 p.m.
Events on Saturday run from 2 to 10 p.m., kicking off with advocacy booths and family-friendly events, including a bounce house and tie-dye station, community art installation, and food and craft beverage vendors. Entertainment will include spoken word poetry, Liam McCoy Band, a secret performance by Sandpoint's favorite look-alike duo, an outdoor drag show, and a dance party.
Speakers will include Kate McAlister, Sandpoint City Council president; Lindsay, TikTok influencer @socialistlyawkward; and Kellie O'Neill of Legal Voice.
Major sponsors include Matchwood Brewing Company, Bluebird Bakery, Ting, Legal Voice, Applegate Healthcare, Bonner County Human Rights Taskforce, and Heartbowls. A full list of sponsors can be found on the Sandpoint Pride website.
"The community effort behind the making of the third annual Sandpoint Pride Festival is deeper than ever," Marcoccio said. "From volunteerism and partnerships to art and performances — Friday and Saturday will be a true reflection of Sandpoint's core values – love and kindness. We will  affirm the dignity of LGBTQ2S individuals, acknowledge and appreciate their role in our community, and spread joy together."
Information: sandpointpride.com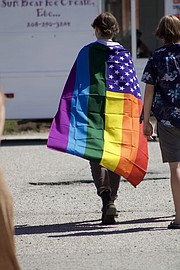 Recent Headlines
---