Info sought on 'suspicious' Candle Hill Fire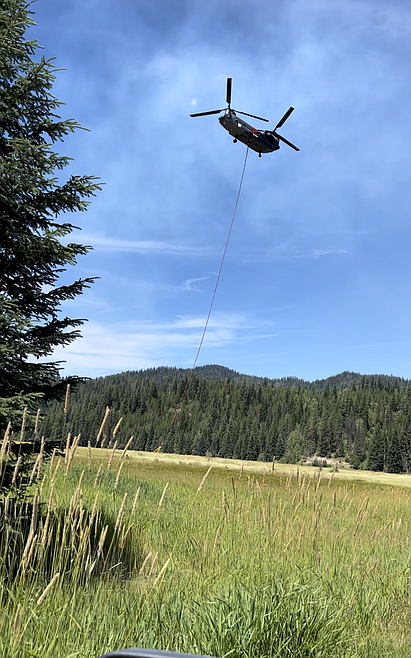 A Chinook helicopter is pictured dipping into a creek on July 16 to do water drops on the south end of the Consalus Fire.
(Photo courtesy DAVE NORTH/IPNF Safety Officer)
by
CAROLINE LOBSINGER
Staff Writer
|
July 18, 2023 1:00 AM
SANDPOINT — While it was quickly extinguished thanks to extensive air support, investigators say the Candle Hill Fire is suspicious and are seeking information on the blaze.
Meanwhile, crews have brought the Bee Top Fire on the Sandpoint Ranger District to 78% containment and crews continued to hold the line on the Consalus Fire, located on the Priest River Ranger District.
Candle Hill Fire
Reported at 3 p.m. Sunday, Idaho Department Lands wildland firefighters were dispatched to a suspicious wildfire on Granite Mountain east of U.S. 95 and Kelso Lake.
With the help of extensive and expensive air support, IDL officials said firefighters contained the fire to seven acres.
"The cause of this fire is under investigation and IDL investigators need your help," said Rodney Weeks, IDL's fire investigation program manager. "If you have information about how this fire started, or photos of the fire taken close to the time of ignition, please share what you know with our investigation team."
Weeks said the agency investigates the cause of every wildfire on the land it protects. "Under Idaho law, those who negligently start a fire can be responsible for covering suppression costs and economic damages," he added.
Since IDL has no authority to pursue criminal charges, the agency works closely with the Idaho State Fire Marshall to investigate all cases of suspected arson and hold arsonists fully accountable under the law.
IDL fire investigators can be reached by emailing investigation@idl.idaho.gov or by calling 208-666-8697.
Bee Top Fire
Crews continued to mop up and add "depth" to the line, moving further into the fire's perimeter and creating a larger buffer to the edge of the Bee Top Fire, Idaho Panhandle National Forests officials said.
Plumas Interagency Hotshot Crews completed mop-up along the fire's northern edge, hiking out at the end of shift. The crew are now working to scatter slash and other potential fuels created during the construction of indirect lines.
Klamath and Mad River IHC crews are patrolling the firelines and helping to remove unnecessary fire gear from the mountain. Both crews were expected to hike off the mountain at the end of shift Monday.
Helicopter crews spent Monday hauling gear from the temporary mid-mountain firefighting camp and providing water drops as needed.
Crews will continue to strengthen containment lines and aircraft will be used to help moderate fire behavior. The fire is expected to be contained in the near future, IPNF officials said.
Reported July 1, the lightning-sparked fire has burned 49 acres and is listed at 78% contained as of Monday. A total of 123 fire personnel are assigned to the fire as are two engines, three helicopters and three hand crews. Firefighting efforts are being managed by Northern Rockies Incident Management Team 9 led by Shane Martin.
Consalus Fire
While the Consalus Fire has grown to 414 acres, up roughly 36 acres from Sunday, IPNF officials said crews continue to cool the burned edge of the Priest River Ranger District fire.
An initial line has been complete around the fire, and firefighters are working to improve all lines. Additional direct and indirect lines may be constructed where it strategically makes sense, IPNF officials said.
Strategic firing operations — the controlled use of low-intensity fire to reduce fuels and add depth to the firelines — are proving successful, officials said. If conditions allow, additional efforts will occur in the coming days on the east and southwest sides of the fire.
"Ultimately, this work should lead to increased containment as fire managers become confident the fire is cooled far enough into the interior to stay within the firelines," officials said.
A drone will be used to drop plastic spheres that ignite as they fall, IPNF officials said in a press release. A test flight was conducted Sunday to help crews formulate a plan and determine where the firing will occur.
Depending on weather and fuel moisture levels, ignitions could begin as soon as Tuesday.
Crews are monitoring areas on the fire's north end where previous ignitions took place and keeping sprinkler systems working.
Fire activity picked up Sunday on the fire's south edge, prompting the use of a helicopter to drop water to help cool fire activity.
IPNF officials said crews are keeping a close eye on predicted winds, which could cause increased fire activity and smoke.
"Although much of the fire is protected from strong winds, firelines could be tested in areas where conditions align," they said.
Reported June 30, the Consalus Fire has burned 314 acres and is 10% contained. A total of 265 fire personnel are assigned to the fire, located 10 miles west of Coolin in Pend Oreille County, Wash. There are two engines, a helicopter, eight-plus hand crews, and five faller modules, four water tenders and an ambulance crew assigned to the fire as well as an assortment of heavy equipment. Firefighting efforts are being managed by Northern Rockies Type 3 Incident Management Team led by John Heyn.
Road and trail closures
• Bee Top Fire
There are no closures listed.
• Consalus Fire
Several road closures went into effect at midnight Thursday, July 13. Forest Service Road 1108 is closed from the junction with FSR 333 to the junction with FSR 659. FSR 1094 will remain open for the first 4.5 miles from the junction with FSR 312, however, the remainder will be closed to the junction with FSR 1108. The public is asked to avoid the following roads: the section of FSR 1094 not closed; FSR 312 (from the junction with FSR 333 to the junction with FSR 659); FSR 659 in its entirety; and FSR 333 (from Highway 57 to the junction with FSR 1108).
Those accessing the Crystal Mine area off FSR 659 may need to pull over to allow heavy equipment and fire crews to access the area.
There is a temporary flight restriction over the fire area. Flying civilian drones is prohibited and could ground firefighting crews.
Information: inciweb.nwcg.gov
Recent Headlines
---