Containment nears on Bee Top Fire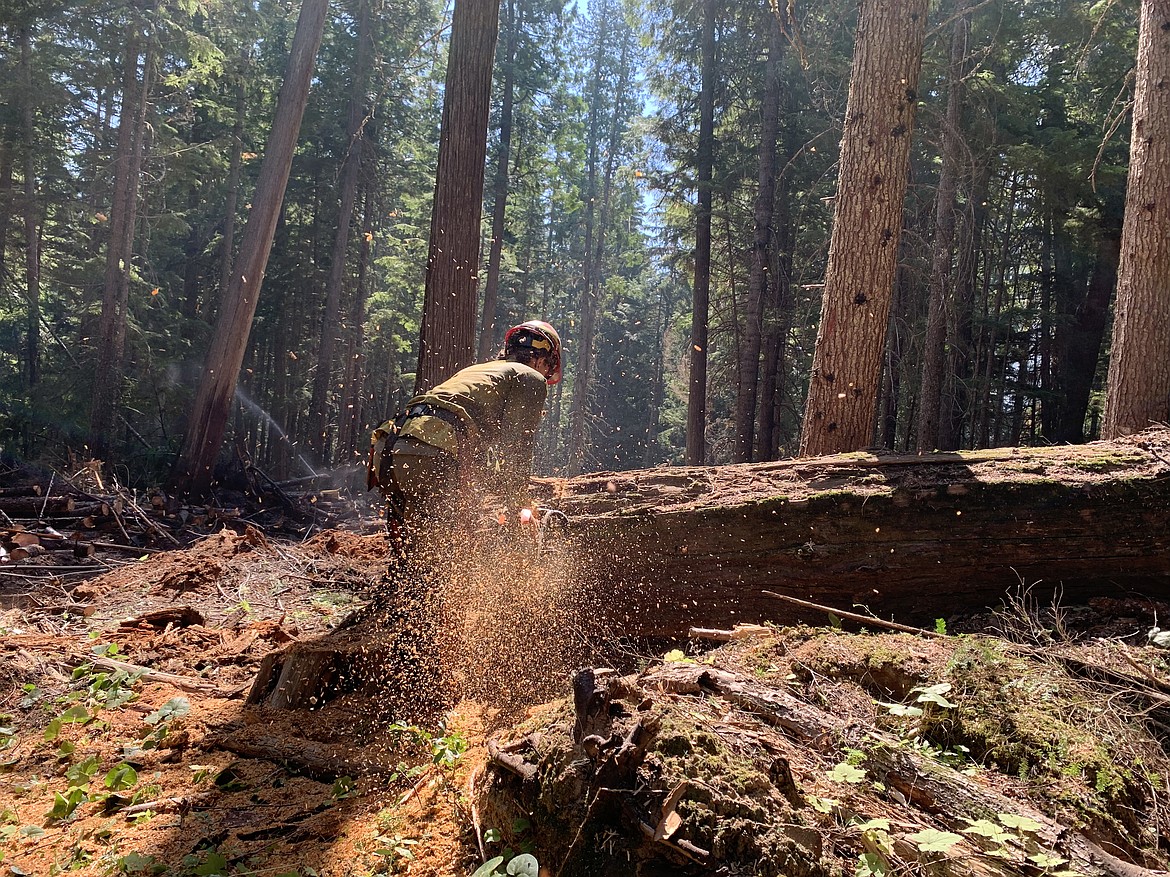 Sawyers Alexa Rudisill with the Nez Perce-Clearwater Interagency Crew works to fight the Consalus Fire on the Priest River Ranger District. Photo Credit: Anna Sivill (Nez Clear)
(Photo courtesy ANNA SIVILL/NEZ PERCE-CLEARWATER IHC)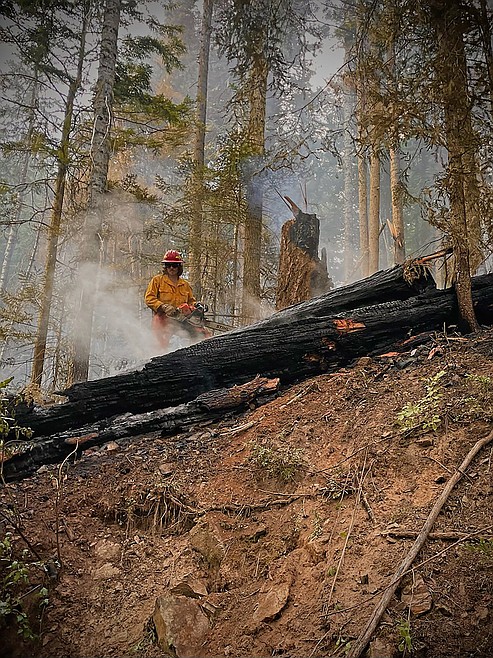 Sawyer Andrew Hewitt, a member of the Nez Perce-Clearwater Interagency Hotshot Crew, works on Consalus Fire earlier this week.
Previous
Next
SANDPOINT — With containment of the Bee Top Fire approaching 90%, control of the fire is being returned to Idaho Panhandle National Forests officials.
Over on the Consalus Fire, the lightning-caused blaze inched upward to 444 acres and some of the resources from the Bee Top are being diverted to the Pend Oreille County fire.
Bee Top Fire
The Bee Top Fire was placed in "patrol status" on Tuesday, meaning that crews will check on the fire on a regular basis but will not need to build any additional containment lines.
Klamath, Mad River and Plumas Interagency Hotshot Crews finished mopping up hot spots on the fire's perimeter, adding depth to containment lines. In addition, Northern Rockies Incident Management Team 9 officials said helicopters ran a cycle of water buckets on the fire and retrieved gear from the hillside.
"Interior smoke may be visible during the day as only the outer perimeter is out cold," Kory Johnson, public information officer on the fire, said. "This is due to the steep nature of the hillside and is commonplace on larger fires where it is impractical to cold trail 45 acres of ground."
Reported July 1, the lightning-sparked fire has burned an estimated 45 acres as of Tuesday. A total of 87 fire personnel are assigned to the fire as are two helicopters and three hand crews.
Management of the fire will be assumed by the Sandpoint Ranger District at 6 a.m. Wednesday.
Consalus Fire
Additional resources have been assigned to the Consalus Fire, located on the Priest River Ranger District, 10 miles west of Coolin, in Pend Oreille County, Wash.
Among those resources are a drone, which caught a spot fire outside containment lines on the fire's north side during an infrared flight. Crews were able to build a line around the spot fire as well as get water on it, limiting the fire to 1.3 acres.
"Although firefighters have been checking for spots, it was likely smoldering in the duff and fanned by the wind. Crews will continue to monitor and patrol the north end," officials said.
Monday, a helicopter dropped water on a hot spot that was burning at a higher intensity on the northwest side of the Consalus Fire. Firefighters are continuing to run sprinkler systems on firelines as well, officials said.
A new emergency order, which went into effect at midnight Tuesday, prohibits all forms of travel on several additional roads around the fire.
Reported June 30, the Consalus Fire has burned 444 acres and is 10% contained. A total of 285 fire personnel are assigned to the fire, as are four aircraft, a helicopter, a drone, 10-plus hand crews, and five faller modules, four water tenders and an ambulance crew assigned to the fire as well as an assortment of heavy equipment. Firefighting efforts are being managed by the Northern Rockies Type 3 Incident Management Team led by John Heyn.
Road and trail closures
• Bee Top Fire
There are no closures listed.
• Consalus Fire
Several road closures went into effect at midnight on Tuesday, July 18. Forest Service Road 1108 is closed from the junction with FSR 333 to the junction with FSR 659. FSR 1094 will remain open for the first 4.5 miles from the junction with FSR 312, however, the remainder will be closed to the junction with FSR 1108. FSR 659 is closed from the junction with FSR 312 to the junction with FSR 659B; and FSR 333 from the junction with FSR 2730 to its end.
Those accessing the Crystal Mine area off FSR 659 may need to pull over to allow heavy equipment and fire crews to access the area.
There is a temporary flight restriction over the fire area. Flying civilian drones is prohibited and could ground firefighting crews.
Information: inciweb.nwcg.gov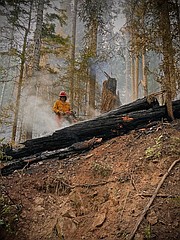 Recent Headlines
---