Sledfest Music Festival tickets go on sale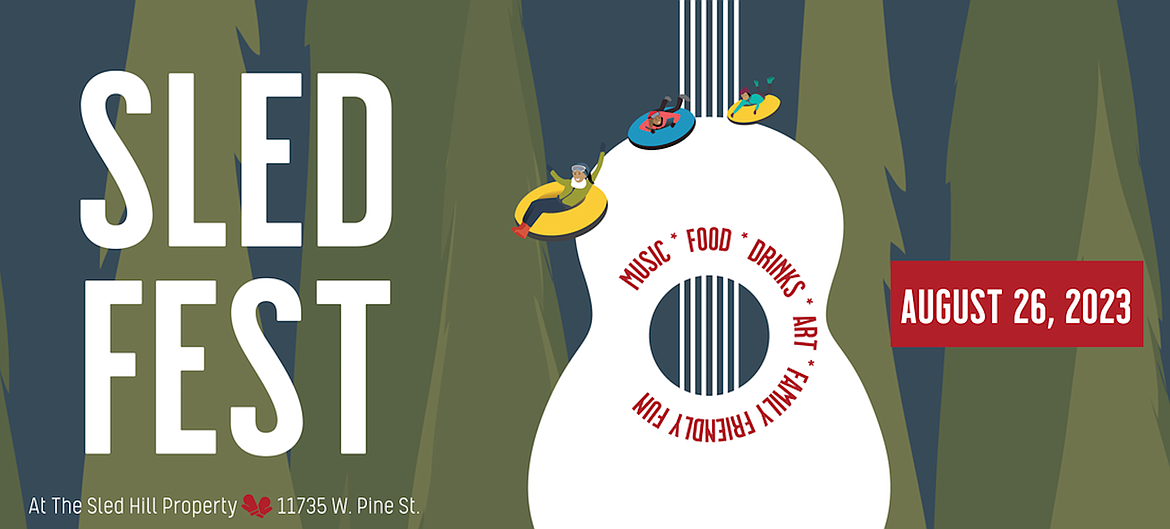 SANDPOINT — Kaniksu Land Trust announced today that ticket sales are now open for SledFest, an all-day music festival to celebrate the beloved community sled hill on West Pine.
The event will take place Saturday, Aug. 26 at the sled hill property, 11735 W. Pine. Proceeds will benefit the Save the Sled Hill fundraising campaign for the purchase and establishment of the historic ski and sledding hill property.
Regionally acclaimed musical talent will perform at two different stages located on the 48-acre property from 10 a.m. to 9 p.m. Food and beverage vendors will be on site and commemorative wine glasses and mugs will be available for purchase. A lineup will be announced in the near future.
In addition, Kaniksu Folk School will host a traditional goods mercantile and a special silent auction featuring an array of local art talent with a shared theme will take place throughout the day. The event will bring together music enthusiasts, families, and community members for a day filled with live performances, local vendors, and a vibrant atmosphere of celebration while supporting a worthy cause that aims to preserve the cherished winter recreation area for future generations.
The community has raised $1.44 million of the $2.1 million needed to purchase the property as well as cover establishment costs. KLT officials needs to raise the full amount by December 2023.
"SledFest promises to be an unforgettable experience, uniting our community in a shared love of music, outdoor activities, and the preservation of our local heritage," Katie Cox, KLT executive director, said. "We want every member of our community to be there."
With that goal in mind, KLT has priced tickets to accommodate all levels of support, including a reduced-price "community ticket." General adult admission is $50, qualifying as a tax-deductible donation thanks to KLT's partner sponsor program. A youth ticket, for those from 3 to 18 years of age, is $12; and children under 3 enter free.
"The community ticket is specially designed for community members who may not be able to afford the full rate. At $5, it is a great option for those who want to join their community at this awesome event, help us defray ticket processing costs, and still support the campaign at an affordable level," Katie announced.
Parking on-site will not be available. Parking will be located at Sandpoint High School, 410 S. Division, with a shuttle to and from the event running every 30 minutes throughout the day. Bike parking will be available at the event site. Event-goers are encouraged to walk or bike. The event is outdoors and will take place rain or shine.
"KLT is all about getting people outside regardless of the weather. We encourage participants to dress for North Idaho temperature changes," suggests Marcy Timblin, KLT Communications Director.
Dogs and other pets are not permitted with the exception of service animals.
Tickets to SledFest are available now at kaniksu.org/events/sledfest and at the gate.
For more information, contact Kaniksu Land Trust by phone at 208-263-9471, or via email at info@kaniksu.org.
Recent Headlines
---