Containment grows on Consalus Fire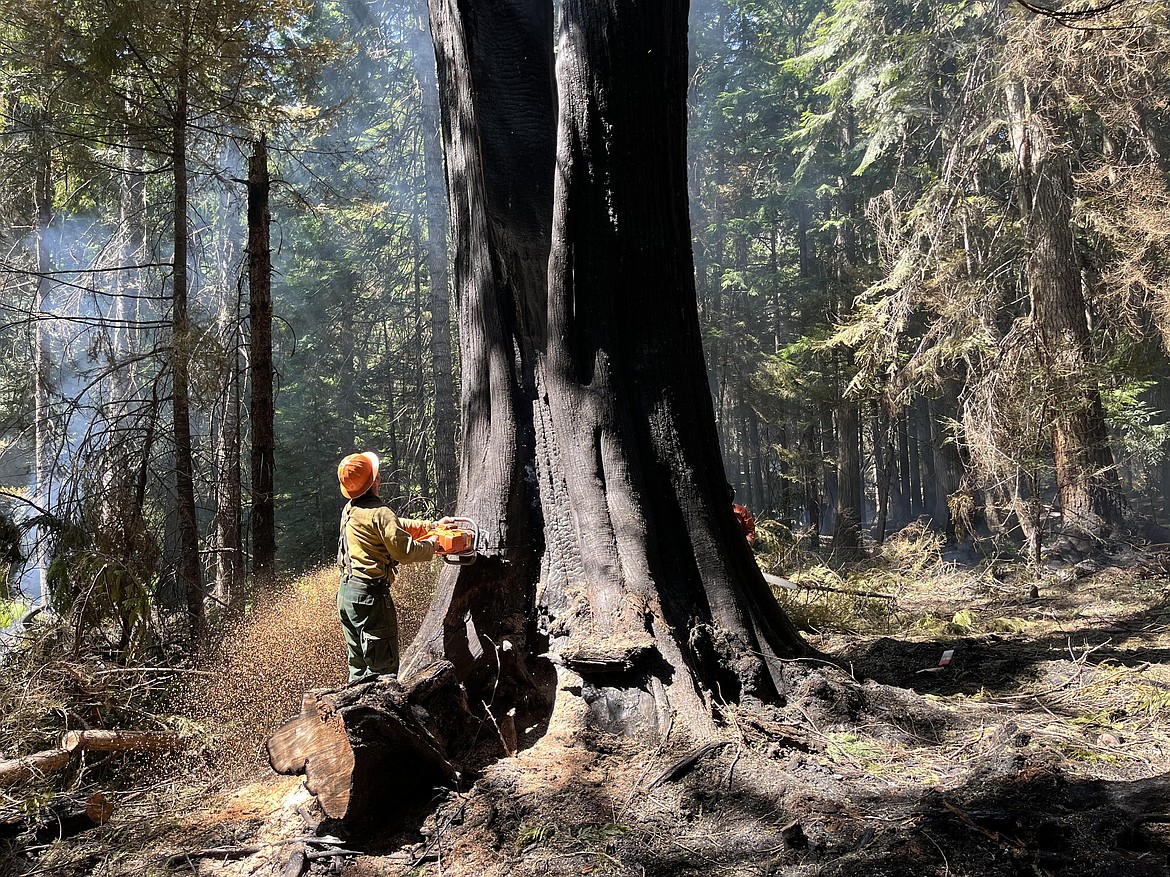 A highly trained sawyer cuts down a burned cedar as crews continue to fight the Consalus Fire.
(Photo courtesy USDA FOREST SERVICE)
by
CAROLINE LOBSINGER
Staff Writer
|
July 23, 2023 1:00 AM
SANDPOINT — With containment increasing by the day, the biggest threat to firelines on the Consalus Fire is falling trees.
While containment jumped to 30% Saturday morning, falling trees carrying heat or spreading sparks as they fall could cause fires outside firelines, Northern Rockies Type 3 Incident Management Team officials said.
To mitigate that potential, a drone conducts an infrared flight every morning, looking for hot spots outside existing firelines so crews can get a jump on any spot fires.
Early detection by the drone enable crews to keep the July 18 spot fire to 1.3 acres and the July 20 spot fire was kept to roughly a quarter-acre.
"Both spot fires reported … are holding, with edges secured," IMT officials said.
Sawyers continue to deal with the trees as they fall and crews are working on contingency lines around the fire to add a layer of protection in the event the fire gets outside the primary lines.
Firefighters are patrolling and securing the direct line where it is safe and working to cool the fire's edge.
A night crew will continue to monitor and patrol the perimeter for several more days as well, officials said.
Reported June 30, the Consalus Fire has burned 467 acres on the Priest Lake Ranger District. The fire is located 10 miles west of Coolin, Idaho, in Pend Oreille County, Wash. There are 251 fire personnel assigned to the fire, as well as a helicopter and a drone crew, six hand crews as well as a district fire unit, five engines, four faller modules, six water tenders and an ambulance crew assigned to the fire as well as a heavy equipment task force. Firefighting efforts are being managed by Northern Rockies Type 3 Incident Management Team led by John Heyn.
Bee Top Fire
The Bee Top Fire was placed in "patrol status" on Tuesday, meaning that crews will check on the fire on a regular basis but will not need to build any additional containment lines.
No additional information has been released on the fire.
Reported July 1, the lightning-sparked fire has burned an estimated 45 acres as of Tuesday, July 18, and is listed at 88% containment. Management of the fire was assumed by the Sandpoint Ranger District early Wednesday morning and no additional updates have been issued.
Road and trail closures
Bee Top Fire: There are no closures listed.
Consalus Fire: Forest Service Road 1108 is closed from the junction with FSR 333 to the junction with FSR 659. FSR 1094 will remain open for the first 4.5 miles from the junction with FSR 312, however, the remainder will be closed to the junction with FSR 1108. FSR 659 is closed from the junction with FSR 312 to the junction with FSR 659B; and FSR 333 from the junction with FSR 2730 to its end.
Those accessing the Crystal Mine area off FSR 659 may need to pull over to allow heavy equipment and fire crews to access the area.
There is a temporary flight restriction over the fire area. Flying civilian drones is prohibited and could ground firefighting crews. If you fly, they can't.
Information: inciweb.nwcg.gov
Recent Headlines
---