Chamber honors ClearWater Gear as top May business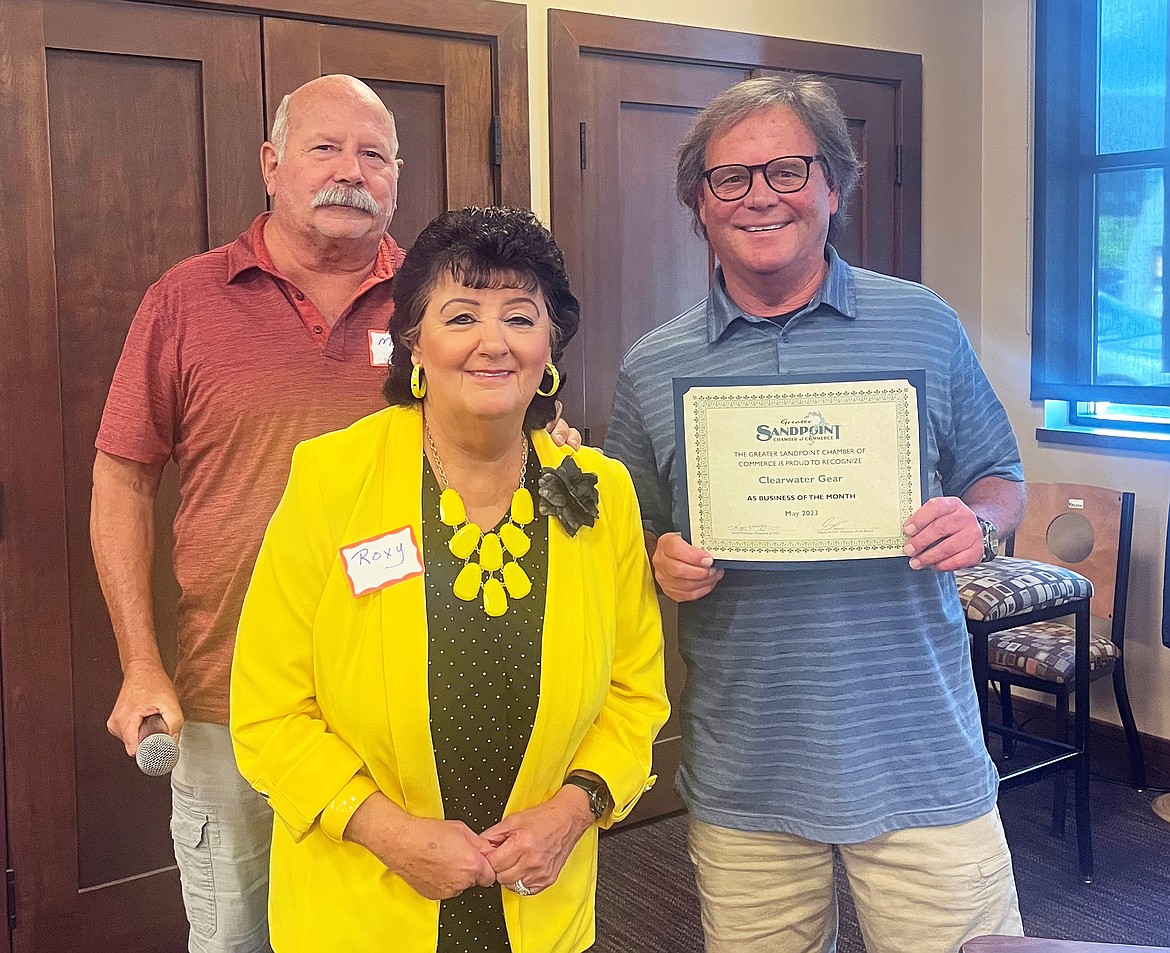 Mark and Roxy Fuller of Clearwater Gear are presented with the Greater Sandpoint Chamber of Commerce's Business of the Month Award for May.
(Photo courtesy GREATER SANDPOINT CHAMBER OF COMMERCE)
SANDPOINT — Clearwater Gear is a small-town success story.
Owners Roxy and Mark Fuller are appreciative of the community's support and say they feel compelled to support local efforts to improve the community and improve the lives of others.
It's no wonder then that the company, and the Fullers, were recognized by the Greater Sandpoint Chamber of Commerce as its May business of the month.
Now known as Clearwater Gear, the Fullers launched Litehouse Custom Printing about 40 years ago when Mark was the operations manager for Litehouse Foods, The couple started the custom printing business along with Doug and Ed Hawkins. They would print the Litehouse Dressing jars by day and then come back at night to print mugs, glassware, and the like. After six months it was decided the printing business should go solo with Mark at the helm.
The company's main business is printing glassware for craft breweries, as well as stainless steel bottles and growlers. Clearwater Gear employs 26 full-time people, and has customers across the country and Canada.
Not only is Clearwater Gear a great small town business success story, but the Fullers are also very appreciative of the community they live in and are compelled to support the local efforts to improve life for others. They have had a long association with Rotary and the great projects they accomplish.
The list of other community groups and projects they currently support, or have in the past include Bonner Gospel Mission, serving on the board for over 15 years; creating the Steward Foundation to give back to the youth of the area; and founding directors of the Bonner County Economic Development Council.
The list of nonprofits they have been involved with is too long to mention in its entirety, but include Bulldog Bench, Lake Pend Oreille High School, Kinderhaven, Festival at Sandpoint, and Freedom House, which helps residents coming out of incarceration and helping them reengage with their families and their lives; Panhandle Alliance for Education; and Food For Our Children.
A more recent and even larger project that the Fullers have become involved with is the acquisition of a 40-acre hunting lodge south of Missoula, which has been renovated and converted for use by The Lifeguard Group in Missoula. The property is now being used as a home to protect and restore women and children who have been rescued from the sex trafficking industry.
Recent Headlines
---