Teen's international kayaking quest is turning heads
by
MAX OSWALD
Sports Reporter
|
June 6, 2023 1:00 AM
SANDPOINT – Max Zuberbuhler has always loved the outdoors.
Whether it be skiing, mountain biking, swimming, scuba diving or kayaking, he is drawn to adventure. This past spring, the fearless high school sophomore took the opportunity of a lifetime and enrolled in the World Class Kayak Academy – a traveling high school that explores unique rivers and different cultures all over the world, all while working toward a high school diploma.
Zuberbuhler had not planned to enroll in the academy until fall, but when a spot became available early and his application was accepted, he jumped at the chance. Starting Jan. 21, the teen was off to Ecuador for his first quarter of schooling. After that, Slovenia, Italy and Austria were scheduled for the second quarter.
"I have had a great experience with the academic side of the WCKA so far," Zuberbuhler said. I entered in the middle of the year which can be challenging. I found that the transition from Forrest Bird Charter School was pretty seamless and allowed me to jump right in."
There are 20 students who are enrolled in the WCKA. Although it is based in White Salmon, Wash., students from all over the world attend. For example, there are students enrolled from Oregon, California, North Carolina, South Carolina, Tennessee, Colorado, Canada and even Luxembourg.
"We [the students] all have different kinds of views, whether it's in academics or in kayaking," he said. "We all have different sets of passions and hobbies – it's just really cool. I found the student body to be one of the most incredible groups of kids I have ever met."
The WCKA's student population is not only diverse, but so is the school's staff. Zuberbuhler said he found the diversity of teachers to be one of the strongest parts of the program with teachers from Canada, Argentina, Germany, Switzerland and the U.S. He explained how it was fascinating how all his teachers had completely different, yet effective, teaching styles.
Most of the WCKA teachers tie in current events to course material and explain how they affect the world. Zuberbuhler said these sorts of classes have brought a lot more awareness to his life.
"We have a class where we learned about gold mining in Ecuador and how that is affecting the water there," he said. "We also learned about hydro dams and their potential destruction to the environment in Europe."
On top of schooling, the sophomore said that immersing himself in different cultures across the globe has been just as rewarding. Thanks to the WCKA, which is already well-established in kayaking communities around the world, this was not all that difficult of a feat.
In Ecuador, the students went to a local high school for a day, explored some of the Amazon and even got haircuts in the city. In Italy, they went to a beautiful cathedral and rock water slide with an eight-foot waterfall. In Slovenia, they had every possible combination of meat and potatoes that one could imagine.
"I did not feel like a tourist," Zuberbuhler said. "Under the guidance of our teachers, it was really easy to integrate into the community. It has just been a lot of fun so far."
Exploring different cultures and earning your high school diploma while traveling across the globe is certainly exciting. Add in world-class kayaking, and could there be a more exciting trifecta for a teenager?
"The kayaking aspect of the school is incredible," Zuberbuhlersaid. "The school chooses some of the best spots to pursue whitewater kayaking in the world. As a kayaker, I can tell you that it is hard and expensive to kayak in some of these better spots, but the school provides the opportunity at a relatively inexpensive price with world-class instruction."
During Zuberbuhler's time in Ecuador and Europe, the team focused on skill building due to the hard and low waters in Ecuador and the snow in Europe. One of Zuberbuhler's favorite kayaking styles was in Italy where the team paddled through small, narrow, continuous sections of whitewater. Overall, the team practices many different styles of kayaking – downriver, which is performed in a creek boat; slalom, which is performed in long boats; and freestyle, where kayakers perform front flips, cartwheels and other tricks in a play boat.
As a school, the WCKA competed in an international slalom race during Zuberbuhler's time in Ecuador. The course was set up on a section of river with a boat launch made out of bamboo. There were ropes across the river that athletes needed to stay inside and eight down/upriver gates that the athletes needed to clear before they headed to the finish line.
"I have improved my kayaking abilities drastically by being able to experience kayaking at this level, and I have especially improved my awareness and general safety in the sport, something that is a huge focus for our school," Zuberbuhler said. "My decision-making has improved a lot as a result. I was even able to help save a fellow athlete and his kayak when we ran into some trouble in the rapids."
As part of the WCKA, the soon-to-be high school junior's routine is not one that would be considered average. Zuberbuhler's daily routine consists of waking up at 6:30 a.m. for an hour-long morning workout involving running, core, yoga, soccer or something on the water. After that, the school day lasts from 8 a.m. to between 1-4 p.m. Sometimes, Zuberbuhler and his fellow students would gather at local coffee shops – finding good wireless internet proved to be a challenge on occasion. After his studies were finished, he and the other WCKA students would kayak for a couple of hours to finish out the day.
"The WCKA has created reliable places for our school to travel to with lodges, camping areas and small resorts," Zuberbuhler said. "Once we arrive at a location, we are allowed to check ourselves out with another student and explore the city, town or village we are staying in. I'm just really thankful for the opportunity to do something like this and am looking forward to more adventures."
Zuberbuhler will be enrolled in the World Class Kayak Academy for the entirety of his junior year; he will travel to and kayak parts of Eastern Canada, New Zealand, Chile and Europe this fall and next spring. Academically, culturally and athletically, the sky seems to be the limit for this young kayaking phenom.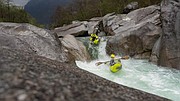 Recent Headlines
---