Kellogg HS: Protests and a secret graduation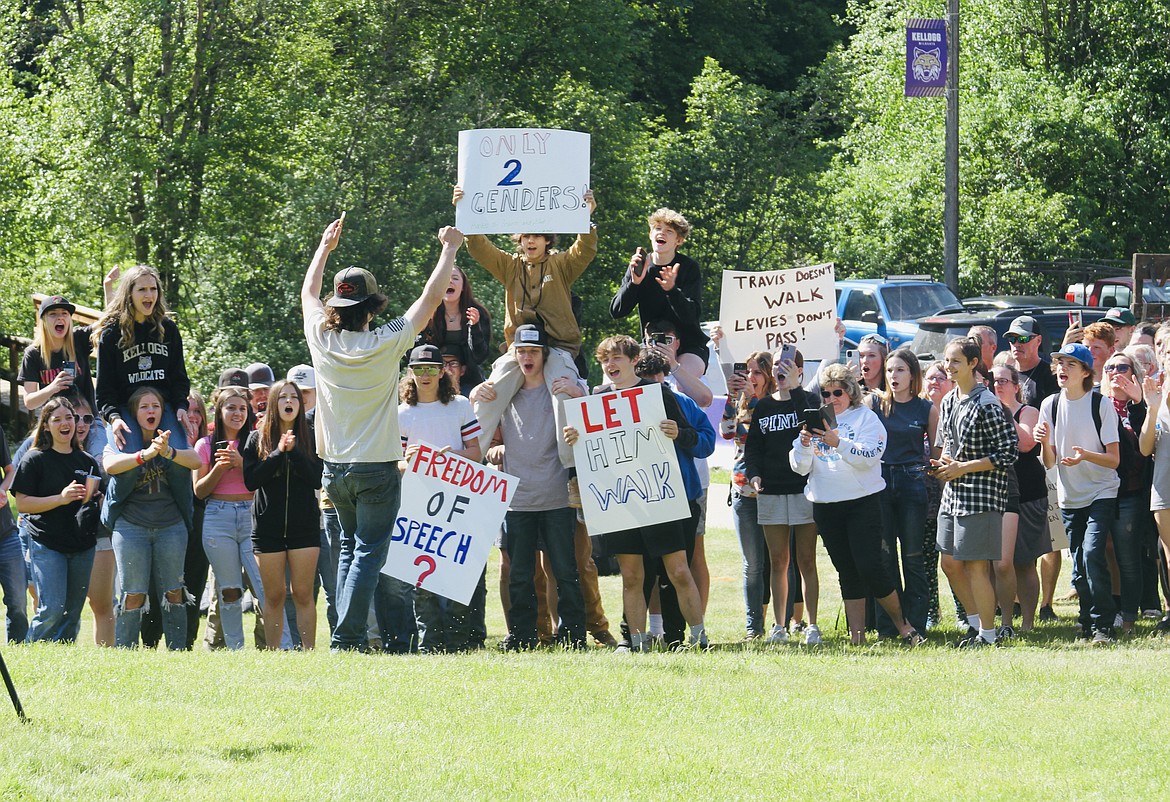 Kellogg High School senior Travis Lohr addresses the crowd Friday while his classmates hold signs and cheer during a protest outside of the school. Lohr was prevented from participating in Saturday's graduation ceremony as a result of comments that he made at an assembly last week.
JOSH McDONALD/Press
by
JOSH McDONALD
Hagadone News Network
|
June 7, 2023 1:08 AM
KELLOGG — Chants of "Let him walk!" rang down the narrow canyon of Jacobs Gulch on Friday morning during a protest outside Kellogg High School.
Parents and residents joined a large number of students who walked out of the high school in support of senior student Travis Lohr.
Lohr, 18, has gained widespread media attention since last week, when Kellogg High School Principal Dan Davidian decided to ban Lohr from participating in the school's graduation ceremony after Lohr said, "Guys are guys and girls are girls. There is no in-between," to an audience of students during an official school gathering.
Following the assembly, during which seniors were asked to give advice to the younger classes, Davidian called Lohr's mother and left a message that has since been made public.
Davidian said in the message that Lohr made a "very inappropriate comment" that was "related to the gay community."
"He made it clear he had changed what he was originally going to say," Davidian said in the message, adding that Lohr would be suspended from school and able to get his diploma but not allowed to participate in the graduation ceremony that was scheduled for Saturday.
Friday's protest resulted in a lockdown at the school and students were released early, at 10:45 a.m.
Many were there to protest what they believed was a violation of Lohr's First Amendment right to free speech.
Kim Bauer, parent of a Kellogg High School student, was not there for political reasons.
"This isn't against any groups, I don't know who would protest against this because we're not protesting against gay or transgender people," Bauer said. "We're protesting that we want this kid to walk. Period."
People from outside Kellogg joined the protest, including some from Kootenai County and students from the Mullan School District.
"I'm protesting for freedom of speech," said Mullan student Brad Vergobbi. "Travis has worked hard for 12 years and didn't direct his statement at any group or at any person, why should he be punished for it? Teachers today want to push on kids that we can't have freedom of speech or our own opinions. Why?"
Vergobbi said that if Lohr was asked not to change his statement and he did it anyway, he should be held accountable for that, but the punishment of not being allowed to walk in his graduation ceremony was too severe.
Lohr admitted to changing his statement during an online video interview with the Idaho Freedom Foundation. He also admitted to being one of a number of students who had participated in a senior prank just a few weeks prior, and those students were warned that any further disciplinary issues would have severe consequences.
While Kellogg school officials were unable to publicly address the situation due to federal student privacy laws, they did point to the high school's student handbook's section on freedom of expression.
"Students are guaranteed freedom of expression as long as they do not disrupt the educational process, are non-compliant with rules and expectations (dress code/offensive language) of KHS, or interfere with the property or the constitutional rights of others," the handbook says. "Freedom of expression at KHS should be for the enhancement of learning and not actions that are harmful or inciting, profane or offensive, prejudice or lack of tolerance."
The school district originally announced it was postponing the graduation ceremony due to safety concerns after the Shoshone County Sheriff's Office received information that a large number of protesters, including groups from Kootenai County, were planning to go to the high school.
"Our fear was that people from outside of Shoshone County would attend the protest with the intent of causing violence/destroying public property, which in turn, had the potential of putting our kids in danger," wrote Shoshone County Sheriff Holly Lindsey, on her office's Facebook page.
In the wake of the postponement, a private meeting took place Friday evening, attended by school district officials and parents of senior students. A decision was made to have the graduation ceremony at 10 a.m. Saturday, four hours earlier than the originally scheduled ceremony. Parents were asked to keep the plan quiet and advised it would be postponed again at the first sign of trouble.
"The Kellogg School District appreciates the support received from local patrons, parents and agencies such as the SCSO, Kellogg Police Department, the city of Kellogg, and Mayor Mac Pooler," Kellogg School District Superintendent Lance Pearson said. "With their invaluable help and cooperation, we were able to conduct KHS graduation safely, giving students and their families an opportunity to celebrate the successful completion of their high school education."
The district is still dealing with some fallout from the high school's decision to suspend Lohr.
"We have started the process of taking protective measures for staff members who have recently been targeted by individuals from outside our local community with perceived threats of violence and intimidation," Pearson said. "These acts are despicable and the Kellogg School District is committed to protecting members of our staff."
Recent Headlines
---