Lions launch Fourth fundraisers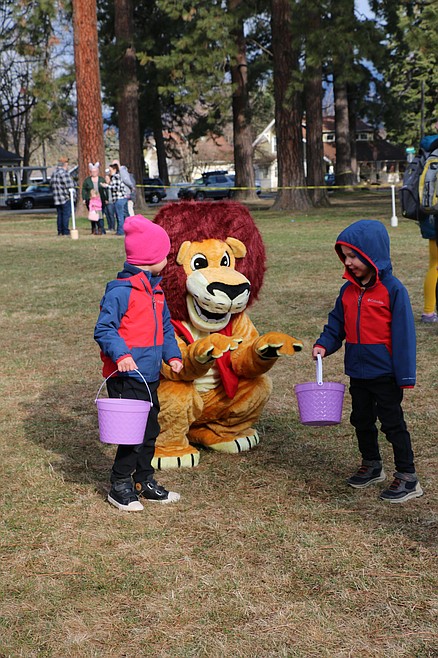 Melvin, the Sandpoint Lions Club's new mascot, visits with local youngsters at the club Easter egg hunt in early April.
(Photo by CAROLINE LOBSINGER)
by
CAROLINE LOBSINGER
Staff Writer
|
June 7, 2023 1:00 AM
SANDPOINT — Seventy years and counting.
That's how long the Sandpoint Lions Club has been in the community, working to help others — from its annual Fourth of July celebration to the Toys for Tots program during the holidays.
"In the past 70 years, we have been a huge influence on our community and have taken on many roles to benefit our community," Eric Brown, Sandpoint Lions second vice president, said. "Ever since the club was founded in 1953, we have grown and expanded what services or programs we do."
The most popular and widely known of the club's programs is Toys for Tots, which dates back to December 1953. However, while the club's Independence Day celebration is equally as popular many people don't realize the Sandpoint Lions are responsible for making it happen.
"Most members of the community are unaware that the parade and fireworks celebration is put on by the Lions Club," Brown said. "We have to raise enough for the city permits and the festivities. So please come out and support the cause."
In the past, the club funded the Fourth of July parade and fireworks celebration through an annual raffle — this year the top prize is an ATV and a second-place prize of $1,000 cash. A few years ago, they added T-shirt sales to add revenue.
This year, they've added a fireworks booth, with all proceeds going to the Fourth of July celebration. The booth will be located in the Sandpoint Safeway parking lot, 702 N. Fifth Ave. Hours and dates of operation have not yet been set.
"In previous years, through all the hardships felt throughout our community, the sales have dwindled," Brown said. "So this year, with the help of new members and their out-of-the-box thinking, we have decided to have a fireworks booth to help raise revenue for our Independence Day celebration."
The Fourth of July events and Toys for Tots aren't the only activities sponsored by the Sandpoint Lions Club. The club also hosts an annual Easter egg hunt, a small haunted house for Halloween, a sight and hearing program, monthly bingo at the community hall, and scholarships for students. Brown said the club also recently started a child cancer and environmental awareness programs, and is working to start a diabetic awareness program.
"None of this would ever be possible without the amazing support from the outstanding community support we receive," Brown said.
From community members to local businesses, Brown said the club receives amazing support. It is clear that many care about the community and want to see it grow stronger.
"We would love to thank each and every person and business that helps to make all these programs possible," he said. "We live in a very loving and caring community. Yes, as a community, there are always problems and issues but what has made us so strong is how this community seems to always pull together to be stronger and more loving than the day before."
Brown said the club not only wanted to share news of their fundraising efforts for the Fourth of July celebration, they wanted to thank the community for their support.
"So, thank you, Sandpoint and surrounding areas, for all the support over these past 70 years because without you, none of these programs would be possible," he added.
The Lions are selling raffle tickets today from 1-4 p.m. at North 40, 477181 U.S. 95, Ponderay; and from 10 a.m.-2 p.m. on Sunday at The Co-Op, 125 Tibbetts Drive, Ponderay.
Recent Headlines
---