Netflix comedian coming to Panida Theater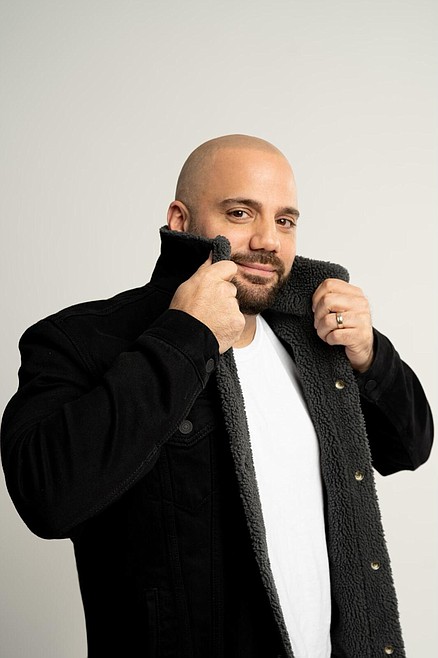 Paul Virzi will perform at the Panida Theater this Thursday at 8 p.m.
(Courtesy photo)
by
LAUREN REICHENBACH
Staff Writer
|
June 7, 2023 1:00 AM
Paul Virzi has been watching comedy shows ever since he can remember. As a youngster, he remembers seeing comedians on his parents' TV and being enveloped in their jokes and the way they told stories.
Now, a few decades later, Virzi has his own comedy special on Netflix and tours around the country telling jokes for people year-round. This Thursday, he'll be coming to Sandpoint's Panida Theater for the first time.
Virzi started his comedy career telling jokes anywhere he could, mainly at open mic nights in New York City. Thankfully, he said he has two very supportive parents who encouraged him to pursue his dreams as a young comedian, which helped Virzi get on his feet and never look back.
"It was cool to have them be like, 'You know, if anybody can do this, it's you,'" Virzi said. "And then for them to see the Netflix special and to be where we are now is so cool."
Virzi's career began to take off after he performed at the Montreal Comedy Festival – an event he said only the "greats" are invited to, which made it such a high honor when he was asked to attend. After that, he said it was a slow build that hasn't yet stopped. He performed his first comedy hour in 2015 and had a Comedy Central special air in 2018. A few years after that, he got noticed by Netflix.
"I was told by my team that this was going to be really tough [to get on Netflix]," Virzi said. "And then when Netflix saw the special, they said, 'Wow, this belongs here.' It was awesome. For me, that's what meant the most."
Virzi's Netflix special aired on June 23, 2022, a day he said has been the highest point in his comedy career. However, his career is far from over, and Virzi said he plans on only going up from here.
"This comedy hour that I'm doing makes my Netflix special feel like a six," he said. "And before, we felt like it was a 10. So things are going great right now."
Virzi said he used to get nervous before going on stage, but now that all his worst fears have already happened – people yelling at him, having issues with audience members, having microphones break in the middle of a show – nothing really phases him anymore. When things do go wrong, he tries to turn them into a positive experience for everyone, looking for ways to make jokes out of the issues and turn chaotic situations into laughable ones.
"Now it's just like going to the office; this is just my regular job," he said. "When you're younger, you're like, 'Oh my God, this is a nightmare.' When you're more experienced, you're like, 'Ooh, alright, let's see what we can do with this. Let's just have a good time and whatever happens, we'll figure it out.'"
Virzi said he loves bringing his sense of humor to new cities and is excited to play in Sandpoint for the first time. While the rest of his tour will stay on the East Coast, Virzi's little brother Stephen, who lives in Sandpoint, is to thank for one of his stops being the Panida Theater.
"It's going to be a good hour of comedy," Virzi said. "I don't think anybody's going to be disappointed. I will tell you this though: If anybody is easily offended, do not come. It's not over the top, I'm not filthy, it's not crazy. I'm completely silly. For the most part, people love it. But if you take things literally and you freak out over things, this is not a show for you."
Of all the excitement Virzi gets from performing in new towns, he said his favorite part of his career is being able to share his ideas and his thoughts with new people. All of his jokes come from real experiences that have happened to him, which Virzi said he feels helps him relate better to his audience. Making jokes out of serious topics has helped him connect with others more and he said he enjoys seeing people walk away from his shows with smiles on their faces.
"Life's crazy, life's wild," he said. "You gotta laugh to keep from crying."
Virzi will be performing at the Panida Theater at 8 p.m. Thursday. Tickets are $25 each and you must be 18 years or older to see the show. Tickets can be purchased on Panida's website at panida.org.
Recent Headlines
---