Priest Lake Elementary students honored for posters
Smokey Bear stopped in to say hello to Priest Lake Elementary students in late May — and celebrate the school's participation in a pair of local poster contests.
Smokey and his helpers — firefighters from the U.S. Forest Service and the Idaho Department of Lands — presented campfire safety information to the students and poster contest winners received certificates and prizes.
U.S. Forest Service and Priest Lake Idaho Department of Lands partnered with Moscow Chapter of the Idaho Garden Clubs with a yearly Smokey/Woodsy poster contest and certificates with prizes being awarded to the winners.  
A big winner this year is Addy Brown of Priest Lake Elementary who won the local competition, first place in the Idaho competition, and second place in the Pacific Region, which includes Hawaii, Alaska, Washington, Idaho, California, Nevada, and Arizona.
Posters were judged for four elementary schools in western Bonner County in November. Prizes and the contest are sponsored by the Moscow Chapter of the Garden Clubs, the Idaho Department of Lands, the USFS, and the Bonner County Fire Prevention Co-op.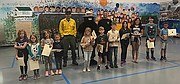 Recent Headlines
---