SLL to field first All-Star softball team in over a decade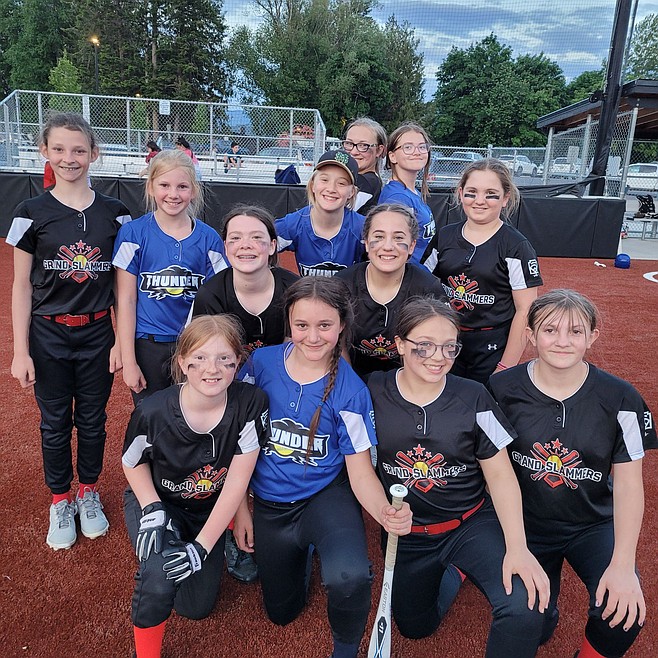 The 2023 Sandpoint 12U fastpitch softball all-star team.
(Courtesy Photo)
SANDPOINT — Sandpoint Little League will be fielding its first 12U fastpitch softball all-star team in over a decade this year. The team consists of 12 girls ranging from 10 to 12 years old who compete in the "Majors" and "Juniors" divisions within the greater Sandpoint Little League Softball Organization.
The all-star team will be coached by Bethanny Danish, the president of the SLL. Alisha Thompson and Bill Danish will be assistant coaches, and Shannon Smith will serve as the team's scorekeeper and manager.
The team is scheduled to compete in the district tournament in Lewiston June 16-18
in a bid to compete at the state tournament later this year. Due to dwindling Little League numbers, Danish said there isn't likely to be many teams attending the district tournament. In fact, the Lewiston all-stars have advanced to the state tournament largely unopposed due to the lack of participation by other northern softball leagues.
"It's hard to watch Little League softball numbers continue to shrink," Danish said. "We have to do a better job representing Little League girls fastpitch softball in North Idaho."
Danish attributes the low number of Little League softball players to several things, namely other sports and activities as well as competing softball programs.
"We are working on solutions," she said. "One solution is to give our little leaguers off-season training opportunities to increase the competitiveness in our program."
This year's team is made up of girls who have been playing alongside and against each other all season. The Sandpoint fastpitch all-star roster includes Nina Cardin, Bella Danish, Ayla Deany, Ali Gordon, Presley Johnson, Delaney Montgomery, Bailey Pierson, Cheyenne Smith, Jazlyn Thompson, Ariana Turnbull, Audrey Willett, and Spencer Wilson.
"The girls get to come together after competing against each other all season," Danish said. "It's a really fun dynamic. They are all friends, but it lifts our level of competitiveness."
The all-star team will be having a fundraiser car wash Sunday, June 11 at the corner of Fifth and Larch from 1 to 3 p.m. If you are interested in Little League or want to sponsor one of the all-star or Little League teams, email info@sandpointlittleleague.com.
Danish said the all-star team would like to thank its current sponsors, Nuttman Welding and Fabrication and Mt. Baldy Dental Center.
Recent Headlines
---