A change in leadership at WBCSD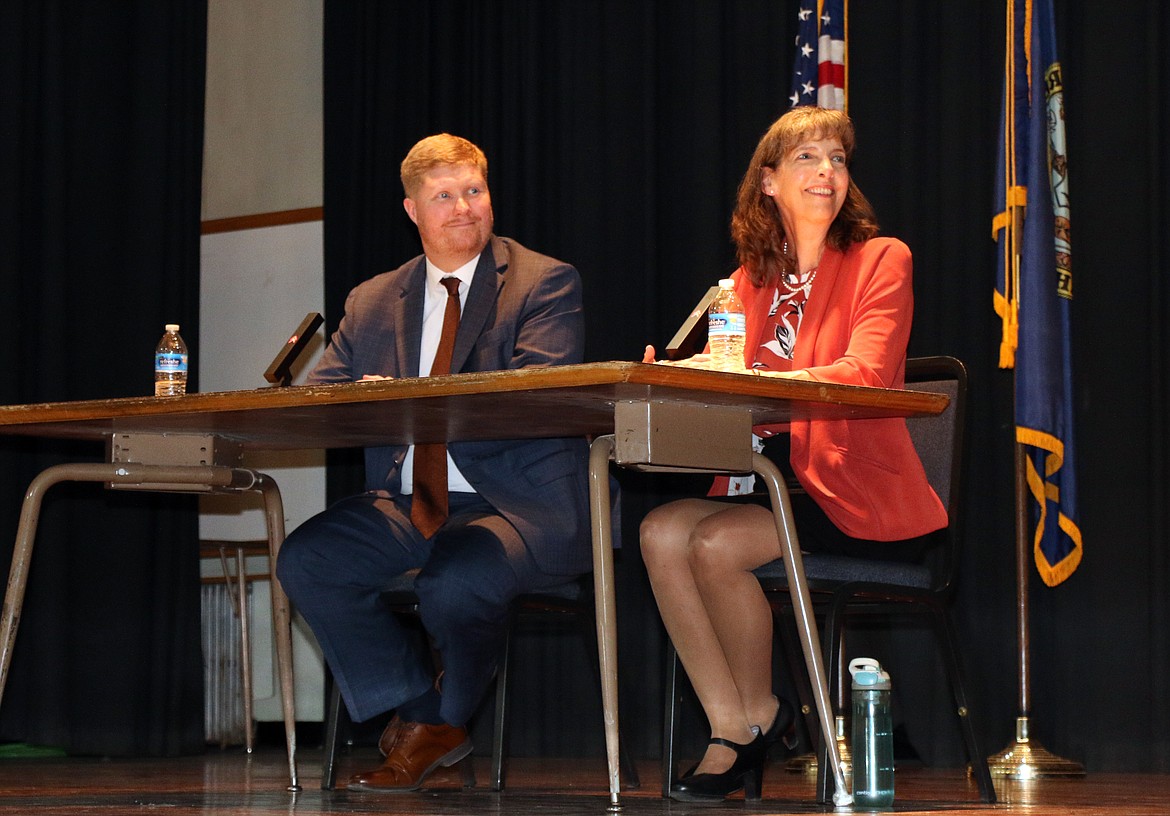 Branden Durst, left, and Susie Luckey listen to a question at a Wednesday community forum which gave residents a chance to ask the West Bonner County School District finalists a chance to ask them questions.
(Photo by CAROLINE LOBSINGER)
by
IDAHO EDUCATION NEWS STAFF
|
June 10, 2023 1:00 AM
West Bonner School District trustees selected former state superintendent candidate Branden Durst to lead their schools in a 3-2 decision on Wednesday night.
The two finalists — Durst and interim superintendent Susan Luckey — interviewed with the trustees and participated in a community forum before trustees met in a special meeting to select Durst on a split vote.
Board chairperson Keith Rutledge voted for Durst and told the Bonner County Daily Bee that while he appreciated Luckey's excellent work as superintendent, he believes that Durst could lead the district in the direction of necessary change.
Trustee Margaret Hall voted for Luckey to bring calm back to West Bonner, she said, but supports the board's decision going forward.
"We've got to figure out how to heal the community," Hall said. "We're split down the middle on a lot of things, and it seems like we've been hit with one thing after another this past year. Any decision we made last night is going to upset one group or another. We need to move forward for the kids' sake."
Members of the West Bonner community, located at the top of the Idaho Panhandle, were vocal in their support for the candidates.
A website was created to oppose Durst's hiring called "Don't Do Durst." It's not clear who was behind its creation, but it was labeled a "smear campaign" by others on social media posts.
Priest Lake Elementary school teacher Whitney Urmann attended Wednesday's community forum and spoke with EdNews late Wednesday evening.
"Both candidates answered questions very well. Branden knew all of the applicable terms. It kind of shocked our audience," Urmann said. "He ended by saying he hopes trustees don't hire (Luckey) because she's prettier than me. The whole room got loud at that point, and they had to escort a couple of people out."
Durst is a senior analyst of education policy research for the Idaho Freedom Foundation. He's also a former Democratic Idaho legislator, who finished second in the three-person May 2022 Republican primary for state superintendent. State superintendent Debbie Critchfield won the primary and former state superintendent Sherri Ybarra finished third.
"There are two contrasting views of what our schools need. … There are those who believe we need to continue to double down on a system that isn't working for a lot of parents. … And then you've got me, somebody's who's coming from the outside, who recognizes that, maybe we need to do things differently," Durst said during the campaign last year.
The Freedom Foundation website says Durst holds bachelor's and master's degrees and an education specialist degree in executive educational leadership from Boise State University.
Luckey served as a West Bonner administrator for nearly 20 years. Before she became a vice principal and principal at Priest Lake Elementary School, she was a kindergarten teacher there since 1984.
When superintendent Jackie Branum resigned abruptly in mid-March, Luckey was appointed as interim superintendent until June 30. This announcement was made on the district's Facebook page on March 20.
"I realize that this sudden change in leadership can lead to concern regarding the future of our district," Luckey wrote on Facebook. "If you have a question or concern, find out the facts: One of the things that can really hurt unity in a community is when the rumor mill gets started, and inaccurate and/or exaggerated information is spread throughout the community."
Two months after Luckey's appointment, West Bonner lost its May request for a two-year, $9.4 million supplemental levy. It received 48.4% support, shy of the simple majority needed. The district was hoping to replace a levy that expires on June 30, which represents 33% of its annual operating budget.
Recent Headlines
---