Huzzah! Sandpoint Ren Faire rides into town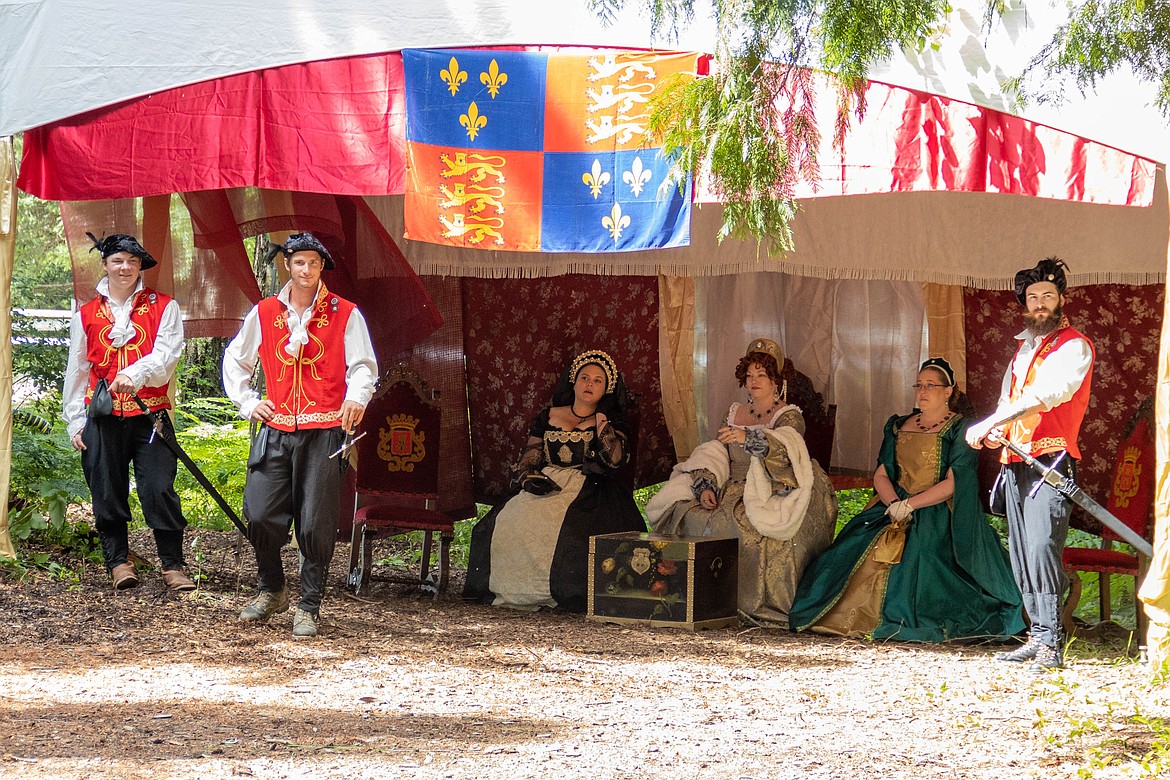 Queen Elizabeth I and her court watch the action at the Sandpoint Renaissance Faire on Saturday. The fun continues today at the Bonner County Fairgrounds.
(Photo by LAUREN REICHENBACH)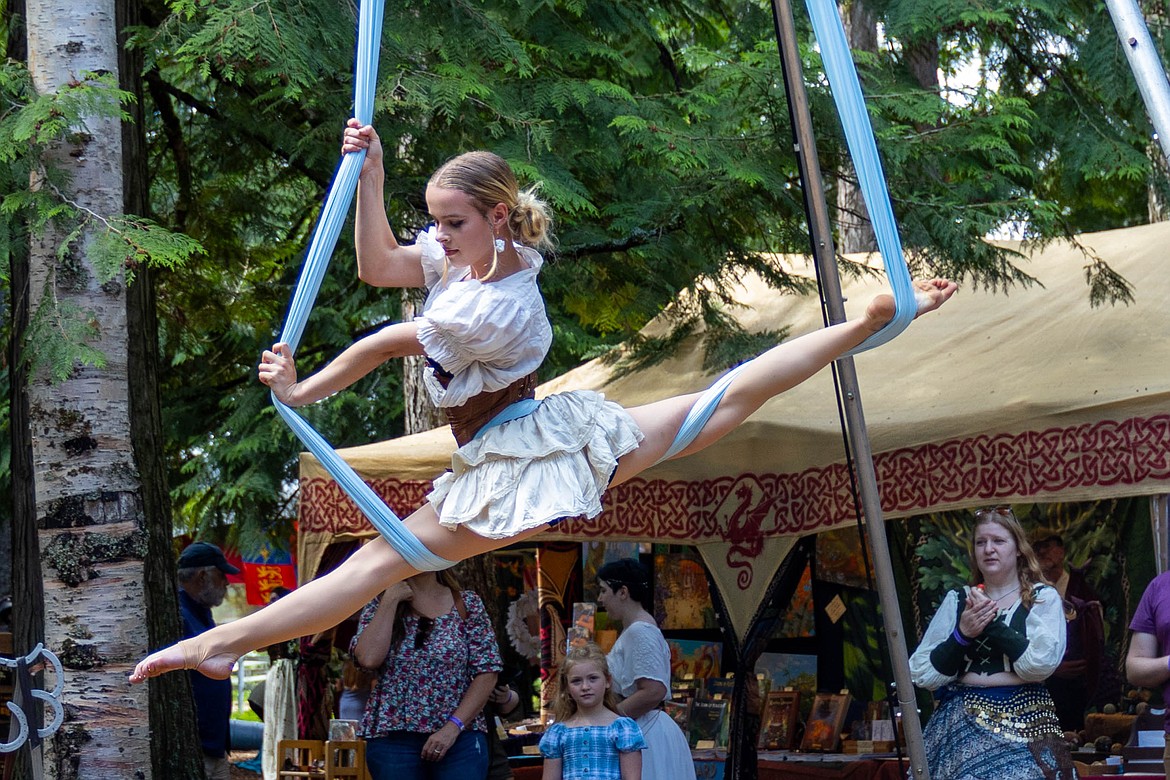 A aerial artist performs ribbons at the Sandpoint Renaissance Faire participant strolls through the Bonner County Fairgrounds.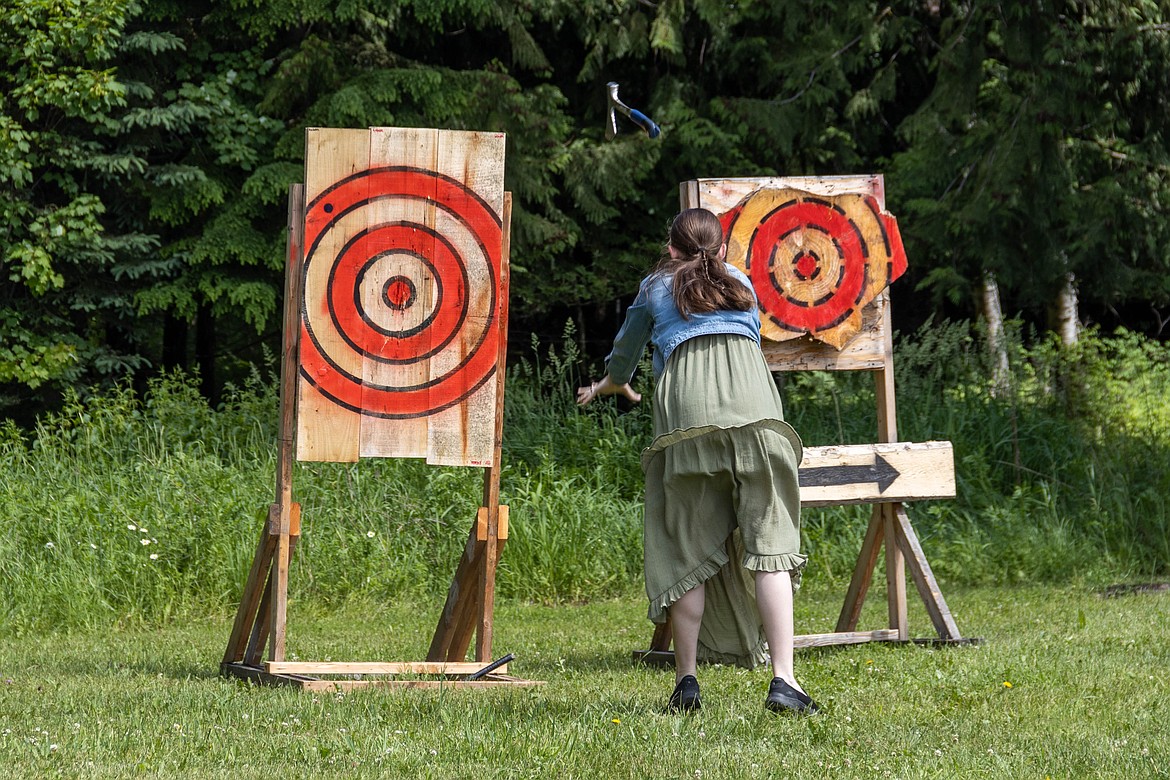 A Sandpoint Renaissance Faire participant tries her hand at axe throwing on Saturday.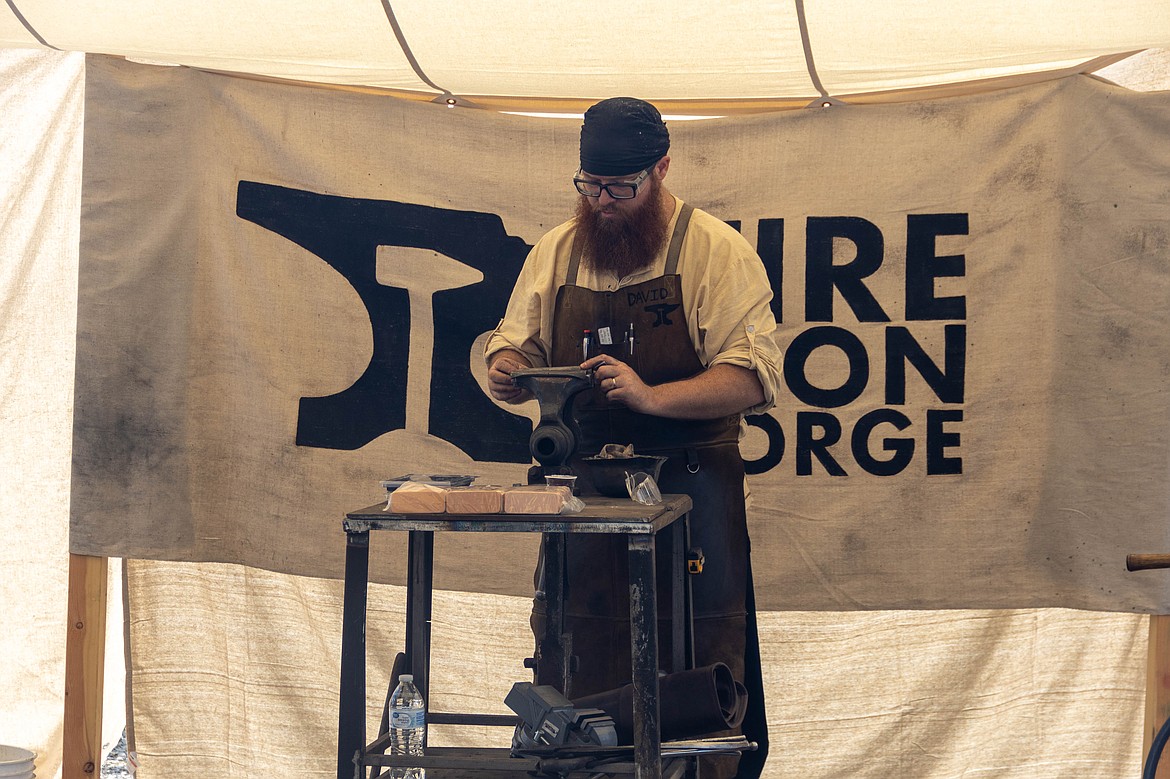 A metal worker is pictured at the Sandpoint Renaissance Faire on Saturday.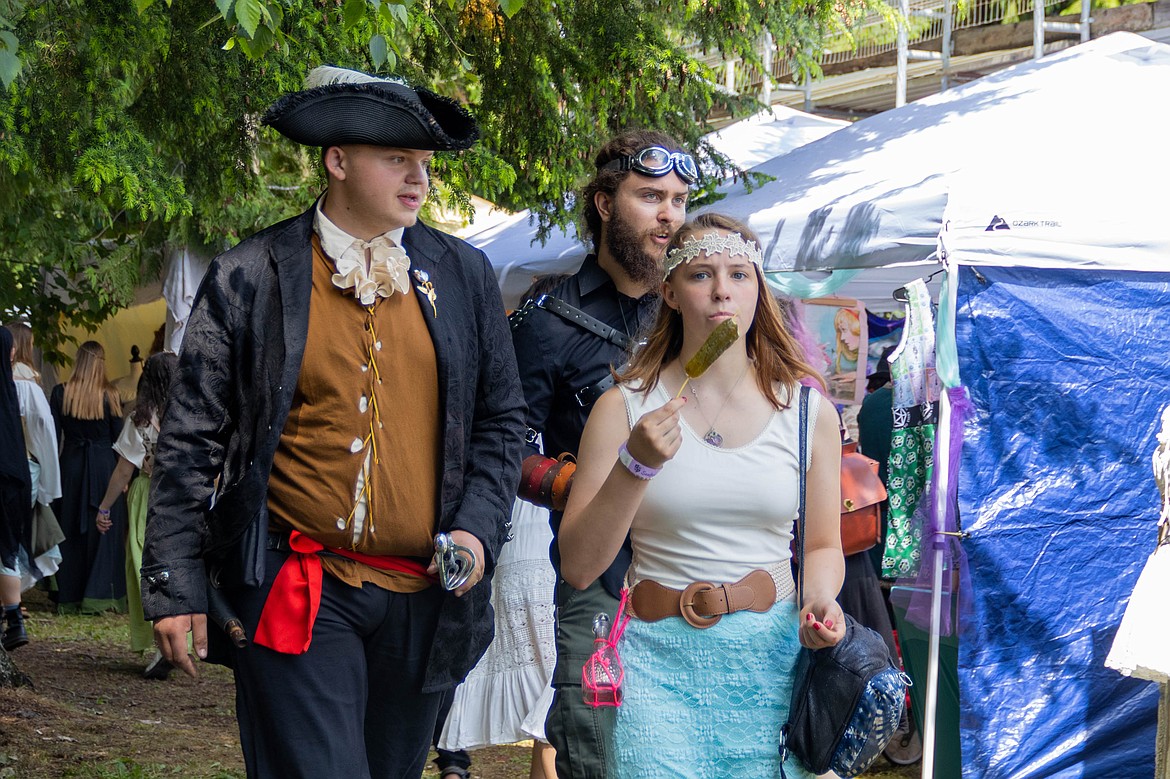 Sandpoint Renaissance Faire participants stroll through the Bonner County Fairgrounds.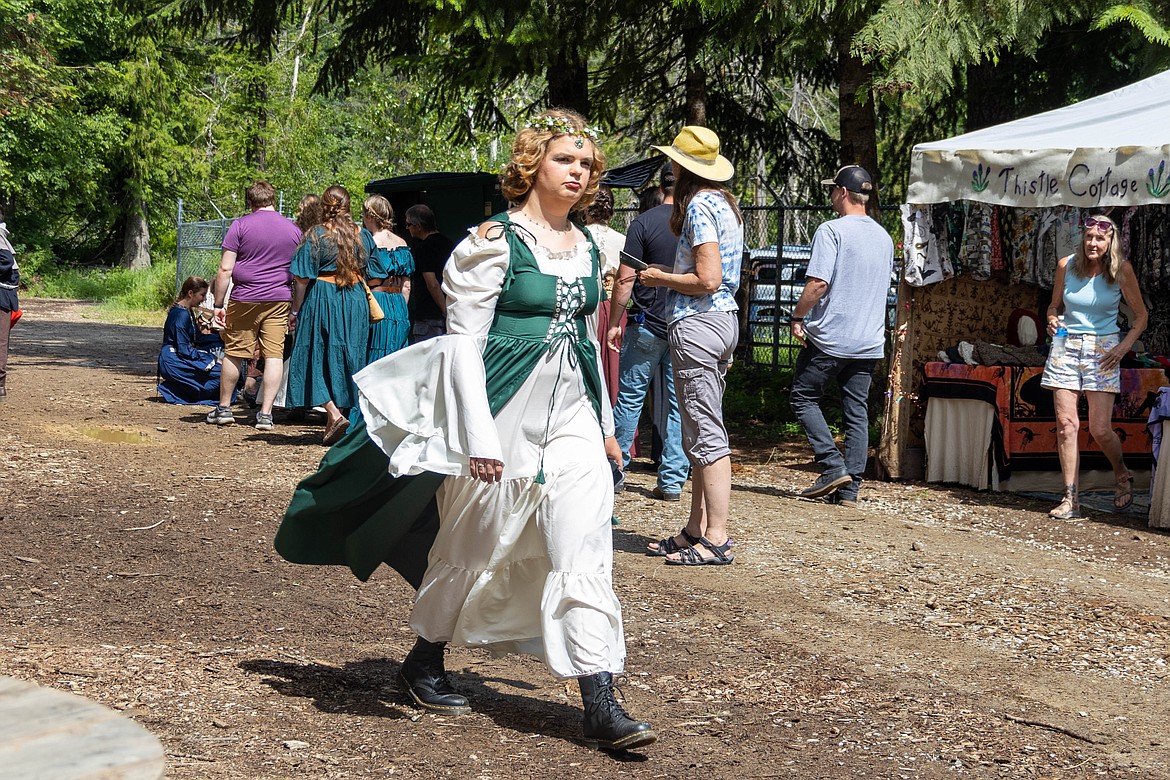 A Sandpoint Renaissance Faire participant strolls through the Bonner County Fairgrounds.
Previous
Next
by
CAROLINE LOBSINGER
Staff Writer
|
June 11, 2023 1:00 AM
SANDPOINT — The clanging of steel on steel rings through the air.
"Ladies and gentlemen, we salute you!" comes the cry as a new challenge is issued. "Huzzah!"
No sooner does the sound of battle fade into the early summer air than another cry booms in its wake.
"Make way for Her Majesty, Queen Elizabeth, the Virgin Queen," a guard roars, causing the crowd to part ways, many dropping in a curtsy or a bow in respect.
You would be forgiven if you thought you'd stumbled through a portal in time, transporting you back to the medieval era. But that's half the fun of the Sandpoint Renaissance Faire, which kicked off its first of two days as the Bonner County Fairgrounds was transformed into a small medieval village and faire.
Putting on the faire is a lot of hard work, but it is rewarding to see the community come together and have so much fun, Sandpoint Renaissance Association board member Stesah Quesnell said.
Quesnell got involved after meeting Anita Pew, who worked at the same bank at the time. Pew had attended the Sandemonium — a celebration of all fandoms of genres ranging from comics to cinema and everything in between. She had a blast and realized they could do something similar to celebrate the medieval period.
She called friend and fellow history buff, Tanya Anderson, and shared her idea. Anderson was immediately on board, and it wasn't long before the first event was held at the Woods Ranch rock quarry field.
"It's mind-blowing," Quesnell said of the event over the years and the community's response. "It's just incredible."
See how much fun everyone is having; families strolling about together, everyone laughing, fills her heart in a very full and happy way, Quesnell said, pausing to explore a nearby booth.
"It's just so exciting to see the people here, and there's nothing else like this," Quesnell said. "Getting to provide something like this for the community, it just makes me so happy."
Much like a medieval village from the 1500s, the faire featured everything from shops to entertainment to food. As the crowd clapped in time to music played by a trio of entertainers at a bard's tent, almost masking the faint ting of hammer on metal from a blacksmith further down the fairgrounds.
Vendors at a variety of shops plied their wares while a faint breeze carried the scent of meat being cooked over an open fire at one of the numerous food trucks.
Seeing the thousands of people exploring the Renaissance period and having fun is humbling in a way, making all of the group's hard work worth it, Quesnell said.
"It's been a labor of love for so many years … it's just so rewarding," she said. "I am super fortunate to be a part of this."
While the event is designed to be fun, it's also designed to give a taste of what life might have been like in the 1500s. It allows the community to visit a simpler point in time, have fun, and learn a little bit about the era in the process, Sandpoint Renaissance Association officials said.
"I think it's just a nice window into a completely different time with a little fantasy thrown in there, a little excitement," Quesnell said. "And I think that's a really beautiful thing that needs to be shared a little bit more."
While she no longer lives in Sandpoint, Quesnell said she loves being about to give "a little bit of joy back" to the community for all she and the other Sandpoint Renaissance members have gotten from it.
"It's definitely like coming home," she said of being at the faire. "And then seeing it thrive, it's very humbling."
Charlie Creager, who attended the faire with her family, said she wasn't sure at first what to expect from the event. But her aunt had a dress that helped transport her back to the medieval period — and found her elf ears once they arrived.
Creager said perhaps her favorite part of the faire was getting a bracelet as a gift after bequeathing a good luck token to a knight. In return, the knight gave the youth the bracelet after she won her match.
While she wasn't sure what to think at first, Creager said that after they arrived and she started exploring, she realized how much fun everything was. Not only were there funny plays but there were booths and activities where she could play and make things, such as her new wand.
"I would say it's a bunch of fun," the youth said after being asked what she would tell others about such events. "You get to make stuff, and you can also earn stuff."
An imposing figure under 100 pounds of armor and uniform, Al Rorabeck smiles as he's approached for an "ussie" — a selfie taken with more than one person. It's one of the reasons he loves coming to events like the Sandpoint Renaissance Faire.
Part of the Adrian Empire Alhambra, the Coeur d'Alene resident enjoys taking part in armored combat and medieval fighting. "I work the other six days, so on my seventh, I better do something fun," Rorabeck said.
The Adrian Empire Alhambra, dedicated to showcasing Western European culture roughly from 800 to 1600, is one of roughly nine or so groups at the faire blending history and fun.
"I come out, I fight, I shoot ballistas, I hang out, and I have fun," Rorabeck said.
While he bought the armor he wore to the faire on Amazon, Rorabeck is making his armor and swords, but his busy concrete business limits work to the wintertime.
"It takes a lot of time [to make]," the former Priest River native said. "Like the sword, I start out with just a basic leaf spring from a car, and I heat it up in the forge, and I've got an anvil, and I just swing away until it starts taking shape. It's very time-consuming, but once again, you're too busy, and you spend all your money [making it], so you're not doing drugs, you're not doing crime. You're having a good time doing a good thing."
Intrigued by Sean Connery's portrayal of King Arthur in "First Knight", Rorabeck hasn't looked back. He enjoys the reenactments, entertaining and educating the crowds at the same time.
"It seems ridiculous. It seems weird," Rorabeck said. "Everybody's dressed up in very strange fashions. But it is a lot of fun. And the more you get into it, the happier you get. So give it a chance. And you will find that you enjoy it."
The faire continues today, opening at 10 a.m. and closing at 6 p.m. Featuring everything from music, magic, dancing, and comedy to combat, feasting, and aerial arts, the sixth annual event is being held at the Bonner County Fairgrounds, 4203 N. Boyer Road.
A jousting tournament, featuring the Epona Equestrian Team, is scheduled to take place at 11 a.m. and 5 p.m. In addition, there will be performances by magicians, comedy and more.
Tickets at the gate are $16 for adults; $12 for seniors and children 6-17; and free for children 5 and under. A discount will be given for those bringing donations of non-perishable food items to the Bonner Community Food Bank.
Pets are not allowed, as there will be animal performers.
Information: sandpointrenfaire.com
Recent Headlines
---