Aquatic Workshop program set for mid-July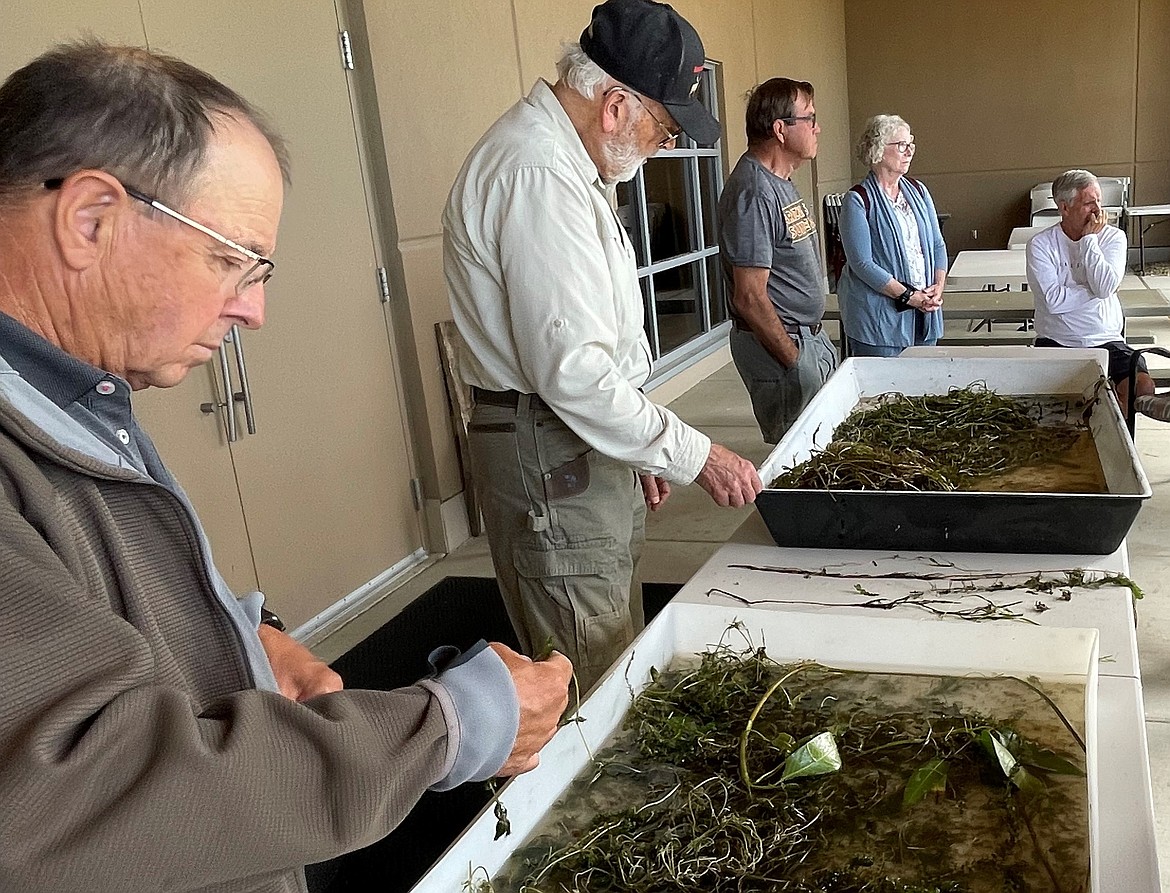 This year's Aquatic Workshop will once again include a hands-on look at weeds as pictured here from the 2022 workshop.
(Photo courtesy MARY MALONE)
NEWPORT — The Pend Oreille County Noxious Weed Board is gearing up for the 2023 Aquatic Workshop on July 14 at the Camas Center, offering a full day of expert speakers, free lunch and door prizes, as well as a virtual attendance option.
"This is a great opportunity to for landowners to learn about invasive and native plants, and the resources and programs available to assist our waterfront landowners," said Loretta Nichols, Weed Board Coordinator.
In partnership with the Pend Oreille County Public Utility District, this free workshop utilizes expert speakers to give waterfront landowners the resources they need to help identify and manage aquatic weeds. This year, we have additionally partnered with the Pend Oreille Conservation District to include fish habitat improvement with topics such as bank stabilization and riparian planting efforts, as well as the Kalispel Natural Resources Department's refugia projects and the importance of these cold-water tributaries on the Pend Oreille River.
The workshop will be held on Friday, July 14, from 9 a.m. to 3:30 p.m. at the Camas Center for Community Wellness in Usk. For those attending in person, registration is required by July 7, as lunch will be served and an official count is due in advance. Virtual attendance registration will remain open through 2 p.m. on July 13.
To register, go to tinyurl.com/2023AquaticWorkshop and fill out the online form. Registration opens Wednesday at 8 a.m. A full agenda will be posted there as well. For questions, please email noxweedinfo@pendoreille.org or call 509-447-2402.
Pesticide license holders in Washington and Idaho can also earn credits toward license recertification. This event, Lunch and door prizes are offered thanks to our partners and sponsors which currently include: Pend Oreille Public Utility District, Pend Oreille Conservation District, Washington State Department of Ecology, Recreation and Conservation Office, Lakeland Restoration, Aquatechnex, Aquatic Weed Solutions, Tiger Inlet League, Selkirk ACE Hardware, The Newport Roxy Theater, Northwest Coffee and Café Sante.
Recent Headlines
---