Newport hospital reopens birthing center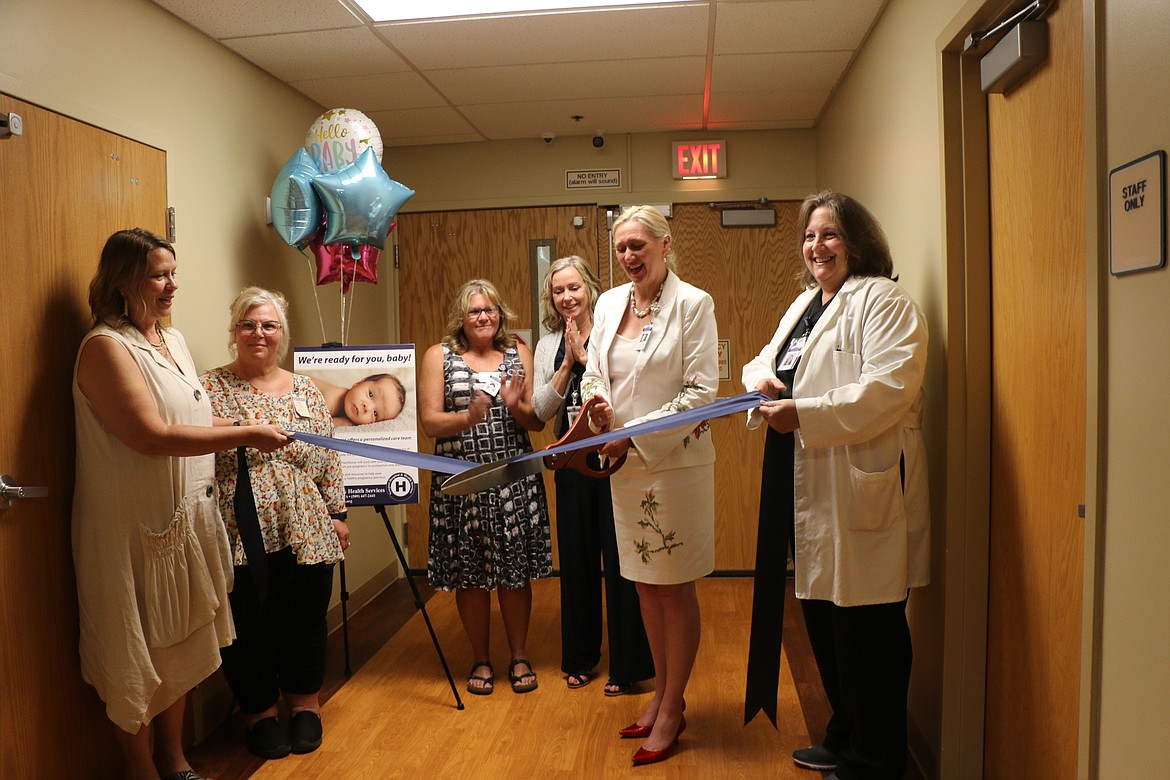 Newport Hospital and Health Services offices take a moment to officially open the hospital's new birthday center, Pictured, from left, are Marianne Nichols, NHHS Foundation board member; Jenny Cooper, NHHS Foundation board member; Lynnette Elswick, PHD No. 1 board commissioner, vice-chair; Theresa Hollinger, MHA, MSN, RN, NEA-BC, FACHE, NHHS chief nursing officer, Merry-Ann Keane, MSN, BSN, NE-BC, FACHE, NHHS chief executive officer; and Kimberly Rutland, MSN, ARNP, WHNP-BC, RNC-OB, perinatal nurse practitioner.
Photo by CAROLINE LOBSINGER
by
CAROLINE LOBSINGER
Staff Writer
|
June 14, 2023 1:00 AM
NEWPORT — The new birthing center hadn't been open long when the Newport hospital got its first customer.
The center, which was celebrated at a brief grand reopening ceremony, opened June 1 after closing in 2022.
"Most rural hospitals are choosing to close their obstetrics units, but through the commitment of our board and our teams, we are choosing to keep this service in the community," Merry-Ann Keane, Newport Hospital and Health Services CEO, said.
Hospital officials said they expect to deliver fewer than 10 babies per month. Prior to the recent delivery, the last birth at the hospital was in June 2022. On average, the hospital delivered 65-70 births a year prior to closing in June 2022.
"That's why most rural hospitals cannot sustain an obstetrics program," said Jenny Smith, NHHS public information officer and director of strategy and community engagement. "We have to have nurses on duty 24 hours a day, seven days a week, for whenever that patient needs to come in. And so it definitely is an investment in the community."
Smith said it feels "innovative" to be reopening their birthing center when so many others are closing theirs. 
"When you're rural, as you know, you work with what you have, and you move forward and do what's best for your community," she added. "It may not always pencil out financially, but we need the service. We need to provide access for our community, for our neighbors in Idaho, and we're happy to do it."
The desire to serve the community was key to the district's commitment to reopen the center, NHHS officials said. Patients were forced to choose between driving to Spokane after the onset of labor or getting a hotel room when labor was near.
"This really saves our community quite a bit," Keane said. "It's really one of those things that you don't think about. If you live that far from the nearest location to deliver a baby, there's a lot of logistics that go into it." 
Nursing shortages forced the hospital to pause labor and delivery services in 2022, Newport Community Hospital officials said. Families were directed to Providence Holy Family in Spokane while NHHS officials worked to recruit labor and delivery nurses.
Pregnant women were supported with wrap-around maternity services and OB consultations at Newport Health Center, the hospital's rural health family practice clinic, Smith said.
Smith said hospital district leadership had already set a goal to reopen by this summer when Bonner General Health announced it would be shuttering its own labor and delivery department.
"The announcement by Bonner General Health placed greater urgency on those plans, especially as we considered the new gap in labor and delivery services across Boundary and Bonner counties," the public information officer said.
What the Sandpoint hospital's decision did do was allow NHHS to reach out to BGH nurses who were seeking new positions. As a result, the Newport hospital was able to hire several former BGH staff members to work in their department.
While not specifically targeting Bonner and Boundary counties, Keane noted that the reopening of the Newport center does offer patients another choice. In addition, NCH and Newport Health Center are designated as Idaho medical providers for Medicaid because of their proximity to the border.
After Keane was hired in late October, reopening the obstetrics program has been a "passion project and goal on our strategic plan" since then, Smith said.
In addition to labor and delivery services, the department offers childbirth education and infant CPR, location services, safe-sleep practices, car seat installation instructions and inspections, and hearing screening for newborns.
The NHHS Foundation led a community drive, raising $40,000 from area residents and partners for a "dramatic refresh" of the birthing center. That support allowed the district to repaint the walls — doing away with monkeys and other jungle creatures — as well as other improvements. New sleeper sofas, delayed by supply chain issues, are expected later this summer.
The reopened center offers two private birthing suites, each featuring a serene color palette, private bathroom with jetted tub, TV, a refrigerator, and accommodations for a birth partner.
Recent Headlines
---