Eye on walleye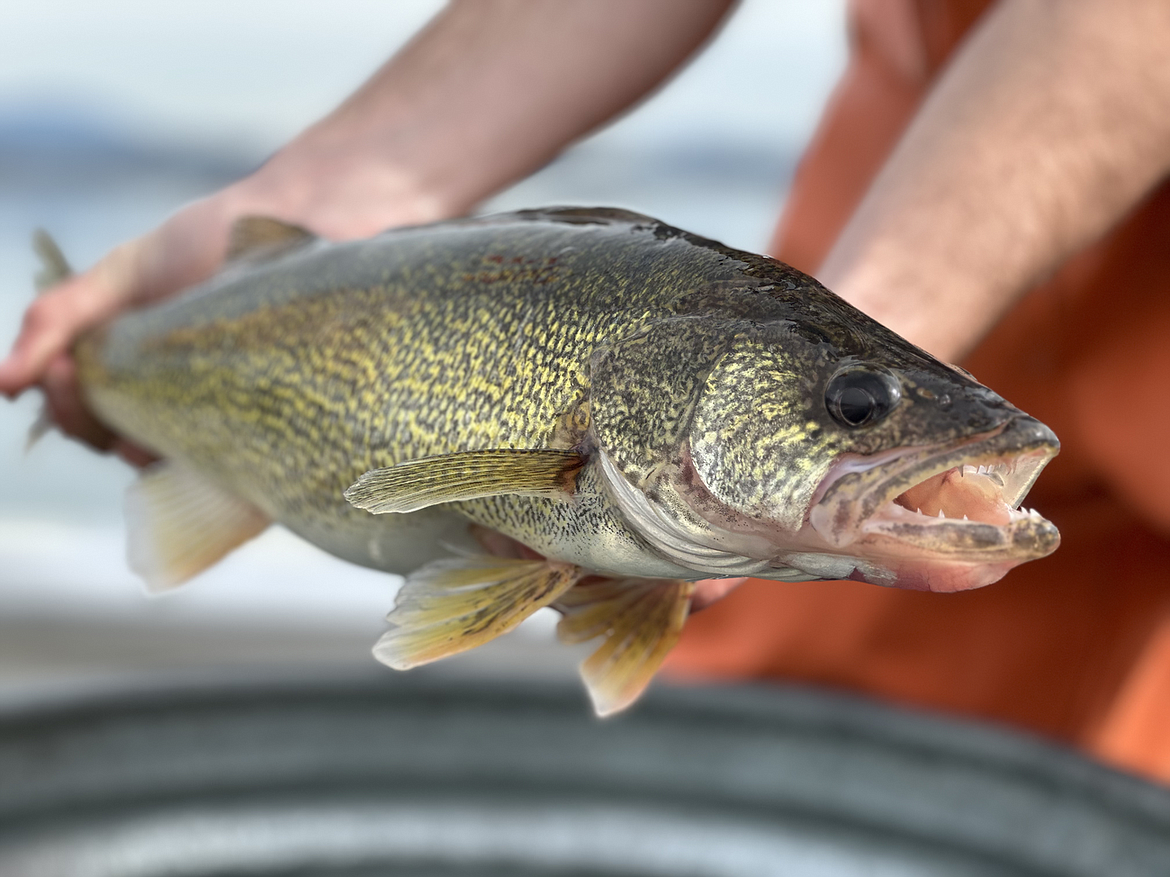 An angler catches a walleye in Lake Pend Oreille
Photo courtesy of the Idaho Department of Fish and Game
by
T.J. ROSS / Contributing writer
|
June 16, 2023 1:00 AM
Early summer walleye in Lake Pend Oreille are on the move. Walleye spawning is over now, and with warmer water temperatures fish are distributed widely throughout the Pend Oreille system.
In the past month walleye have moved down the Pend Oreille River and throughout the Clark Fork Delta and river. The locations with the most individual walleye detected were the Highway 95 Long Bridge and Railroad Bridge. To view a map of Walleye locations on the lake, visit rpubs.com/Eric_Geisthardt/894849.
Walleye anglers in highlighted areas on the map have reported catching fish, and that information can be used, along with techniques, to improve the odds of catching a walleye. Some tactics include concentrating effort during low light conditions on shallow flats and rocky shorelines early in summer before weeds become more established and fish begin using weed edges and beds throughout the north end of the lake.
The Sunnyside Point to Fisherman's Island area continues to hold a number of walleye. In those areas, trolling crawler harnesses or crankbaits near drop-offs, or over the flats in the adjacent bays, can be an effective way to target fish this time of year.
Anglers can now access most of Lake Pend Oreille and Pend Oreille River boat launches with spring runoff coming into the system. Current lake level sits at 2061 feet, just below the full pool of 2062.5 feet.
View the interactive walleye map and mobile friendly version of this month's map by visiting the mapsite, or idfg.idaho.gov.
Biologists track acoustic-tagged walleye to learn more about walleye movements and to help anglers effectively target walleye and participate in the Lake Pend Oreille angler incentive program.
As a reminder, there are plenty of $1,000 reward-tagged walleye still swimming in the waters of the Lake Pend Oreille system. In May, two lucky anglers each turned in walleye tagged with $1000 reward tags. To learn more about walleye rewards and try a hand at becoming a big winner, check out the Lake Pend Oreille angler incentive program on the Idaho Fish and Game website, or the Idaho Department of Fish and Game has resources to help.
Check out our "Lake Pend Oreille fisheries" webpage and watch the 2023 State of the Lake Meeting to learn more about the world-class fisheries in Lake Pend Oreille.
Visit the Idaho Fishing Planner to get information about diverse fishing opportunities throughout the state.
T.J. Ross is a regional communications manager for the Idaho Department of Fish and Game.
Recent Headlines
---