Chafe 150 all set for Saturday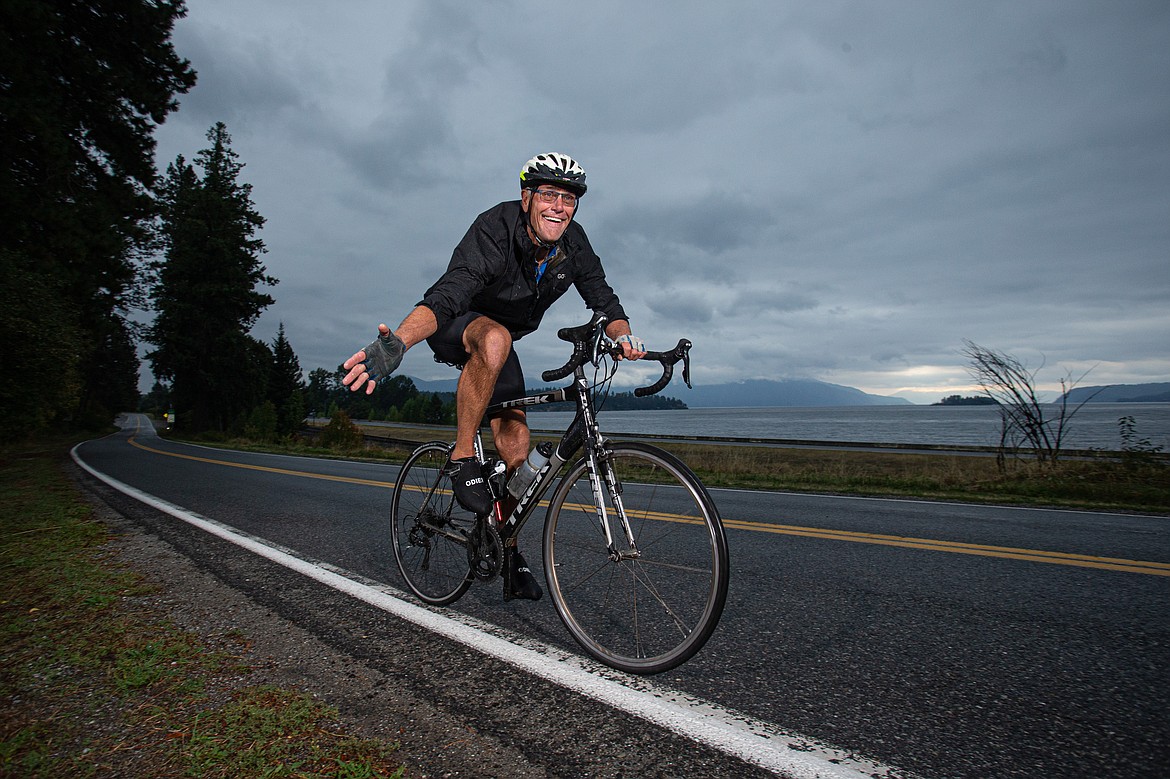 A CHAFE 150 rider reaches down to give a low five as he passes through the Hope area during the 14th annual CHAFE 150 Gran Fondo.
(Photo courtesy JASON DUCHOW PHOTOGRAPHY))
More than 325 cyclists will take to the roads in and around Sandpoint Saturday as part of the 15th annual CHAFE 150 Gran Fondo.
Cyclists of all different abilities will participate in distances ranging from 25 miles to 150 miles. An inaugural 54-mile gravel ride has been added this year and the family fun ride is back for a second year.
The uniquely Sandpoint Rotary fundraiser attracts riders from around the country and Canada while raising funds for young readers and local causes.
"We are so pleased CHAFE continues to make a difference for Lake Pend Oreille School District students," said Mel Dick, CHAFE co-organizer. "It's hard to believe we have raised more than $525,000 for educational initiatives through the years."
Ride proceeds this year will go to the Book Trust as well as many Sandpoint Rotary activities. The acronym CHAFE stands for: Cycle Hard for Education. For the 2023-24 rides, Sandpoint Rotary chose the LPOSD's Book Trust program, which presents books to first and second graders each month of the school year.
LPOSD is the only school district in the state that offers the program. Local students continue to lead the state in reading measurements and one of Rotary's main focuses is education.
"If you are ever having a bad day, jump in on giving books for first and second graders," said David Keyes, Sandpoint Rotary past president.
"The kids really want to read and are so excited about throwing themselves into a new book. By owning these books, you know they are going home to read them or having an older brother or sister or parent read to them. ""Kids learn to read up to third grade and after that they read to learn," Dick said. "Getting into the habit of reading early on is key to making the most of education."
Students have been known to hug their books and sometimes even smell them before signing their names and sharing them with classmates, he said. "Nothing better," Dick added. "Those smiles make it all worthwhile."
FAMILY FUN RIDE
This four-mile ride starts and finishes at Sandpoint City Beach with a fun out and back ride on the Sand Creek Trail. Check in and late registration begins at 11:30 a.m. with a safety presentation at 12:30 p.m. The ride begins at 1 p.m and all riders must wear helmets. There will be lots of prizes and fun and games. Riders 12 and under are free and 13-plus will pay $10. Younger riders must have a chaperone.
Families are encouraged to show up on Saturday to enjoy the ride. Sandpoint Rotary is partnering with the cities of Sandpoint and Ponderay, Litehouse YMCA and LPOSD. Descriptions of the gravel route, 25-mile route, 40-mile route, 80-mile route and the namesake 150-mile route can be found at chafe150.org.
GRAVEL RIDE
The 54.15-mile ride starts near Clark Fork and ends at City Beach and takes riders mostly along Forest Service roads and the backroads of the Selle Valley. Riders will climb up Lightning Creek Road before descending on to Trestle Creek Road to ride along Lake Pend Oreille until Lower Pack River Road and then to Sandpoint along the CHAFE route. Riders and their bikes are bussed from City Beach to Clark Fork to start the ride. The gravel route is the second leg of the new Idaho Panhandle Gravel Series – the 3/4 Minus Cykeltur in May, the CHAFE and the Monarch Grind in September.
All rides end at City Beach on the shores of Lake Pend Oreille with music, food and beverages. There will also be a drawing for a coveted whiskey barrel.
The CHAFE 150 has been recognized as a top 10 scenic ride in the country and was named the number three charity ride in the country by Bicycling Magazine. It is also considered one of the best supported rides in the country with six fully stocked rest areas. LPOSD, Angels Over Sandpoint, KRFY, Friends of Scotchman Peaks, Pend Oreille Pedalers, Sandpoint Rotary, Williams and Schiller and Litehouse YMCA all compete to have a memorable rest stop experience.
More than 100 Sandpoint Rotarians and 100 members of the public have volunteered to make CHAFE150 happen and the club encourages everyone to come down to City Beach Saturday afternoon to celebrate CHAFE and this great event.
WATCH FOR RIDERS
The CHAFE 150 begins Saturday morning at 6:30 as riders will take off from City Beach and head north on Highway 95 to Bonners Ferry. Even though there are numerous safety signs along the routes, Sandpoint Rotary wants to remind motorists to be extra careful around cyclists. There will be riders along Highway 95, the Bull Lake Highway and Highway 200 until 7 p.m. There are five routes in the ride and some riders will be in and around Forest Service roads and Selle Road as well. Please use caution as some of the riders will be fatigued after five hours of pedaling and may not be able to react quickly.
Recent Headlines
---