Catwalk: Sandpoint style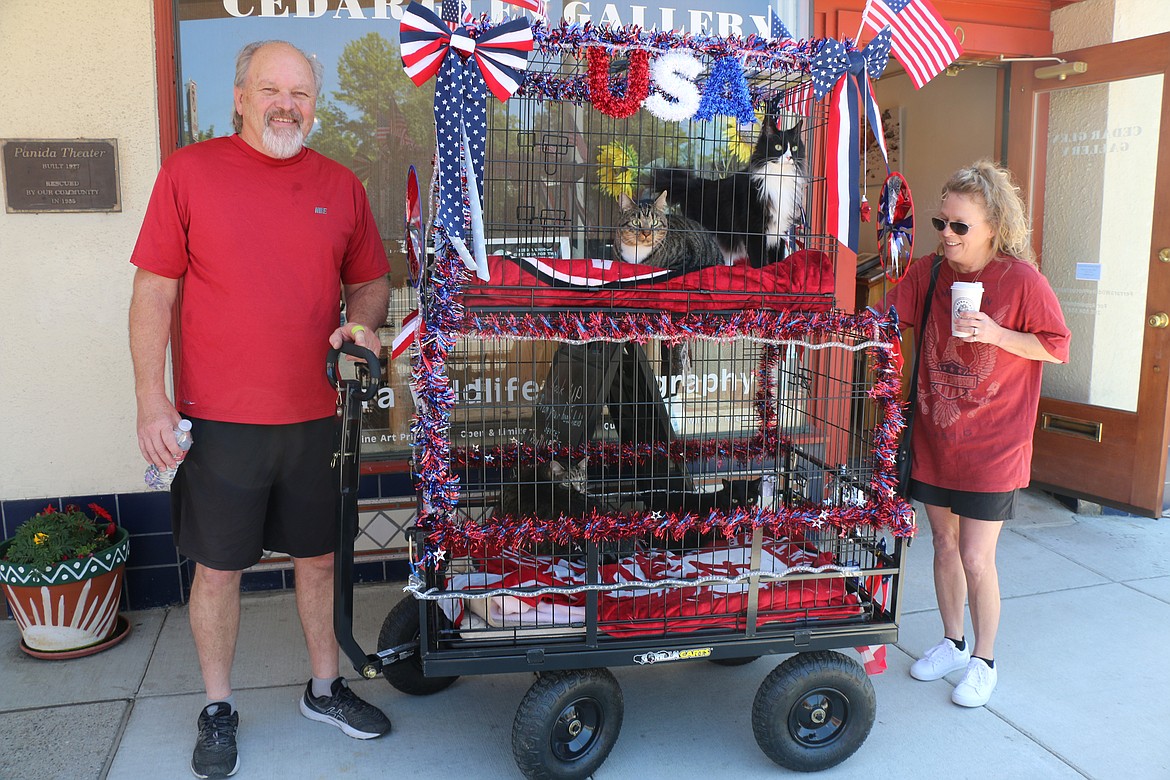 Patrick and Buffy Beal pose with their four cats — Lila Rose, Jackson Amos, Henry Abel, and the most recent addition, Blackberry — in their double-decker portable catio during a recent walk through downtown Sandpoint.
(Photo by CAROLINE LOBSINGER)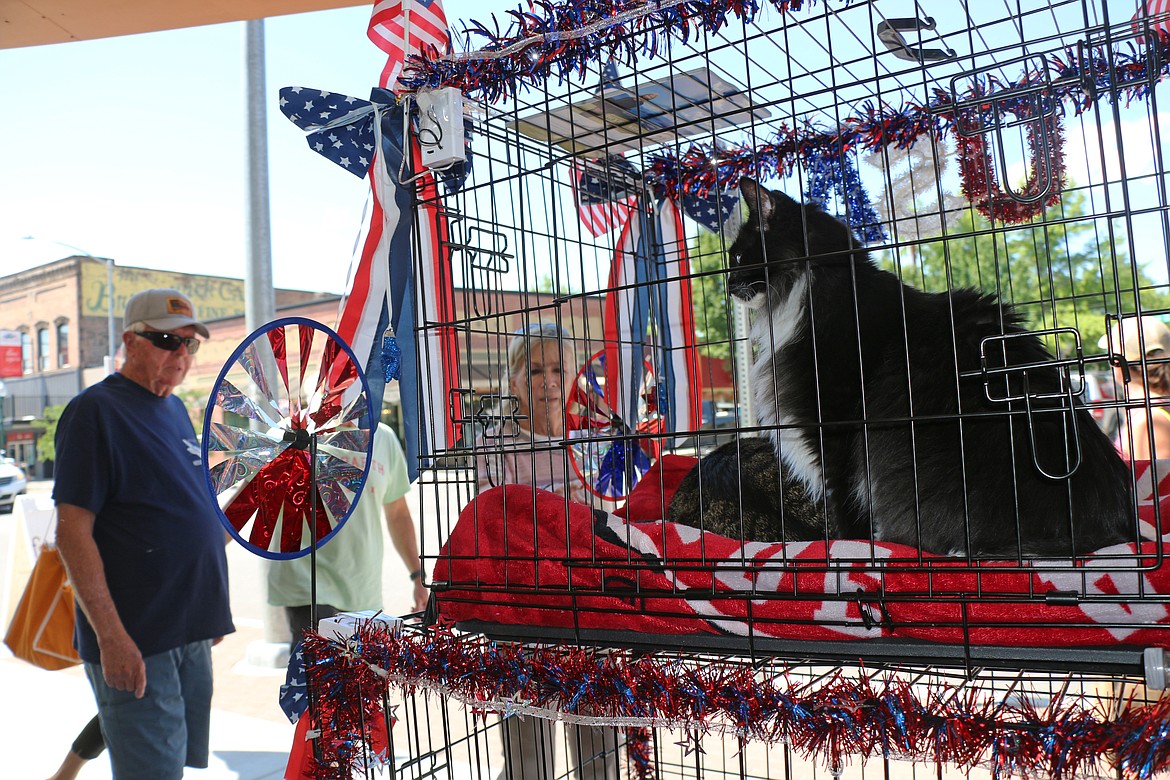 Passersby stop to say hello to Patrick and Buffy Beal's cats during the felines' walk through downtown Sandpoint on Saturday.
A pair of youngsters stop to say hello to Patrick and Buffy Beal's cats during the felines' walk through downtown Sandpoint on Saturday.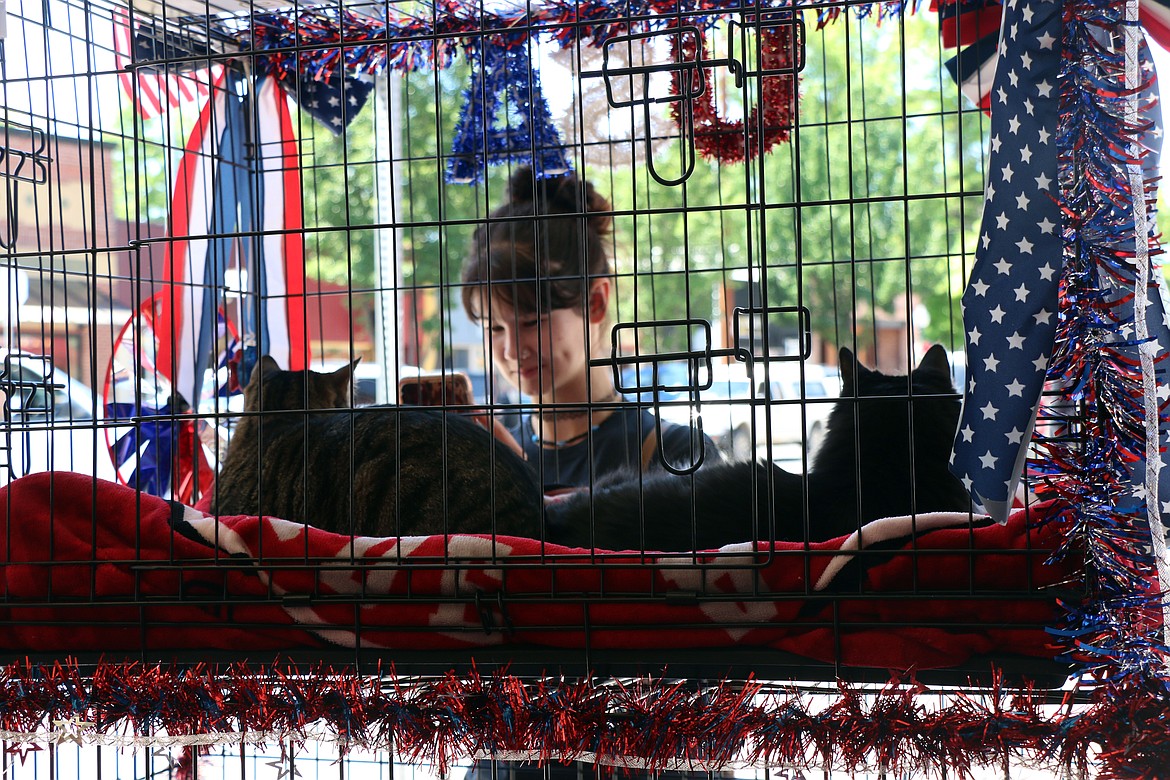 A passerby videochats a friend to show them two of Patrick and Buffy Beal's cats — Lila Rose, Jackson Amos, Henry Abel, and Blackberry — in their double-decker portable catio during a recent walk through downtown Sandpoint.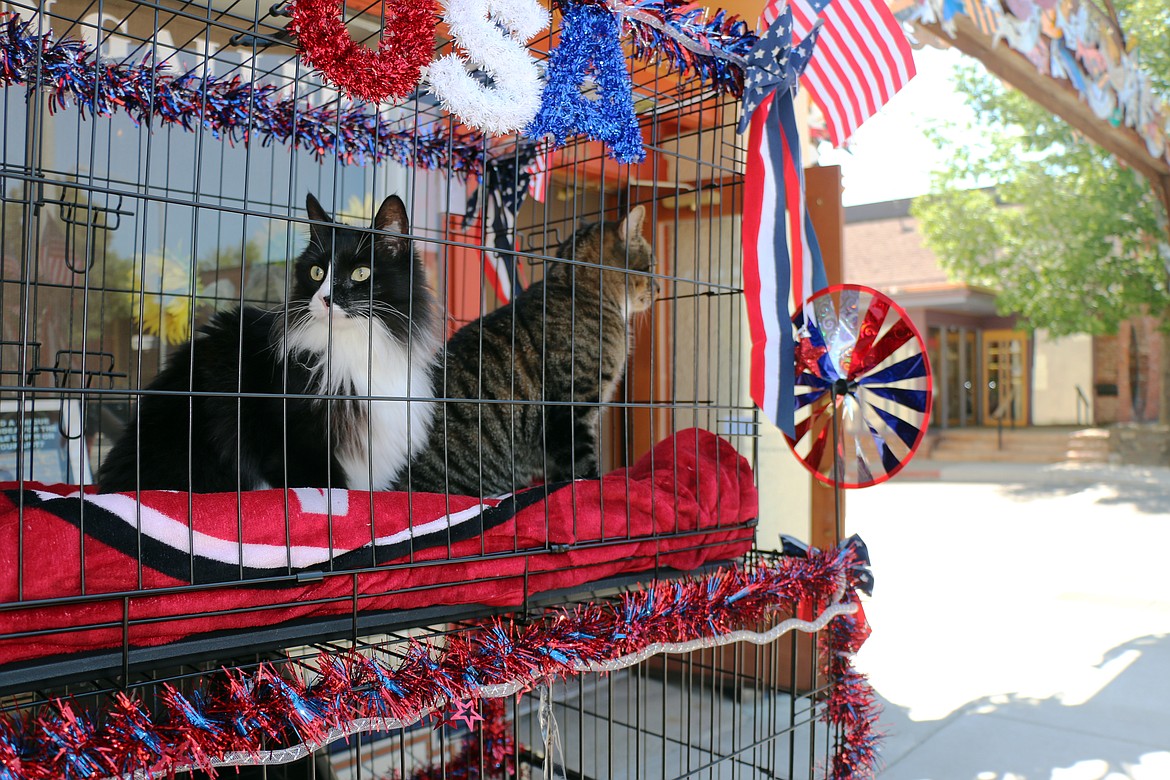 Two of Patrick and Buffy Beal's four cats check out the action on First Avenue during a walk through the downtown on Saturday.
Previous
Next
by
CAROLINE LOBSINGER
Staff Writer
|
June 25, 2023 1:00 AM
Forget Paris or Milan; the top catwalks these days are found in and around downtown Sandpoint.
Just ask Lila, Jackson, Henry, and Blackberry.
The four felines are a regular sight in downtown Sandpoint or City Beach, pulled in a deluxe cat buggy and lying in comfort on plush Alabama blankets.
"They get a lot of attention," Patrick Beal said of the four cats during a recent walk with the felines and his wife, Buffy. "We just go along for the ride."
At some point, the pair began taking Lila and Jackson for walks. While the pair loved the excursions, there were a couple of escapes, albeit brief ones, by Jackson. Henry wasn't a fan. Coupled with the fact that some of the areas where they traveled had high numbers of ticks, Buffy Beal said she didn't want to take any chances.
That's when she came up with their double-decker buggy system: an extra-large pet crate placed in a heavy-duty, sturdy garden buggy and topped with a slightly smaller pet crate.
The eye-catching deluxe travel system allows their beloved pets to get out of the house, get some fresh air, be safe, and bring joy to others, Buffy Beal said.
Around the holidays, the buggy is decorated for the season and major holidays. While decked out for the upcoming Fourth of July holiday, the decorations are swapped out for Thanksgiving, St. Patrick's Day, and Christmas — complete with lights — as well as other special occasions.
"It's real festive," Patrick Beal said. "And it's just a lot of fun and we find often that even people that are stressed out — you can tell to the max — they see this and they just kind of kind of relax."
The pet buggy — and the cats — attract a lot of attention during their mostly daily walks. The quartet thrives on the attention, rubbing their chins on the bars and sniffing the hands of those stopping to greet them.
Videos and photos taken by passersby aren't uncommon — nor are the offers to adopt them.
"They're all rescues. They're all inside cats," Buffy Beal said. "Everyone tries to take them from us and thinks they are for sale or for free."
"We get lots of smiles," Patrick Beal added. "And, 'Daddy, can I have a kitty?' It's very peaceful and friendly."
The couple, who live near the downtown, often make the journey from their home to City Beach or do a loop of the downtown. Both are about 1.8 miles — enough to give the cats a safe taste of the outside and their humans a little bit of exercise.
The Beals said their cats love the daily walks; while indoor cats, they enjoy being outside — and the attention that they get.
"They love it, and it gets us out," Patrick Beal said. "It's very active and very soothing, and we get to meet all kinds of new friends."
Buffy Beal admits she wasn't a cat person, and didn't grow up loving them. She was always a dog person, convinced by a family. member that cats were dirty and should be avoided. Instead, she and her husband owned Alaskan malamutes for years before they were adopted by the cats.
The couple used to be dog people, owning a pair of Alaskan malamutes — brother and sister Wolf and Gypsy — that traveled with them everywhere. It wasn't long after the dogs passed away that the Beals were adopted by Lila Rose, the first of their now-four cats.
She was followed a few years later by Jackson Amos, then Henry Abel, and the most recent addition, Blackberry — named after one of their favorite bands, Blackberry Smoke.
When Lila showed up at the door, Beal said she wove around her feet and tried to enter their home. On her way to the beach, she told the cat that if she was still there when she got back, she'd get her something.
She was.
So, Beal grabbed some dog food — the only thing she had on hand — and some water.
"I swore I was getting rid of her; she wasn't coming in my house. I didn't want her on my counters because I didn't know better," she said. "So a month and a half into it. I told him, let's just keep her. I like her. I'll change my ways, and that's what I did."
A few years later, to the day, Jackson showed up. A few years later, Henry and Blackberry also adopted the Beals.
"The oddest thing that felt sentimental to me is that Lila looks just like Wolf, who was black and white," Beal said. "And Gypsy was just like Jackson here; she was gray and grayish-white."
The pair's demeanor is even similar to the malamutes, Beal said.
"So to me, it was like they sent them to us as our angels because, you know, that's just what these animals do," she said.
The couple, who met at a food service distribution company in Utah, alternate their time between Idaho, where Patrick Beal had lived for more than 40 years, and Alabama, where Buffy Beal grew up. Now retired, their bicoastal lifestyle allows them to take advantage of the best of all worlds.
"The southern culture's a lot of fun and relaxed, and then the culture in small-town Idaho, Idaho, we always have loved. Both of them are recreational meccas, and we're very, very active outdoors people, so this is the perfect location," he said.
They love to be on the go — and figured why not take their pets with them.
"It's just a road trip," Patrick Beal said. "It's only a three-day drive, and we've lived on the road our whole lives … They just come along with us."
It was only natural to bring their cats along with them. Self-confessed animal people, he said the couple has always had either cats or dogs, and it just made sense to incorporate their pets into their travels.
"They go where we go, basically," he added. "They make the trips a lot more fun. They're active, and yeah, it's just part of our lifestyle."
The four felines do well traveling, spending time in the back seat of the couple's truck, often lined up to peek out the window — much to the delight of those in the cars next to them.
"Everybody that's going down the road sees 'em and waves," Buffy Beal said.
Before Henry and Blackberry joined the family, the pair had considered getting sidecars for their motorcycles to take them for rides. They also took them camping several times on the East Coast, once to Maine and another to the upper New England area.
"I thought that was fun because nobody does that," Buffy Beal said. "That's one of my favorite memories, along with taking them out in the buggy, because of how happy it makes everybody."
The unconditional love that they get from their pets — and the unconditional love they encourage in others — is perhaps his favorite part of the walks and having pets in general, Patrick Beal said.
"That unconditional love that animals bring is not easy to learn but, like I said, animals make you better," he said.
All of their cats are rescues, something the pair encourages others to do when adding a pet to their lives.
"But to me, I guess the message would be that they bring you love and they make other people happy," Buffy Beals said. "And at the end of the day, we all need to be all of that."
"Go and rescue an animal," Patrick Beals added. "You're going to make their life better, and it will make your life better. It's a tranquil, peaceful feeling; if you don't, you get caught up in the complications of life. They slow things down and simplify life for humans … they add a loving aspect to life."
Recent Headlines
---