4-Hers end camp with drill team performance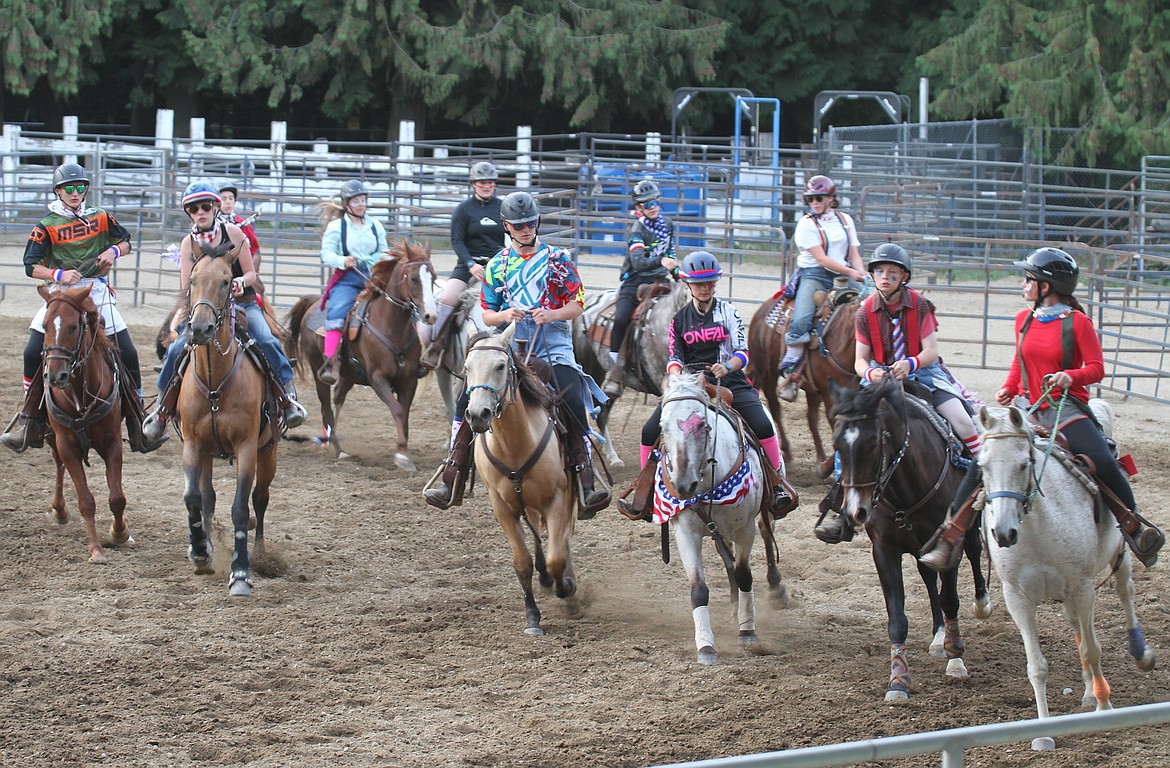 The 'Flying Eagles' group makes a turn in unison during their performance.
Photo by MAX OSWALD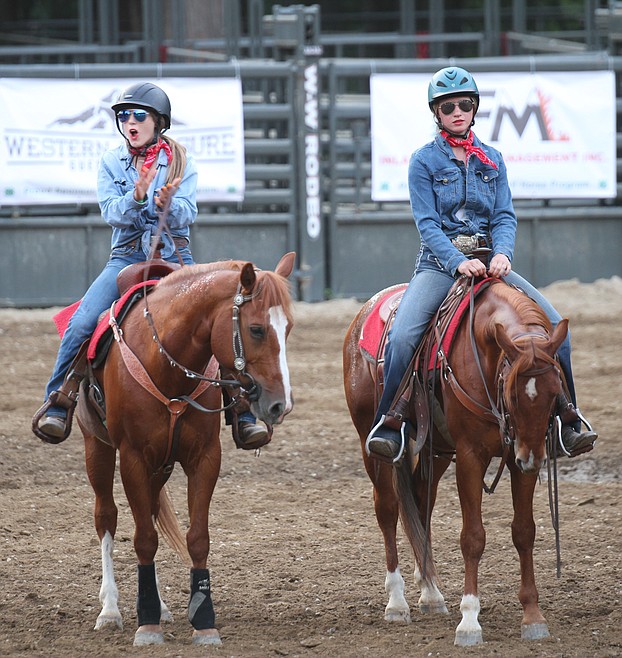 A rider from "The American Dream" group claps after her performance.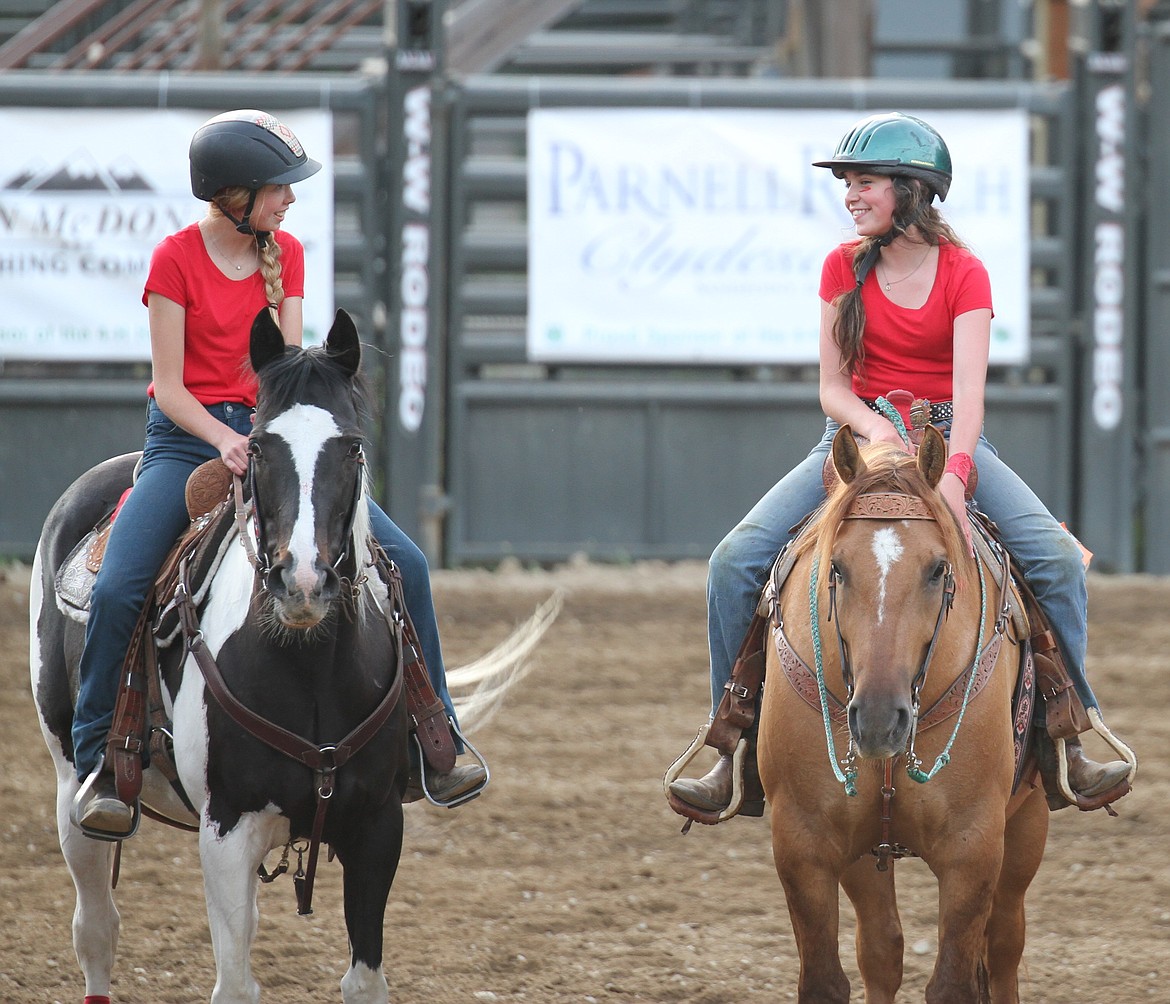 Two riders from the 'Freedom Fighters' share a laugh with each other after their performance.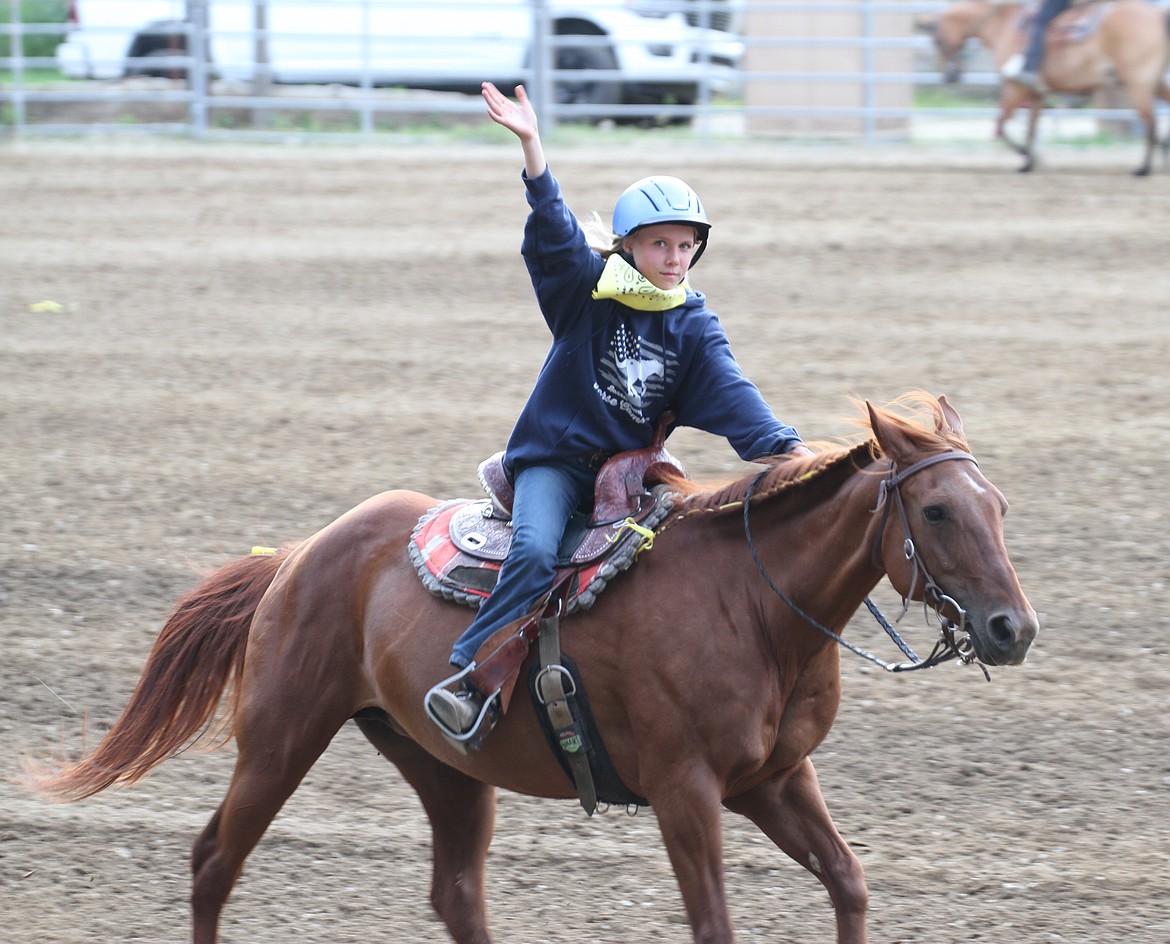 A rider waves to the crowd as she does a lap inside the stadium after her performance.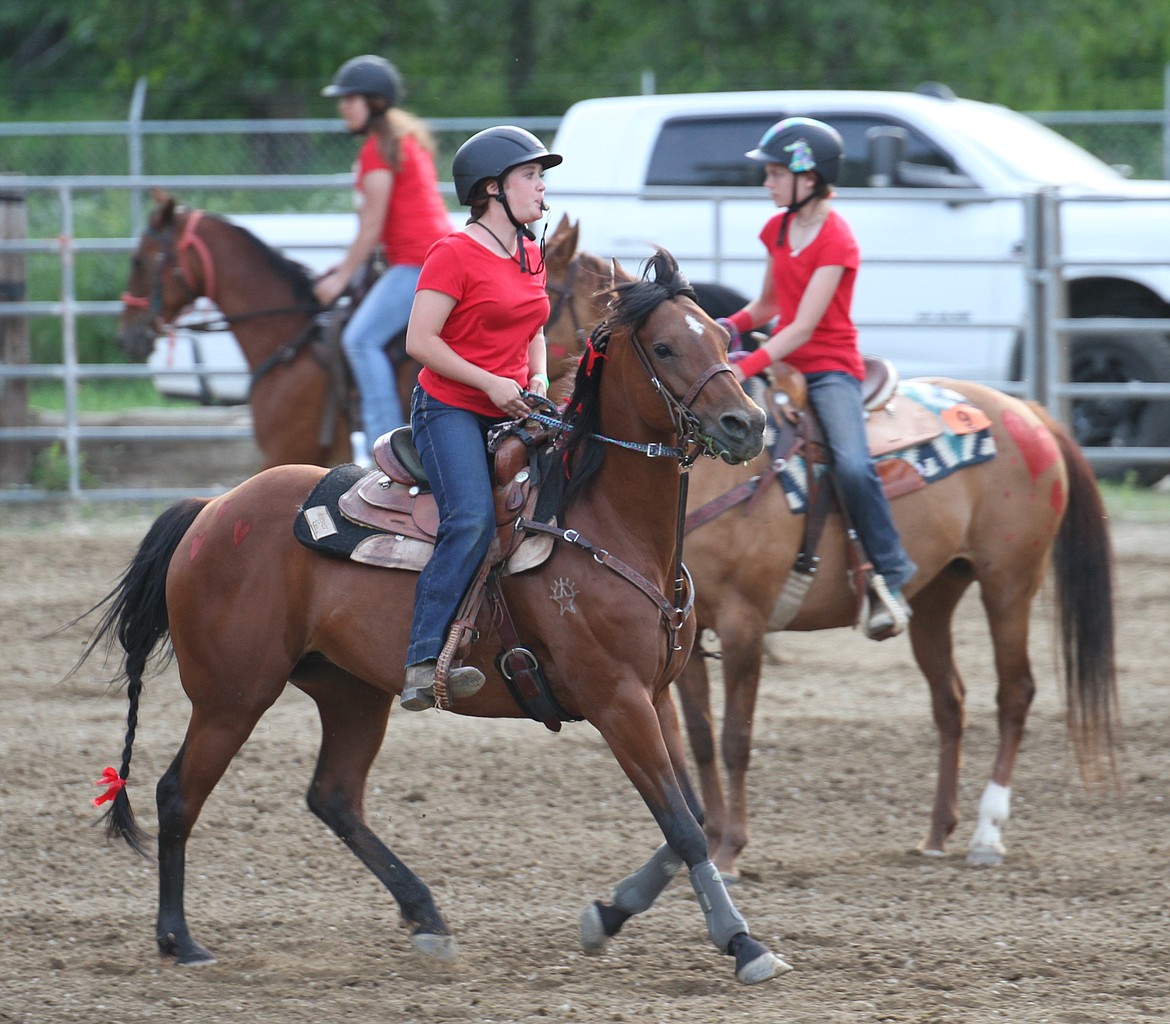 The lead from the "Freedom Fighter" group blows her whistle during the group's performance.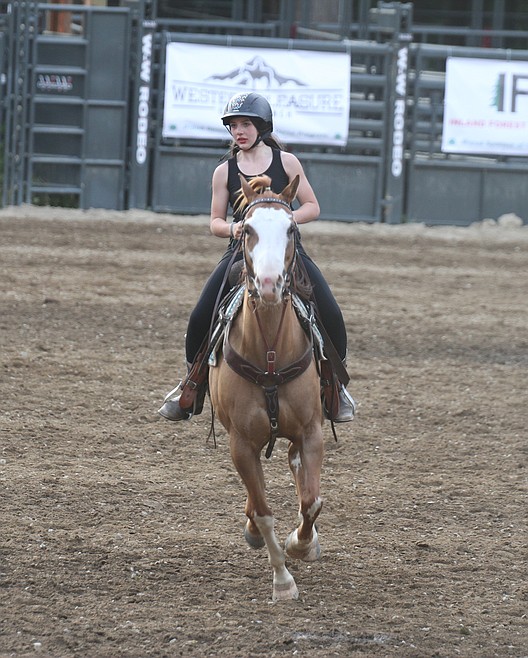 A rider from the 'Iron Horse' group stays focused while in routine.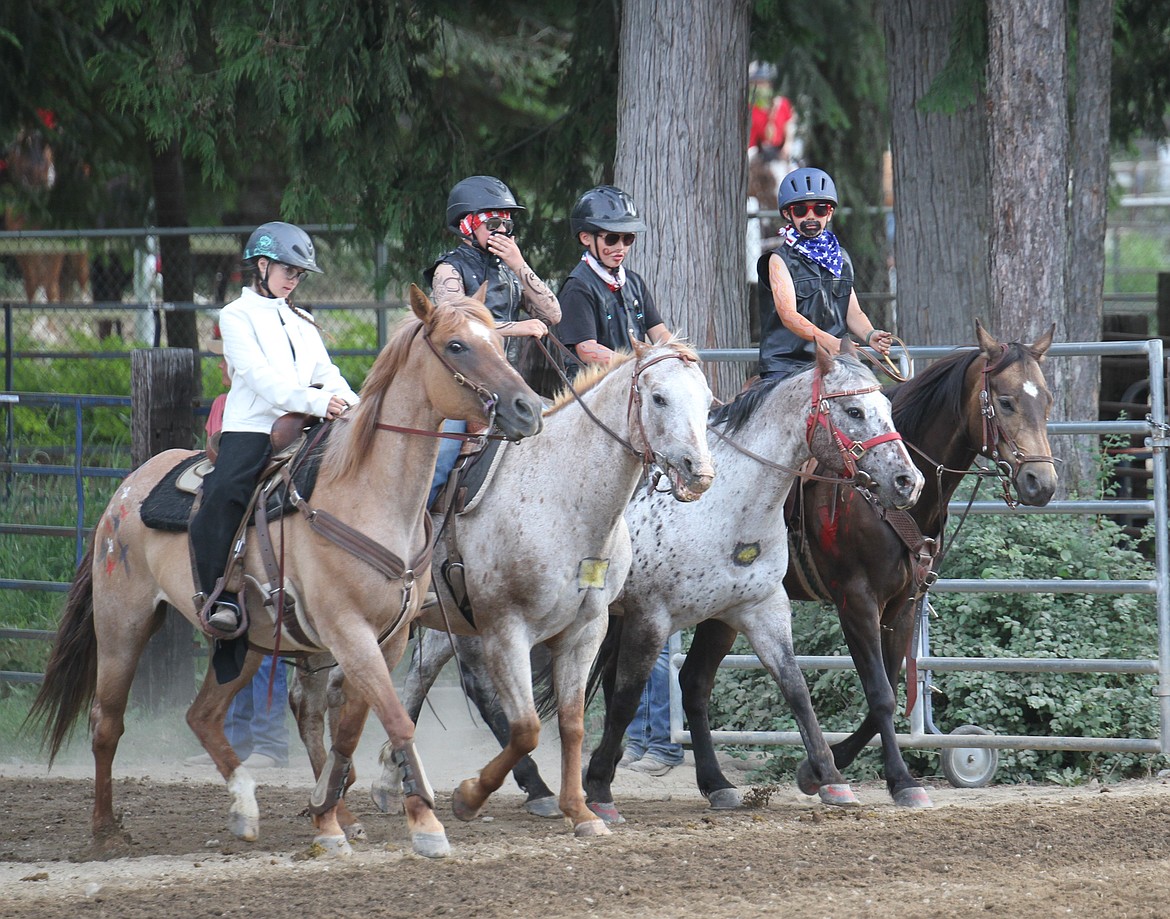 Four riders from the 'Rough Riders' group enter the main gate, ready to start their performance.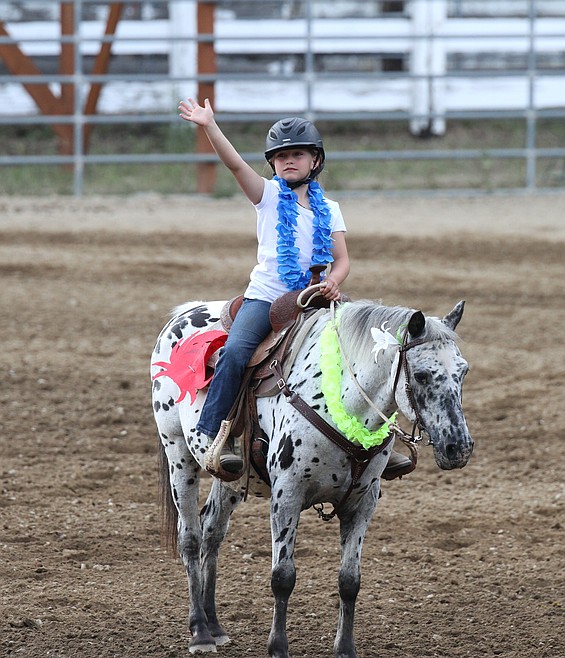 A rider from the 'Liberty Bells' group waves to the crowd.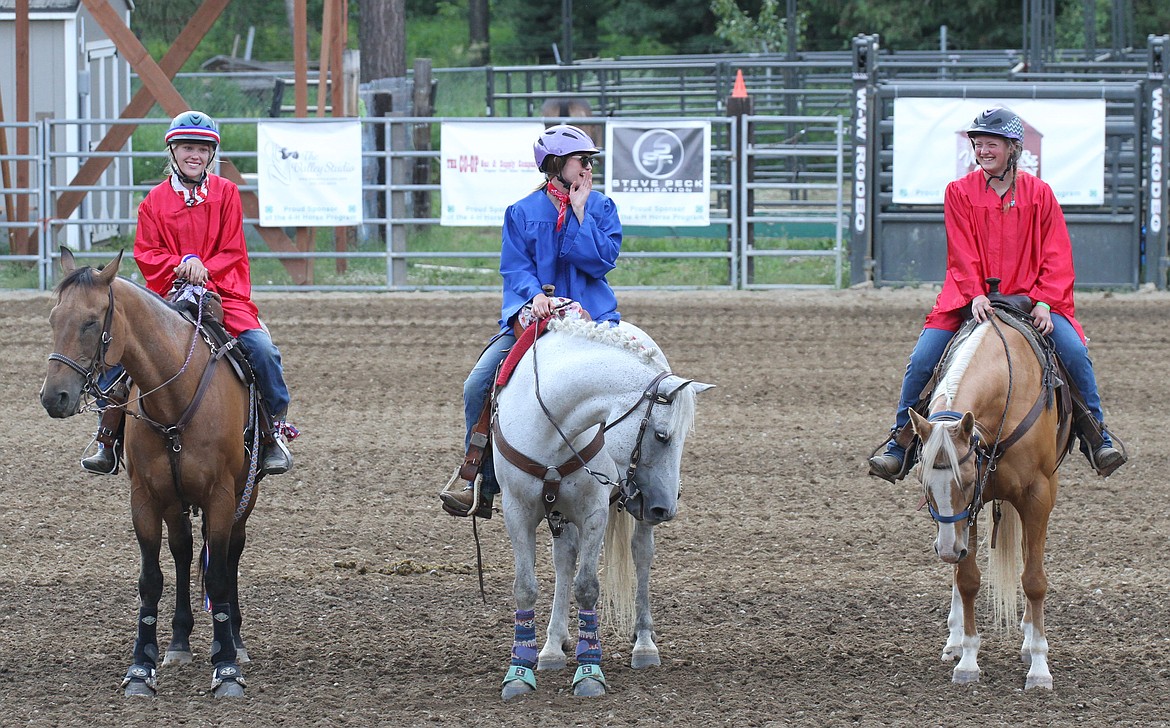 Three of the five 4H graduating seniors share some smiles during the opening ceremony.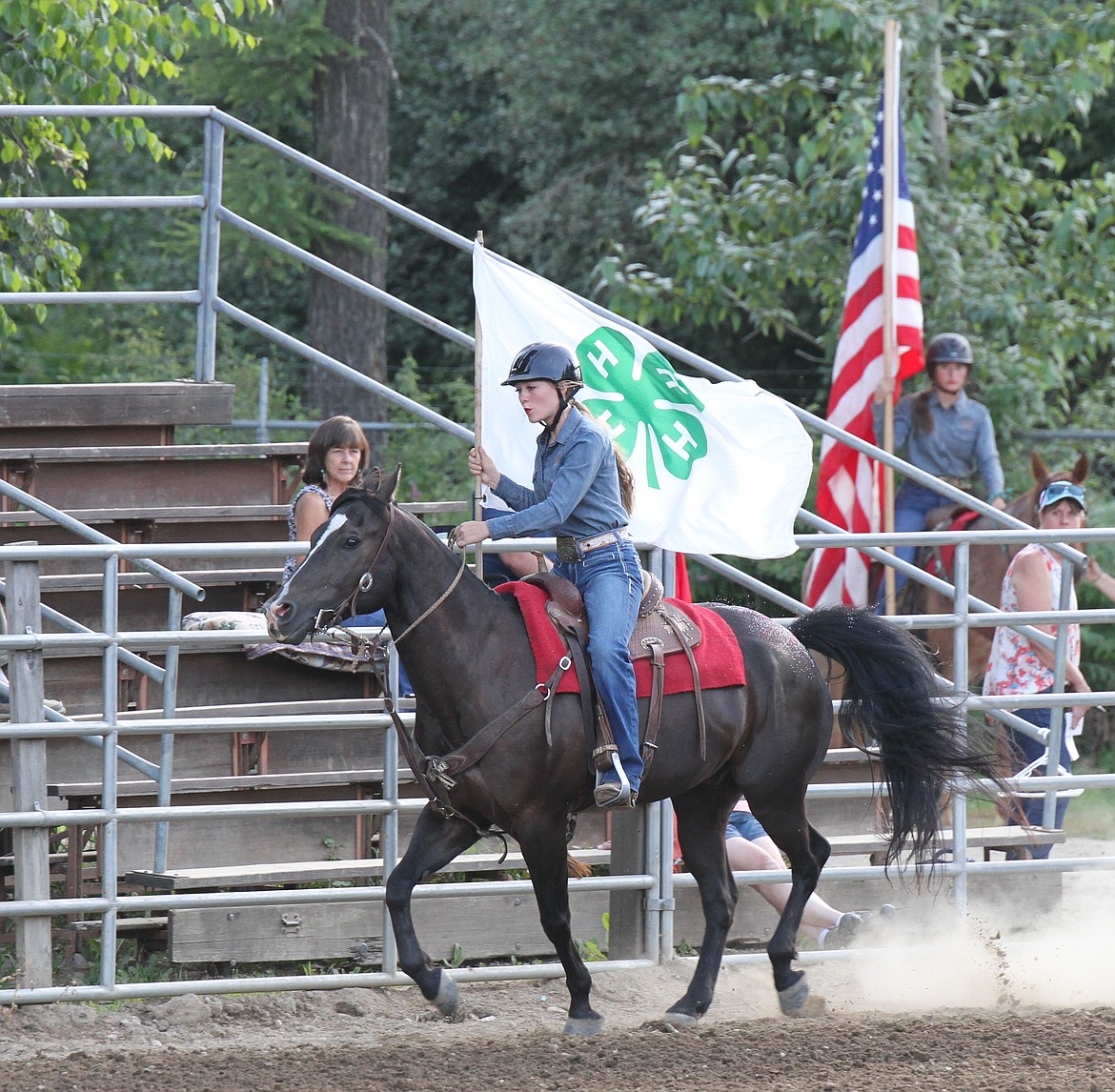 A rider carries the 4-H flag during the opening ceremony of the equestrian event on Friday.
Previous
Next
by
MAX OSWALD
Sports Reporter
|
June 27, 2023 1:00 AM
SANDPOINT — Last week was cold and rainy, but 4-H campers persevered and showed off what they learned in a grand finale drill team event on Friday.
The 83 4-H campers were busy leading up to their final performance. In addition to practicing their choreography routines, campers spent hours going through daily lessons on cattle roping, team cattle sorting, horse lunging, English riding, Western riding and more.
Each day started early with campers mucking stalls, washing horses and readying their tacking equipment before a big group breakfast. After breakfast, it was time for lessons — three before lunch, and then four more before dinner. After dinner, campers participated in country square dancing and planned outdoor gaming events each night.
Participants, who were between the ages of 8-18, were required to have a chaperone present during camp to assist campers with the physical labor, and other tasks, that come with maintaining a horse. Per tradition, participants, the chaperone, and the horse remain at the fairgrounds the entire week.
"Our campers have worked so hard at becoming better, more well-rounded, more sound men and women," a Bonner County 4-H official said. "The children who participate in this week-long event look forward to it all year, and this year was not a disappointment."
The group's theme this year was "Stars and Stripes" and consisted of eight total drill team groups made up of riders with different skill levels. Some of the group's names were the Liberty Bells, the Freedom Fighters and The American Dream.
Five of this year's participants were graduating seniors and were recognized before the drill team finale began. The seniors reflected on their favorite camp memories which consisted of swimming in a mud pond, sorting and roping cattle, dancing with cousins and staying up way too late talking to friends in the indoor arena.
"These campers are tired, sore, and bruised by the end of camp, but their hearts and heads are full from the 11 clinicians they learned from," a camp official said. "It was an incredible line-up of events this week, and this performance tonight is only scratching the surface of what these kids have been able to learn."
Even though camp and the grand finale are over with, that doesn't mean riders won't be hard at work throughout the summer. The 4-H Horse show will be held July 22-23 at the Bonner County Fairground where riders of all skill levels will execute various skills and techniques on their horses.
Those interested in participating in next year's 4-H Horse Camp are encouraged to reach out to a local 4-H chapter for further details.
Recent Headlines
---