New Sandpoint lacrosse programs fueled by record interest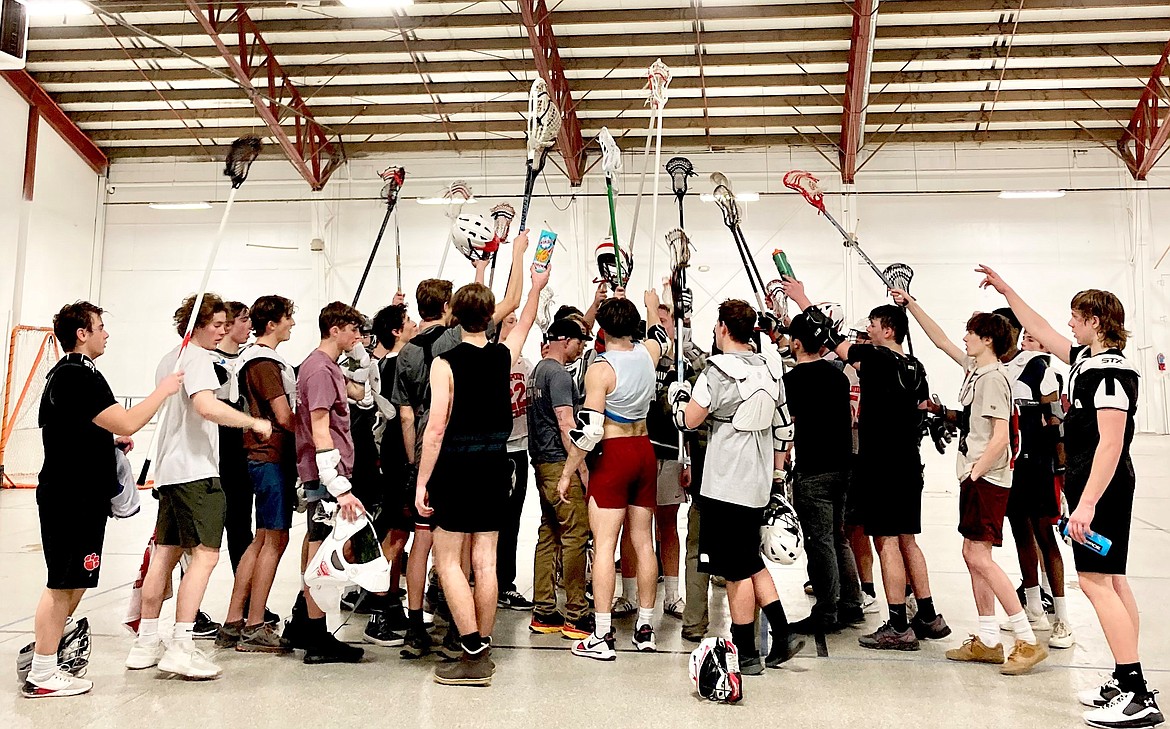 The Sandpoint boys lacrosse team raises their sticks in the air during a team huddle this past January after an indoor practice.
(Courtesy Photo)
SANDPOINT — Even though lacrosse is newer to the West Coast, one thing is clear: lacrosse is reaching new heights in Sandpoint. It's no wonder then that a record number of local athletes played lacrosse this past spring in Sandpoint.
Since its inception in 2005, the Sandpoint Lacrosse Club has offered the sport to high school boys. Over the years, the program expanded to include youth boys. In 2016, the club received a USA Lacrosse grant to launch a girls program. Currently, the Sandpoint Lacrosse Club is the only North Idaho program to offer lacrosse to high school girls.
Girls program director Kristen Sloan has two high school daughters on the high school girls team — one who will be a senior this fall, and one who will be a sophomore. Sloan has been a key recruiter in growing the high school girls lacrosse team in addition to the youth girls lacrosse program, which serves first- through eighth-grade girls.
"Our high school girls team reached new heights with 19 players on the team this year while our youth girls program had 39 players, also breaking all former records," Sloan said.
Likewise, the number of high school boys playing the fast-paced sport fueled expansion to include varsity and junior varsity teams this year with 43 registered players.
"Lacrosse is such a fun and exciting sport to not only watch, but also to play," said Chad Cole, Sandpoint Lacrosse Club president. "We had inquiries about lacrosse from all age groups, including adults. Expanding lacrosse program offerings in Sandpoint was the next natural step."
The club started expanding in spring with new youth developmental offerings for boys and girls in first and second grades. Previously the club required players to be in third grade or higher before registering to play the sport.
Not only is interest growing among the youth, but it is also growing among adults. Sandpoint local Marshall Sauter inquired with the club about any adult lacrosse league opportunities in Sandpoint.
"Both my brother and I played high school lacrosse and we were hoping for some kind of opportunity in Sandpoint," Sauter said.
To keep the momentum going, the Sandpoint Lacrosse Club introduced 10 new lacrosse programs this summer for girls and boys of all levels, in addition to an option for men and women. The club is offering summer camps, skills clinics and weekly series for all age groups. Two skills camps include instruction from those with collegiate lacrosse experience, including Nate Johnnie from 406 Lacrosse located in Montana and head coach Noelle Brouilliard from Whitworth College.
For youth athletes interested in giving lacrosse a try, the club is offering beginner programs at the end of June. "We are creating a safe environment where interested boys and girls can hold a stick for the first time and get a feel for the sport in a group of all beginners," Cole said. "On behalf of the club, we look forward to inspiring more future lacrosse players."
For more information on lacrosse in Sandpoint or summer lacrosse programs, visit SandpointLacrosse.org.
Recent Headlines
---