ISBA denies role in WBCSD counsel hire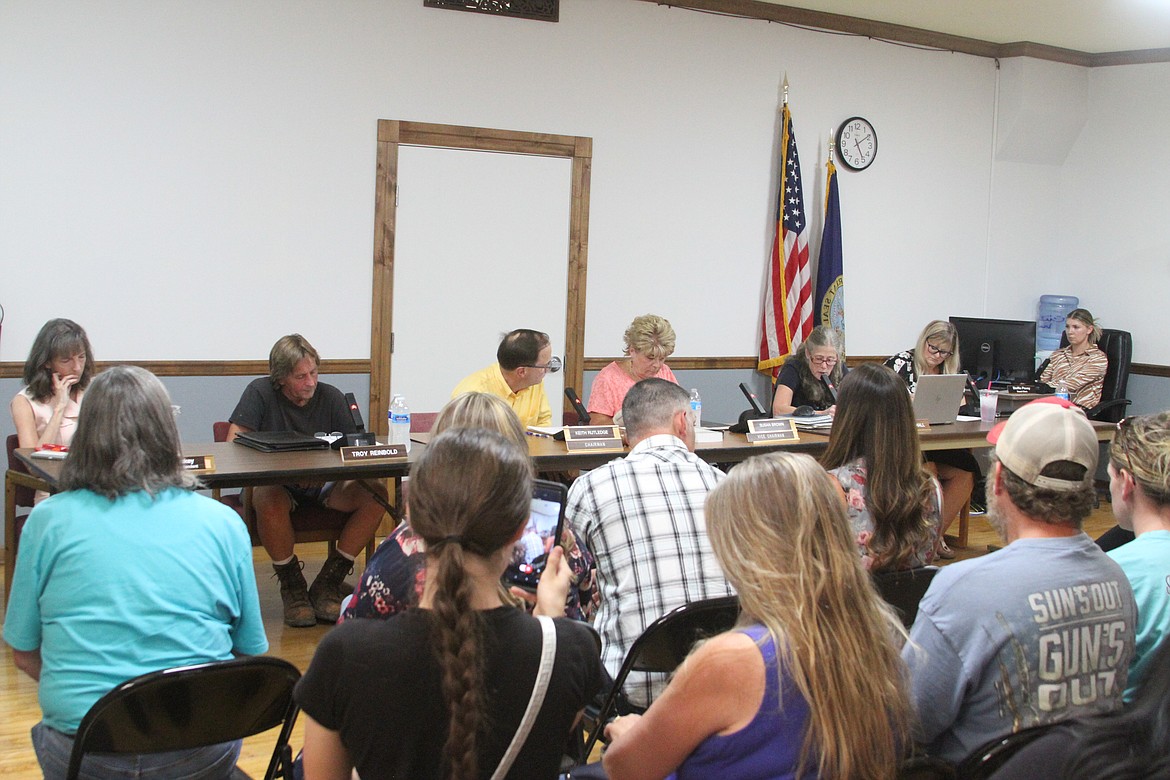 West Bonner County School District board members are pictured at a meeting in late June.
(Photo by MAX OSWALD)
by
CAROLINE LOBSINGER
Staff Writer
|
June 28, 2023 1:00 AM
Despite implications to the contrary, Idaho School Boards Association officials said they provided no advice or direction to the West Bonner County School Board hiring outside counsel.
"ISBA was not consulted on the West Bonner County School District board chair's advice for hiring separate legal counsel," Misty Swanson, ISBA executive director, told the Daily Bee.
Swanson said the legal disclaimer read by WBCSD board vice chairperson Susan Brown was pulled directly from the association's website. The disclaimer came from a question asked to the ISBA's "Ask ISBA" service where members can ask questions on issues.
Generally, the executive director said the ISBA encourages boards to hire legal counsel to guide them through the various issues that they'll face governing school districts.
"We did not advise on the board hiring 'special' or 'separate' legal counsel than what the district typically does, nor do we suggest the board delegate that authority to one individual board member," Swanson said.
In the spirit of accountability and transparency, Swanson said the association's stance is that the board should "go through a vetting process to ensure they are hiring the most qualified attorney to advise them," she said.
Despite an inference by WBCSD board chairman Keith Rutledge that he'd reached out to the ISBA for guidance, Swanson said that is not the case.
"We have not discussed this with the board chair," she said.
Swanson's comments follow Monday's board hearing where the West Bonner County School District voted 3-2 to hire an outside counsel.
The meeting was beset by multiple recesses, the first of which came when Rutledge called for a "housekeeping measure" to give him the authority to determine a final contract with superintendent-elect Branden Durst if a final contract wasn't reached by 9 a.m. Tuesday.
Following the resolution of that question, trustees Margaret Hall and Carlyn Barton called for the board to amend the counsel issue to be amended to send the matter out for bid as per protocol.
Following several other recesses that saw Rutledge disappear into the superintendent's office.
Following the fourth recess, called after the board chairman had been asked where the recommendation had come from, Rutledge said the proposal had been recommended by the Idaho School Board Association, something Brown said was on the association's website.
The motion to hire outside counsel was approved by the board, 3-2. Reinbold, Brown and Rutledge voted in favor. Barton and Hall voted against.
Recent Headlines
---