KLT launches wood product, education initiative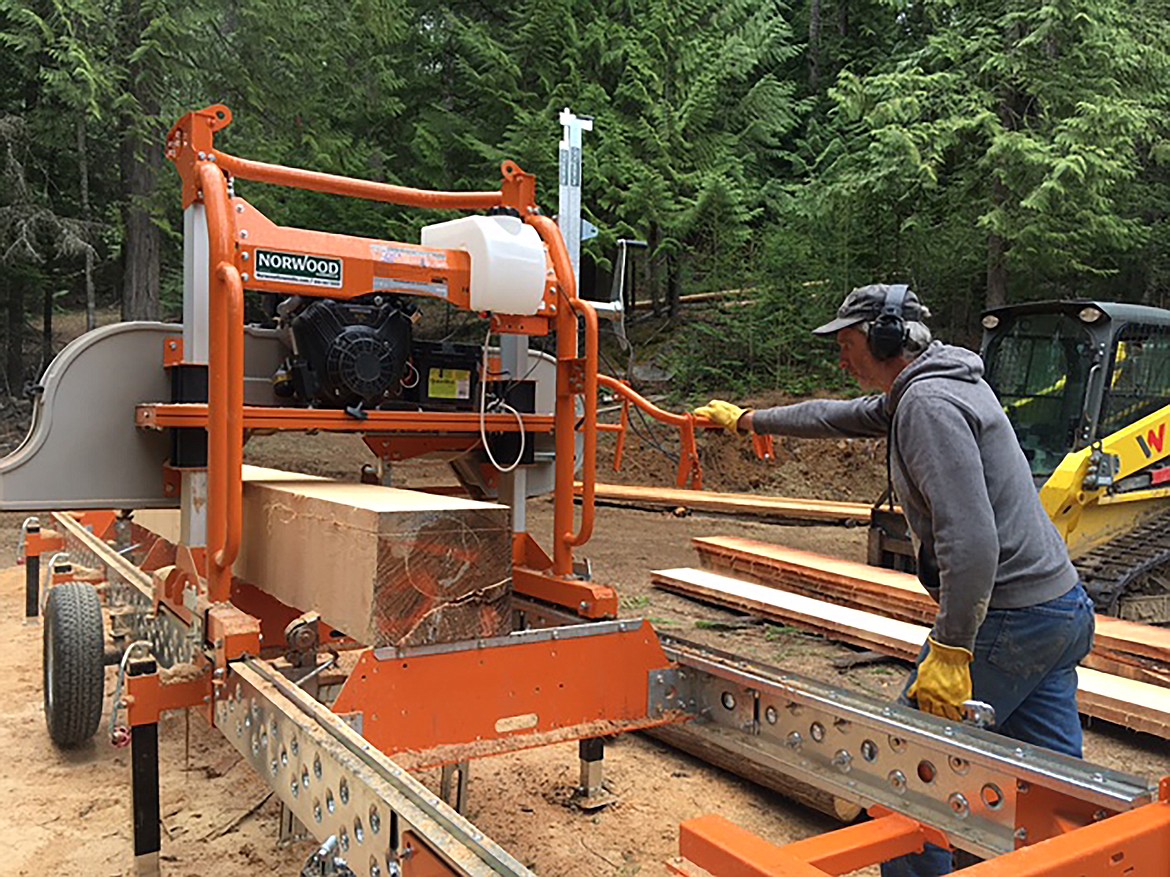 Through a partnership with Bonner Soil and Water Conservation District, Kaniksu Land Trust shares ownership of a portable mill located at Pine Street Woods. By utilizing the sawmill on-site, timber is processed from the community forest that can be purchased by the community for projects.
(Photo courtesy KANIKSU LAND TRUST)
SANDPOINT — Kaniksu Land Trust has launched a community-based forest product retail and education initiative.
Made possible by a grant from the Weyerhauser Family Foundation, KLT officials said the initiative seeks to provide sustainable wood products to the community while offering educational programs focused on responsible land use practices.
Through a partnership with Bonner Soil and Water Conservation District, KLT shares ownership of a portable mill located at Pine Street Woods. By utilizing the sawmill on-site, timber is processed from the community forest with efficiency, minimizing transportation needs and ensuring a low carbon footprint, KLT. The acquisition of this mill has inspired a larger education initiative focused on sustainable forestry, KLT's Regan Plumb said.
Kaniksu Lumber's educational offerings cover a range of topics from forest health to sustainable management strategies. Through outreach, interpretive signage, and on-site classes, all individuals can learn from management strategies and programs at the 180-acre Pine Street Woods community forest.
Interpretive signs will serve as a valuable outreach tool for the thousands of visitors who visit the Pine Street Woods each year to hike, bike, walk, run, and ski. The signs offer information on the purpose and function of the portable sawmill, the benefits of sustainable forest management and the harmonious coexistence of working forestland with public enjoyment. They also offer information on ecosystem services produced by healthy forests, and the significance of stewardship and conservation. The initiative also involves the installation of a training course for the Idaho State Forestry Contest, which attracts hundreds of area youth each spring.
"KLT's Kaniksu Lumber proposal seeks to reconnect our community, which was largely established to serve a forestry-based economy, with the process of growing and managing healthy forests, producing sustainable wood products, and developing community projects to make use of them," Plumb said.
Although KLT has long supported forestry-based education and sustainable forestry initiatives, Plumb said the program is the group's first attempt "to truly integrate forest products, ecosystem services, and associated programming directly into the DNA of KLT."
Kaniksu Lumber is taking orders now. For information on custom lumber orders for small backyard projects, contact KLT at land@kaniksu.org.
For more information about Kaniksu Lumber's wood product retail and education initiative, go online to kaniksu.org, call 208-263-9471 or email land@kaniksu.org.
Recent Headlines
---