Flowers for Futures bursting into spring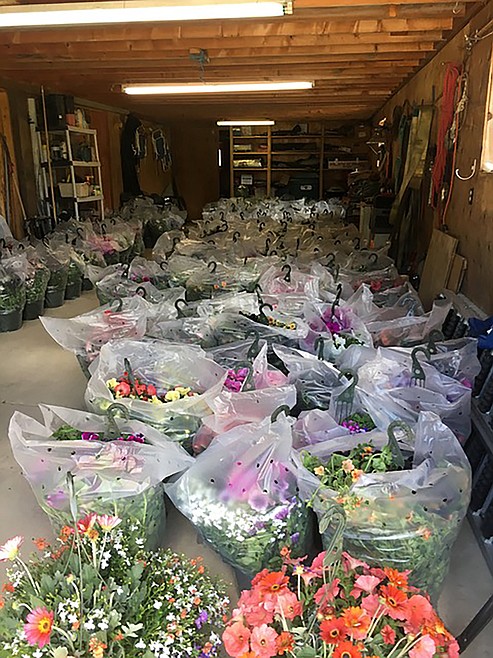 The Rotary Club of Ponderay is again selling hanging flower baskets to fund educational opportunities and community service projects in the area.
(Courtesy photo)
Flowers for Futures is again set to bloom this spring.
The Rotary Club of Ponderay is selling hanging flower baskets to fund educational opportunities, service projects, and health and wellness initiatives for the local community.
Baskets are large and feature a wide variety of different flowers. The baskets are valued at $75 retail, but are being sold for $45 by the club with $20 of that designated as a tax-deductible donation. Flowers will be available for pick-up on the Wednesday before Mother's Day. You can choose your own baskets.
"For 17 years, the Rotary has supported scholarship opportunities for high school graduates and those who wish to continue their education, giving between $12,000 to $26,000 in scholarship monies to students each year," said Kari Saccomanno, club treasurer.
Saccomanno said the club's goal this year is to give out at least $25,000 to deserving applicants. The club provides scholarships for both high school seniors and adults who are continuing their education, she said. Applications are available on both the Ponderay Rotary and Sandpoint High School websites.
"These baskets sell very quickly because people love being able to help our community at the same time as getting something beautiful that will last a long time," Saccomanno added.
Those interested in the flower baskets can order by emailing PonderayRotaryClub@gmail.com. To view the scholarship applications or to learn more about Ponderay Rotary, go to PonderayRotaryClub.com.
Recent Headlines
---