'Keep the Bike Moving' racing to Panida screen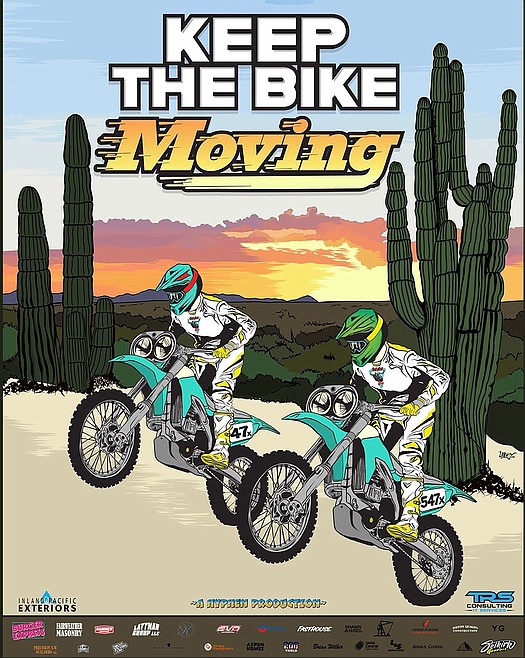 "Keep The Bike Moving", an adventure film about the North Idaho racers taking on the 2023 Baja 1000 will premiere at the Panida on March 26.
(Courtesy illustration)
Keep The Bike Moving, an adventure film about the North Idaho Racers taking on the 2023 Baja 1000 will premiere at the Panida Theater later this month.
The film will be shown Sunday, March 26. Doors open at 6 p.m. for a social hour with the film premiering at 7 p.m. There will be a question-and-answer session following the credits.
Tickets are $10 and are available in advance through the Panida website at panida.org or at the door the night of the show.
This is the second year Hyphen Productions has brought a motorsport film to the big screen which follows the complex rigors of trying to move two teams, their riders and support teams to the finish of the famous Baja 1000. Riders from both teams along with the bikes used in the event will be on hand.
Racing Baja takes a dedicated team of individuals committing to months of preparation in getting the motorcycles and riders ready. Logistics and dedication are key to having a chance to finish the event.
Most years, 40% of the teams never see the finish line. This year's story chronicles the journey of the North Idaho Racers, who dedicated to race an event over 1,000 miles away from the Northwest, competing on a course with parts they have never seen or been on. The NIR team are all privateers that raised the funds themselves to race alongside professional teams that are backed by tens of thousands of dollars.
The filmmaker, Nick Hyphen of Hyphen Productions produced his first movie about Baja in 2022 which also premiered at the Panida Theater. The film was entitled "Baja 1000, La Paz or Bust." Nick lives in the Sandpoint area, works on Schweitzer Ski Patrol in addition to working as a Wildland Firefighter in the summer months.
The famous Baja 1000 was first ran in the mid 1960's and has captured the imagination of riders, seeing if they were strong enough to put up with the Baja California Peninsula. Sanctioned now by SCORE International it attracts competitors from six continents and is considered one of the premier off-road races in the world. Competitors who have ran the Baja 1000 include Steve McQueen, Glen Plake, Paul Newman and James Garner.
To watch the trailer, go online to youtu.be/zVchOGyFEIw.
Recent Headlines
---