AG: Corruption claims are unfounded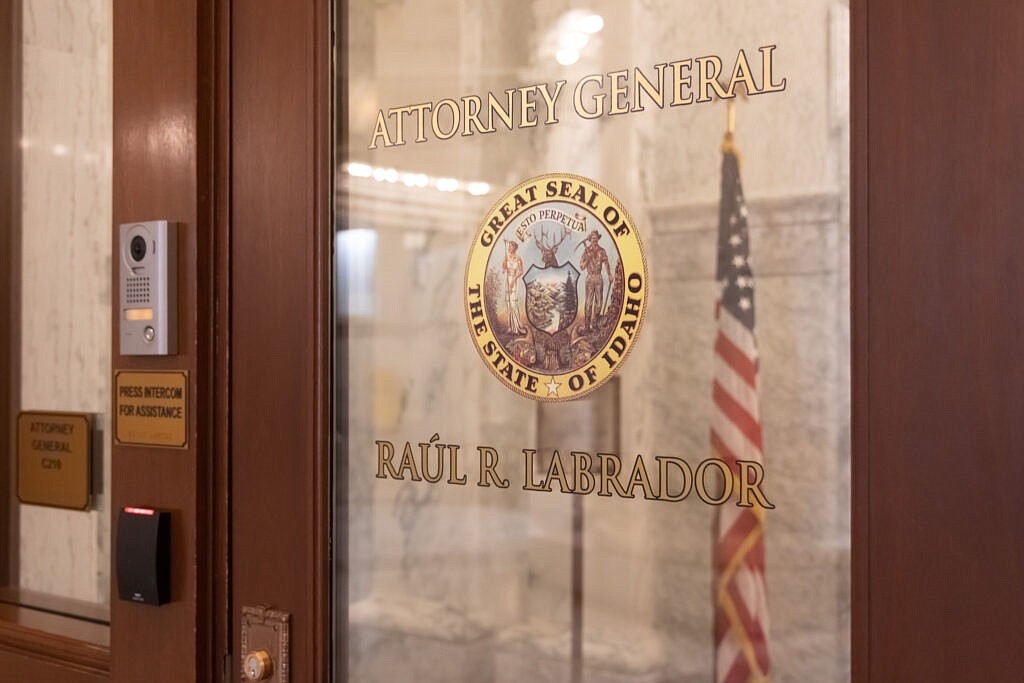 The door to Attorney General Raul Labrador's office at the Idaho State Capitol building on Jan. 6, 2023.
(Otto Kitsinger for the Idaho Capital Sun)
BOISE — The Idaho Attorney General's Office has found a corruption complaint by the Boundary County Watch man against a Boundary County commissioner is unfounded.
In October 2022, Boundary County Republican Central Committee commissioner Tim Bertling used his time allotted to campaign for his write-in campaign for county commissioner. This sparked BCW's Adrienne Norris to file a public corruption complaint with the AG's office.
Deputy Attorney General Pendrey Trammell wrote Norris on Feb. 17 that the public complaint had been received but that no action was planned. In the complaint, Norris alleged Bertling "used time allotted to him as a county commissioner to campaign reelection," according to Trammell's response.
"After reviewing your complaint, we are writing to inform you that we will be taking no further action in this matter," Trammell wrote in the letter.
Trammell wrote that under Idaho law, the primary duty of enforcing state criminal laws rests with Idaho's sheriff and county prosecutors, with the AG's office only having jurisdiction in criminal matters when a statute specifically grants the AG jurisdiction.
The complaint was reviewed and under state statutes, he said the AG's office investigated the allegations "a violation of state criminal law, against a county officer occupying an elective office for violation of state criminal law in his official capacity."
Trammell wrote that complaints must meet three thresholds — whether the person who is the subject of the complaint is a county officer occupying an electives office, whether the officer in question was acting in his or her official capacity when actions complained took place and whether the acts described in the complaint constitute a potential violation of state criminal law.
"Our office does not have jurisdiction to investigate your complaint," Trammell wrote.
The first requirement of determinations was met since Bertling is an elected county officer. Trammell wrote that the second requirement is met because Norris alleged that Bertling was acting in his official capacity as a county commissioner.
However, Trammell wrote that Bertling used his allotted time as county commissioner to campaign, which is not a violation of state criminal law.
"We find that this matter is outside the scope of this office's authority," he wrote.
He said that if Norris believed someone violated state criminal law, she can contact the county sheriff or county prosecuting attorney in the county where a crime is believed to have occurred or contact Idaho State Police.
Bertling did not provide a comment.
Recent Headlines
---