NIC Wind Symphony concert announced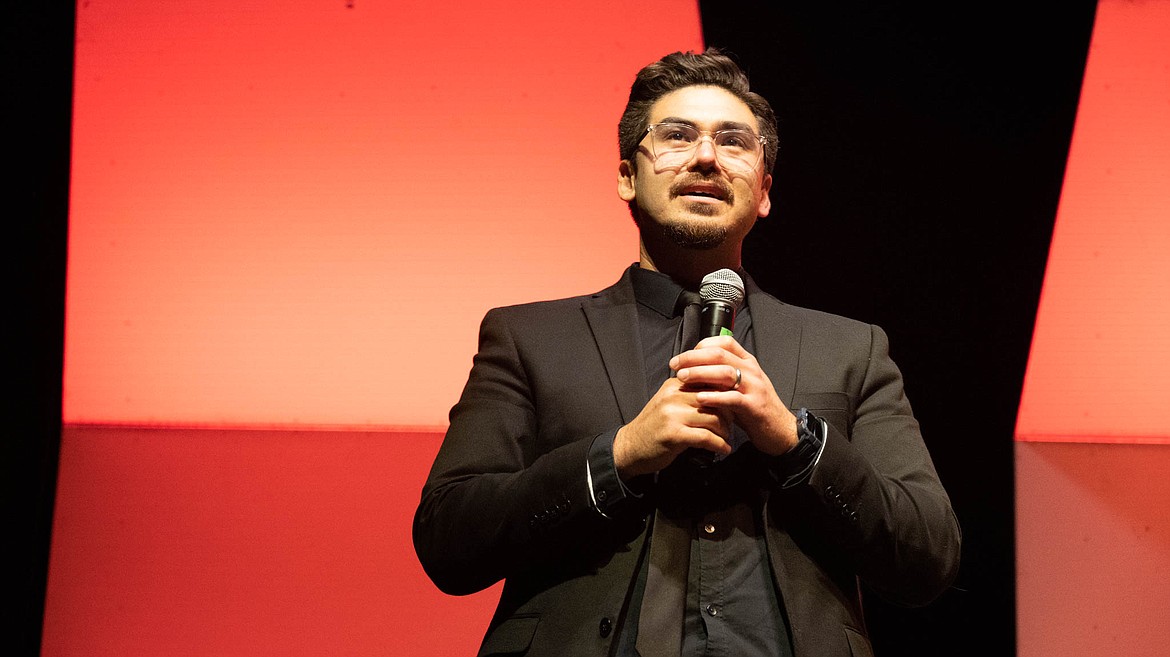 NIC Director of Bands Bryan Hannaford speaks onstage during NIC's Sounds of Christmas concert on Dec. 11 at Boswell Hall Schuler Performing Arts Center on NIC's main campus in Coeur d'Alene.
(Photo courtesy NORTH IDAHO COLLEGE)
The North Idaho College Wind Symphony will perform Urban Dances, a concert at 7:30 p.m. Wednesday, March 22 at Boswell Hall Schuler Performing Arts Center on NIC's main campus in Coeur d'Alene.
The concert is free and open to the public.
The NIC Wind Symphony will perform music based on dances from around the world. The concert is set to begin with "America" from Leonard Bernstein's "West Side Story."

"Not only is this an homage to the March 2022 concert "Echoes of Americana," it's also a nod to the huge dance number found in this very well-known musical," Wind Symphony Conductor Bryan Hannaford said.
The wind symphony will perform Anthony Suter's "Dancing at Stonehenge," which incorporates music from Brazil, American jazz and the Renaissance. Stonehenge construction began around 2950 B.C., but the exact uses for the site are unknown. Therefore, the natural assembling of music from various cultures seems appropriate musically and culturally.
"The Jig is Up" by Daniel Kallman uses Irish folk music and dance to pay tribute to composer Percy Grainger. The piece is built on the Irish jig, and audience members will hear the drums and percussion flourish with the sounds of the wind symphony.

The wind symphony will also perform Frank Ticheli's arrangement of "Amazing Grace" and Michael Gandolfi's "Vientos y Tangos," which translates to "Winds and Tangos." The piece was inspired by the bandoneon, a typical instrument in most tango ensembles. As with other members of the concertina family, the bandoneon is held between the hands while push and pull actions force air through bellows, then air is routed through reeds by pressing the instrument's buttons.
The concert will end with Erik Morales' composition "Urban Dances," which combines serious wind band repertoire with rhythmic themes that are present in today's popular music.

"We live in a world that wants to put everything into a box, but life is better when we are able to fuse the old with the new, and we hope you'll be here to witness it," Hannaford said.
Hannaford is in his sixth year as director of bands at NIC. In addition to directing the NIC Wind Symphony, he also directs the NIC Jazz Ensemble, Cardinal Pep Band and Cardinal Chamber Orchestra. The NIC Choirs and instrumental ensembles comprise of NIC students, faculty, staff and community members.

For more information, or to join an ensemble in the fall, contact Bryan Hannaford at (208) 769-3258 or bryan.hannaford@nic.edu.
Recent Headlines
---