Ponderay Rotary unveils Duck Derby details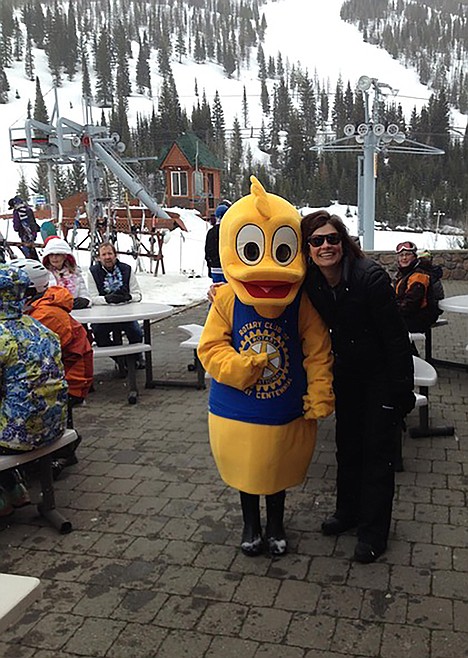 Tiffany Goodvin poses with Lucky, the Rotary Club of Ponderay Centennial's mascot, at a past Duck Derby.
(Courtesy photo)
Ponderay Rotary's annual Duck Derby has a new look this year and it's nothing to quack at, club members said.
The event is called "Grin It To Win IT … Season Pass Sweep." With this event, the club is hosting an open air photo booth in the Schweitzer Village on Saturday, April 1, during Schpring Finale weekend.
The photo booth will be open from 10 a.m. to 1 p.m.. Each photo bought for $20 also equals an entry into the club's big raffle, which is a Schweitzer season pass for next winter. The raffle winner to be drawn promptly at 1 p.m.
For $20, raffle participants will get a high-quality print to take home and will immediately receive the digital images for sharing and posting. The photographer can also create a fun boomerang video for an additional $5 charge.
Lucky the Duck, Ponderay Rotary's mascot, will be in the village and available for an appearance in photo shots.
Meanwhile, kids can play "A Buck a Duck" to win prizes.
"We really appreciate the ongoing partnership we have with Schweitzer, and we are especially thankful to Schweitzer for donating the winter 23-24 season pass," Tiffany Goodvin, the club's event chair, said.
Proceeds from the event benefit Ponderay Rotary's educational scholarship program and local community projects.
Information: ponderayrotaryclub.com
Recent Headlines
---