Tension ignites over community college proposals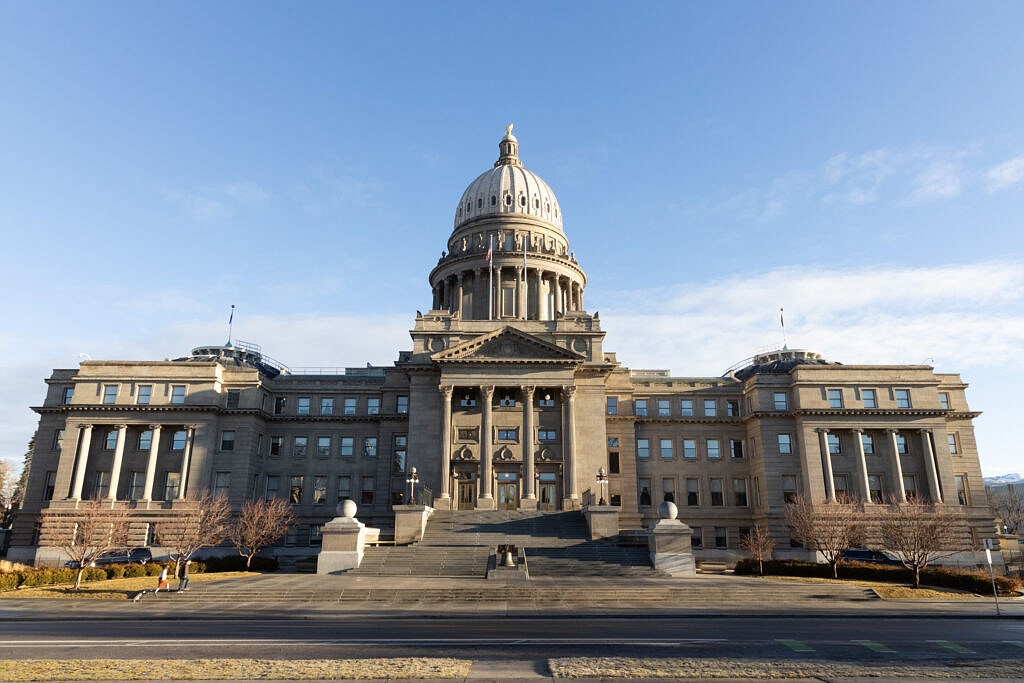 Idaho State Capitol building on Jan. 11, 2023. (Otto Kitsinger for the Idaho Capital Sun)
by
KEVIN RICHERT and SADIE DITTENBER / IdahoEdNews.org
|
March 16, 2023 1:00 AM
Bills relating to the turbulence at North Idaho College are on their way through the Legislature.
After introducing one bill Tuesday, the House Education Committee introduced two more Wednesday morning — but not without some friction.
All three are sponsored by Rep. Lori McCann, R-Lewiston.
The first proposal outlines a path for the State Board of Education to intervene at a community college that could lose its accreditation. The bill would allow the State Board to assume emergency authority over the college if patrons of the college's district presented a petition with 1,000 signatures or more — the same number it takes to start up a college.
The State Board could only take over if an accrediting organization threatened or acted to suspend or revoke the school's accreditation.
McCann's second bill would revoke a community college's property tax levy authority after two years of accreditation loss.
Both bills point to the uncertainties at NIC.
After a series of institutional and financial mishaps, the Coeur d'Alene-based community college could face accreditation loss. The Northwest Commission on Colleges and Universities (NIC's accrediting organization) issued a show-cause sanction in February, requiring the school to address its issues and report back to the commission before March 31.
Nothing in Idaho Code dictates how NIC's tumult should be handled, according to McCann. And since the school is governed by a board of locally elected trustees, the State Board can't intervene, which is what the North Idaho lawmaker wants to change.
But other North Idaho lawmakers took issue with McCann's efforts, igniting a contentious debate.
Rep. Elaine Price, R-Coeur d'Alene, said the bill would erode the authority of locally elected trustees.
"This is just super disturbing to me," said Price, obviously heated.
Rep. Jack Nelsen, R-Jerome, who presented the bill in committee, fired back . A former community college trustee himself, Nelsen suggested the interest of students at NIC has gone by the wayside.
"They deserve better," said Nelsen. "If this RS tramples on a few people's sensitivities…maybe they ought to consider the students a little more, instead of politics."
The committee voted 12-4 to introduce the bill. Price, along with Republican Reps. Tony Wisniewski, Dale Hawkins, and Ron Mendive (all representing North Idaho) voted against the motion. McCann and the committee's other North Idaho representative, Mark Sauter of Sandpoint, voted in favor.
House Education introduced the second bill by the same margin.
Tension in the committee carried through the end of Wednesday's meeting.
More from House Ed
House Education moved on two more bills Wednesday.
House Bill 309: A bill eliminating in-person instruction on election days for schools used as polling places is headed to the House. This is a revised version of a previous bill, and is backed by Secretary of State Phil McGrane. It's intended to simultaneously boost student safety and voting access. The bill passed out of committee 14-2.
House Bill 311: The committee unanimously advanced a bill allowing community colleges to access appropriations for bachelor's degree programs and upper division courses. It is headed to the House floor.
$50 million CTE program passes committee, narrowly
A $50 million plan to expand career-technical education in rural Idaho survived a narrow vote Wednesday.
Supporters say House Bill 267 would help start up costly CTE programs — and prepare students for careers after they finish school. "This is how we get that done, outside our urban areas," said state superintendent Debbie Critchfield, who presented the bill along with Rep. Judy Boyle, R-Midvale.
Much of the discussion centered on the costs — and the source of the money.
HB 267 would draw $50 million of one-time money from the in-demand careers fund, an $80 million-a-year pool of sales tax revenue, which lawmakers created in September.
Critchfield assured committee members that she would not be seeking additional funding in 2024 — and said it would probably take a few years to spend the $50 million.
But Sen. Cindy Carlson, R-Riggins, agonized about spending the $50 million, and said she was worried the program would grow in the future.
"I love this bill, and I hate it," she said.
Ultimately, Carlson cast a swing vote in favor of the bill, which passed on a 5-3 vote. The House-passed bill now goes to the Senate floor.
The committee roll call:
Yes: Sens. Dave Lent, R-Idaho Falls; Lori Den Hartog, R-Meridian; Carrie Semmelroth, D-Boise; Janie Ward-Engelking, D-Boise; Carlson.
No: Sens. Scott Herndon, R-Sagle; Brian Lenney, R-Nampa; Tammy Nichols, R-Middleton.
Absent: Sen. Ben Toews, R-Coeur d'Alene.
This story was originally published March 15, 2023 by Idaho Education News as part of its Statehouse Roundup.
Recent Headlines
---