Jump into spring with ITA trail projects
SANDPOINT — With spring right around the corner, Idaho Trails Association is gearing up to hit the trails and is asking the community to join.
Idaho is home to over 10,000 miles of non-motorized hiking trails on public lands. These trails are an irreplaceable resource that contributes to the outdoor recreation opportunities and great quality of life in Idaho, Melanie Vining, ITA executive director, said.
"However, funding for the care and upkeep of Idaho's hiking trails is far short of what is needed to keep them open and usable," Vining said. "That is why ITA was formed in 2010 to help deal with this challenge."
Working with volunteers, organizations and government partners, Hewes said the organization aims to preserve Idaho's trail system through education, maintenance projects and public lands advocacy. All of ITA's projects are completed with the help of volunteers who are passionate about preserving Idaho's trails for ongoing recreation and future generations.
With spring on the horizon, Vining said ITA is looking for volunteers to help maintain trails in North Idaho. Toward that end, the organization released its 2023 volunteer project schedule to the public.
From spring to fall, ITA has 18 projects planned in North Idaho, out of 80 throughout the state, including six youth projects for ages 14-18 and six "Women in the Wild" projects. Ranging in length from one day to a week the projects will also range in difficulty from beginner hikers to seasoned volunteers. Those interested in joining are encouraged to visit ITA's website to sign up for a project. No trail maintenance experience is necessary to enter.
"We are thrilled to have over 80 projects planned this season; there is something for everyone, from day trips to weeklong projects deep in several of Idaho's iconic wilderness areas," Vining said. "I'm excited to see what ITA can accomplish on trails across Idaho this year, with more projects planned than ever before, and focused work on the Idaho Centennial Trail."
Dates for the North Idaho projects are as follows;
April 29 — Higgens Point: ITA's first project of the season in North Idaho, volunteers will work on this very popular trail system on Lake Coeur d'Alene.
May 13-14 — Lakeshore: ITA volunteers will cut out logs and brush on this trail along the upper west shore of Priest Lake. There will be car camping available for those who would like to spend the night and enjoy the camaraderie.
June 17-18 — Boulder Meadows (women only): This Women in the Wild project takes place in the Boulder Meadows area.
June 24-25 — Navigation Trail (Backpacking 101 program): This backpacking clinic will provide a chance for new and experienced backpackers to get together and share ideas on how to better enjoy this sport.
June 25-July 1 — Little North Fork Clearwater: Volunteers will spend a week working along the Little North Fork of Clearwater.
To sign up for these projects and see the rest of ITA's North Idaho schedule, go online to idahotrailsassociation.org/projects.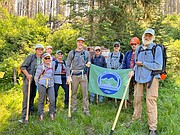 Recent Headlines
---