Yes, Gonzaga can win their first national title this year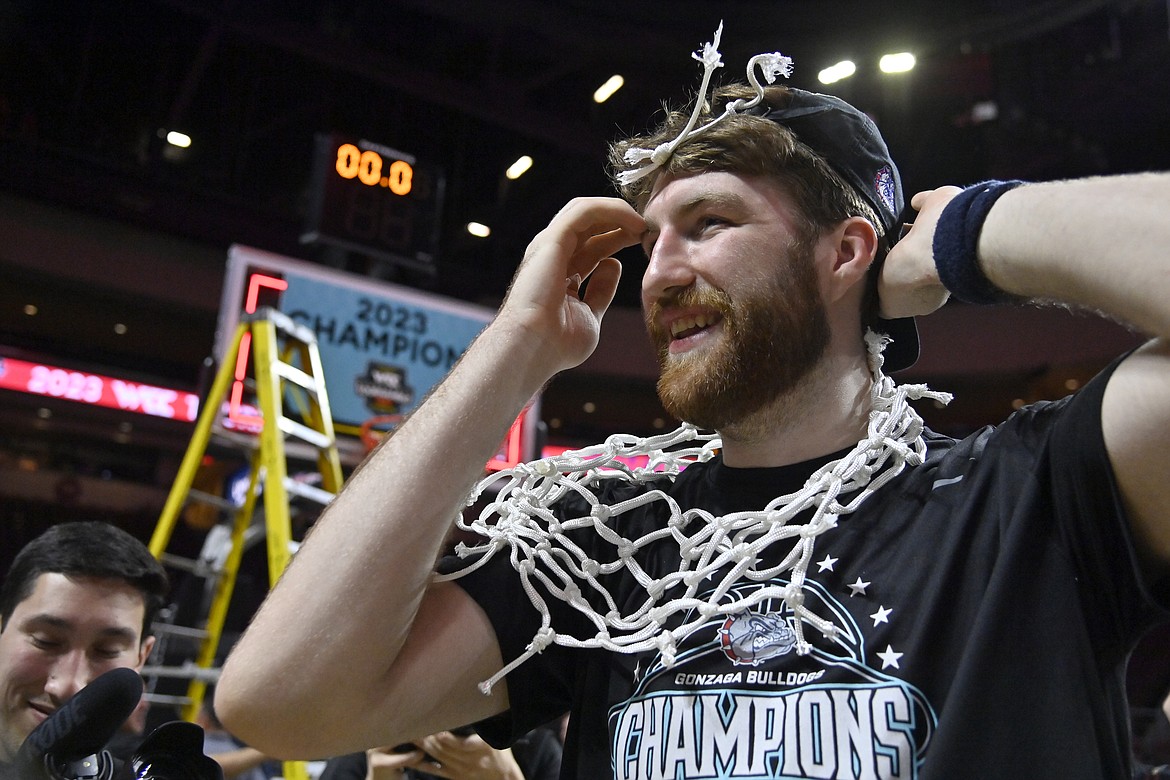 Gonzaga forward Drew Timme celebrates with the net after the team defeated Saint Mary's in an NCAA college basketball game in the finals of the West Coast Conference men's tournament Tuesday, March 7, 2023, in Las Vegas. (AP Photo/David Becker)
by
MAX OSWALD
Sports Reporter
|
March 17, 2023 1:00 AM
I have only been in Sandpoint for one week, but there is one sports-related consensus that is already clear to me. The residents of North Idaho aren't just passionate about the Sandpoint High School Bulldogs. There is another Bulldog team located 76 miles to the southwest in Spokane that folks have taken a liking to. The Gonzaga University Bulldogs, a school whose basketball team has now reached the NCAA tournament for 24 consecutive years, has a strong fan base in Bonner County.
No, I did not pick the Zags this year because I am new to the area; I really do think this could be the year. I was sitting in Silver Bow Pizza Parlor located in Butte, Mont., where I watched Gonzaga defeat St. Mary's, 77-51 in the West Coast Conference Championship game. Gonzaga was totally dominant on both the offensive and defensive side of the ball. The game was practically over at halftime with Gonzaga leading 37-19.
Sports enthusiasts know that momentum is crucial, but I did not just base my pick off that game alone. In fact, before I arrived here, I was watching Gonzaga all season from my living room on the East Coast. The Bulldogs are easily one of the fastest teams in the country, and that's one reason why I loved tuning into their games late at night. Statistically speaking, there is evidence to back that claim — Gonzaga ranks first in the nation in adjusted offensive efficiency; this is a category they led in during the 2021 season as well. Adjusted offensive efficiency is a fancy way of saying points scored per every 100 possessions versus the average Division I defense. To put it even more simply, they run their opponents out of the gym.
Even though there is a number three next to their name this year, that does not make this team any less legitimate than the Gonzaga squads who reached the national title game in 2017 and 2021. Gonzaga has won 12 out of their last 13 games and their star forward, Drew Timme, is averaging 20.3 points per game during that stretch. The Bulldogs have quality wins over No. 1 ranked Alabama, No. 19 St. Mary's (2), and Kentucky. All of their losses, besides Loyola Marymount, were against nationally-ranked opponents. Personally, I do not believe there is a team in the West Region that has a shot at taking them down.
The Sandpoint Bulldogs girls basketball team won the state championship for the first time this year. Gonzaga men's basketball, it's your turn now.
Recent Headlines
---